About this site
Providing tropical forest news, statistics, photos, and information, rainforests.mongabay.com is the world's most popular rainforest site. [more]
Saving the Amazon Rainforest in Brazil
Between May 2002 and May 2003, Brazil [Map] lost more than 24,000 square kilometers of forest - an area larger than Israel and since 1978, over 500,000 square kilometers of Amazon rainforest have been destroyed. Why is Brazil losing so much forest? What can be done to slow deforestation?

UPDATE: How to save the Amazon rainforest | Brazil's plan to save the Amazon rainforest



What can de done to save the Amazon rainforest in Brazil?

Today Brazil faces an enormous challenge: how to balance economic growth with the preservation of the Amazon rainforest.




Rehabilitation and increased productivity of formerly forested lands
---
In reducing the loss of tropical rainforests we must not only be concerned with the transformation of existing natural ecosystems, but also the more rational utilization of already cleared and degraded areas. To lessen future forest loss we must increase and sustain the productivity of farms, pastures, plantations, and scrub-land in addition to restoring species and ecosystems to degraded habitats. By reducing wasteful land-use practices, consolidating gains on existing cleared lands, and improving already developed lands we can diminish the need to clear additional rainforest.

INCREASING PRODUCTIVITY:
Increasing productivity of cleared rainforest lands is possible using improved technology to generate higher yielding crops. Taking advantage of improved germplasm developed through careful selection can produce grasses and crops that will grow on degraded forest soils. While technology may have accelerated the development and impoverishment of tropical rainforests, it will be one of the keys to saving them.

When it comes to cattle pasture, Judson Valentim of the Brazilian Farm Research Corporation (Embrapa), suggests that "the use of so-called alternative technologies, such as non-plowing farming, could increase productivity in areas that have already been cleared ... Proper use of the area of the rainforest already cleared (deforested or destroyed) in the Amazon could solve many problems. He points out that 20 percent of the area could produce 50 million tons of grains annually. Another 20 percent could be used for small farmers (around 900,000 of them if each got 20,000 hectares)."

Valentim continues, "The remaining 60 percent would be used to raise 100 million head of cattle. And all that, without cutting down a single, additional tree or burning so much as one hectare." [Marrying Growth and Preservation in Brazil's Amazon]

One promising area of research looks at ancient societies that lived in the Amazon rainforest before the arrival of Europeans in the 15th century. Apparently these populations were able to enrich the rainforest soil, which is usually quite poor, using charcoal and animal bones. By improving soil quality, large areas of the Amazon that have been deforested could be used to support agriculture. This could help reduce pressure on rainforest areas for agricultural land. Further, the "terra preta" soil could be used to help fight global warming since it absorbs carbon dioxide, an important greenhouse gas.
HABITAT AND SPECIES REHABILITATION:
There is still time to save some of the most threatened species and ecosystems that have been pushed so close to extinction that they will perish unless we intervene. In Brazil, tremendous progress has been made in restoring the population of the Golden Lion Tamarin which resides in the dwindling Atlantic forest. According to the World Wildlife Fund for Nature, the species has recovered "from a low of 200 wild animals recorded in the early 1970s ...[to its] 1,000th wild birth in March 2001."

The restoration of entire ecosystems is most possible in regions where parts or at least remnants of the original forest still remain and there are few human population pressures. Small clearings surrounded by forest recover quickly and large sections may recover in time especially if we provide some assistance in the reforestation process. After several years, a once barren field can once again support vegetation in the form of pioneer species and secondary growth. Although the secondary forest will be low in diversity and poorly developed, the forest cover will be adequate for some species to return (assuming they still exist). In addition, the newly forested patch can be used for the sustainable harvest of forest products and low intensity logging.

Tracts of replanted forest may have ecological returns in addition to economic ones. In the short term, forests absorb large amounts of atmospheric carbon and the more trees that are replanted, the more atmospheric carbon will be sequestered. Replanting and rehabilitating secondary forests around the world has tremendous potential for offsetting greenhouse gas emissions. Furthermore, rehabilitated forest lands can attract ecotourists and sustain some native forest wildlife.
Expansion of protection areas
---
The extension of protection to critically important habitats within the Amazon region is key to maximizing survival of biodiversity in Brazil. Paramount to the success of conservation efforts:
prioritizing areas for protection -- i.e. focusing on biological hotspots
ensuring sufficient enforcement agencies and funding exist for the maintenance of protected areas
encouraging the involvement of locals -- the fate of protected areas rests largely in the hands of local people and only by improving their living condition can we expect conservation efforts to be successful. Conservation cannot come at the expense of local people; local people must be made both partners and beneficiaries in conservation, and not enemies of it.
involving indigenous people in park management. Indigenous people know more about the forest than anyone and have an interest in safeguarding it as a productive ecosystem that provides them food, shelter, and clean water. Research has found that in some cases, "indigenous reserves" may actually protect rainforest better than national parks in the Amazon.


Sustainable Development
---
Perhaps the best way to address deforestation in Brazil is developing a new conservation policy based on the principle of sustainable use and development of rainforests. Sustainable development is a phrase that has been used regularly over the past decade, but critics will quickly tell you that collecting fruits, latex, and nuts from the rainforests is not enough make a living let alone support a growing economy. "Sustainable development" should considered an underlying philosophy to be applied via policy to various agents and industries involved in the use and development of rainforest lands and resources.

Agriculture [more]

For thousands of years parts of the Amazon has been managed to sustain productive agriculture and at times, sustain dense human populations. It is estimated that more land was under cultivation in the Amazon on the eve of the arrival of Columbus than is today. The fact that certain forms of agriculture are possible is a vital consideration for the sustainable, economic development of tropical rainforests.

Actions to take:
Incorporate the techniques of indigenous Amazonians into agricultural projects in the rainforest to increase the productivity of degraded forest lands and promote sustainable use of forest resources. Through agroforestry, polycultural fields, and floodplain orchards outright destruction of rainforests can be avoided, while improving economic efficiency and providing a source of income for rural poor
End subsidies granted to large landowners
Logging [more]

What is desperately needed is a new form of forestry that departs from the older mentality where forests only exist to serve immediate human demands and are non-exhaustible resources. New forest management adds both rural development and conservation projects to traditional tree harvesting and aims to keep forests as functional ecological systems while providing multiple economic benefits.

Actions to take [more]:
Restrict the trade of certain rainforest tree species. In 2002, CITES did just that with mahogany, but Brazil still has a way to go in terms of enforcing existing forestry laws governing the extraction of certain tree species. Native Amazonians still face violent encroachment by illegal loggers seeking mahogany.
End Subsidies. By ending subsidies for saw mills and road construction, logging of tropical rainforests will become more accurately reflect the true costs of harvesting.
Use reduced impact logging. Reduced impact logging practices including: 1) cutting climbers and lianas well prior to felling; 2) directional tree felling to inflict the smallest impact on the surrounding forest; 3) establishing stream buffer zones and watershed protection areas; 4) using improved technologies to reduce damage to the soil cause by log extraction; 5) careful planning to prevent excess roads which give access to transient settlers; 6) reducing wood waste for cut areas (anywhere from 25-50% of the wood from a given cleared patch is wasted); 7) limiting the gradient of roads to prevent excess erosion.
Establish plantations on degraded lands. Forest plantations are essentially tree crops planted for the particular purpose of providing a specific source for wood products.
Cattle

Clearing for pastureland and land speculation purposes is a major cause of tropical forest loss, especially in Latin America. Cattle are an attractive investment for Amazonian farmers because they are a highly liquid capital asset with low marginal costs once forest has been cleared. Cattle are used to establish land claims on otherwise "unoccupied" rainforest land and can be used as a hedge against inflation.

Actions to take:
Eliminate tax incentives and land policies which encourage conversion of forest to pasture.
Increase productivity on existing pastureland by introducing agroforestry techniques and using "non-plowing farming,"
Land policy reform
---
Under Brazilian law, much of the Amazon is essentially an open access resource so there little incentive for squatters, farmers, or developers to use forest lands or resources in a sustainable manner. Simply clear some land then move on to another area when the land is no longer viable. Developers can also acquire rights to unoccupied forest land simply by "using" it for at least one year and a day -- typically by burning the native forest and establishing some cattle on the land.

To remedy this wasteful use of land, lawmakers in Brazil should consider laws that restrict these practices. Or maybe lawmakers could enforce some of the existing laws like the 1996 law that forbade Amazon landowners from cutting more than 20% of the forest on their land. For whatever reason the laws on the books are not that effective -- deforestation has increased dramatically in the past couple of years.




Law Enforcement
---
Brazil has a number of laws on the books that theoretically should slow Amazon deforestation and encourage sustainable use of forest resources. The problem is, IBAMA, Brazil's Environmental Protection Agency, is woefully under funded -- in 2003, the entire budget for environmental law enforcement in Brazil was $9.5 million. $9.5 million to police Earth's 5th largest country (roughly the size of Australia, Spain, and Germany combined) having the world's biggest expanse of tropical wilderness.

Between the lack of resources, rampant corruption, and questions as to whether IBAMA even has any legal authority to enforce the law, the agency only collects 6.5% of the fines it imposes.

IBAMA estimates that 80% of all logging in the Amazon is illegal, but there's relatively little it can do about it. To effectively enforce existing environmental law, IBAMA is going to need more resources.



Conclusion
---
Brazil is a land of remarkable beauty and unsurpassed biological diversity. For this reason, deforestation in the Amazon is especially troubling. While environmental losses and degradation of the rainforests have yet to reach the point of collapse, the continuing disappearance of wildlands and loss of its species is disheartening.

Biodiversity is makes life on Earth livable for our species. By extinguishing hotbeds of biodiversity like the Amazon rainforest we are destroying a part of ourselves. Biodiversity will recover after humanity is gone, but in the meantime, the continuing loss of our fellow species will make Earth an awfully crowded, but lonely place.

Past extinctions have shown it takes at least 5 million years to restore biodiversity to the level equal to that prior of the extinction event event. Our actions today will determine whether Earth will be biologically impoverished for the 500 trillion or more humans that will inhabit the earth during that future period.

The extinction event that is occurring as you read these words rivals the extinctions caused by natural disasters of global ice ages, planetary collisions, atmospheric poisoning, and variations in solar radiation. The difference is that this extinction was conceived by humans and subject to human decisions. We are the last, best hope for life as we prefer it on this planet.
[Mission] [More]

More on deforestation in Brazil



Today deforestation in the Amazon is the result of several activities, the foremost of which include:
Causes and Effects of Deforestation
---
NEWS ON BRAZIL
XML
NGO: conflict of interests behind Peruvian highway proposal in the Amazon
(05/16/2013) As Peru's legislature debates the merits of building the Purús highway through the Amazon rainforest, a new report by Global Witness alleges that the project has been aggressively pushed by those with a financial stake in opening up the remote area to logging and mining. Roads built in the Amazon lead to spikes in deforestation, mining, poaching and other extractive activities as remote areas become suddenly accessible. The road in question would cut through parts of the Peruvian Amazon rich in biodiversity and home to indigenous tribes who have chosen to live in "voluntary isolation."



Parks, indigenous territories are effectively reducing Amazon deforestation
(03/11/2013) Strict conservation areas and indigenous reserves are more effective at reducing deforestation in the Brazilian Amazon relative to 'sustainble-use' areas set up for non-indigenous resource extraction, reports a new study published in the journal Proceedings of the National Academy of Sciences. The research, which involved an international team, compared rates of forest loss between different categories of managed lands using satellite imagery and statistical analysis.



A promising initiative to address deforestation in Brazil at the local level
(03/05/2013) The history of the Brazilian Amazon has long been marked by deforestation and degradation. Until recently the situation has been considered out of control. Then, in 2004, the Brazilian government launched an ambitious program to combat deforestation. Public pressure—both national and international—was one of the reasons that motivated the government to act. Another reason was that in 2004, deforestation contributed to more than 55 percent of Brazil's total greenhouse gas emissions, making Brazil the fourth-largest greenhouse gas emitter in the world.



Jaguars, tapirs, oh my!: Amazon explorer films shocking wildlife bonanza in threatened forest
(02/19/2013) Watching a new video by Amazon explorer, Paul Rosolie, one feels transported into a hidden world of stalking jaguars, heavyweight tapirs, and daylight-wandering giant armadillos. This is the Amazon as one imagines it as a child: still full of wild things. In just four weeks at a single colpa (or clay lick where mammals and birds gather) on the lower Las Piedras River, Rosolie and his team captured 30 Amazonian species on video, including seven imperiled species. However, the very spot Rosolie and his team filmed is under threat: the lower Las Piedras River is being infiltrated by loggers, miners, and farmers following the construction of the Trans-Amazon highway.


Loans tied to environmental compliance reduced Amazon deforestation by 15%
(01/30/2013) A rural credit law that ties loans to environmental compliance made a significant contribution to reducing deforestation in the Brazilian Amazon between 2008 and 2011, argues a study published by the Climate Policy Initiative (CPI).


Norway payments to Brazil for reducing deforestation reach $670 million
(12/06/2012) Norway will deposit another $180 million into Brazil's Amazon Fund after the Latin American giant reported a third straight annual drop in deforestation, reports Bloomberg. The payment comes despite a high-profile dispute over who verifies reductions in emissions from deforestation — Norway believes emissions reductions should be measured by an independent third party, but Brazil disagrees. The disagreement sidelined discussions over the REDD+ mechanism during climate talks in Doha, pushing negotiations over the program out another year.



Unique program to leave oil beneath Amazonian paradise raises $300 million
(11/26/2012) The Yasuni-ITT Initiative has been called many things: controversial, ecological blackmail, revolutionary, pioneering, and the best chance to keep oil companies out of Ecuador's Yasuni National Park. But now, after a number of ups and downs, the program is beginning to make good: the Yasuni-ITT Initiative has raised $300 million, according to the Guardian, or 8 percent of the total amount needed to fully fund the idea.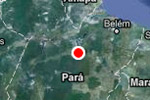 Belo Monte mega-dam halted again by high Brazilian court, appeal likely but difficult
(08/15/2012) A high federal court in Brazil has ruled that work on the Belo Monte dam in the Brazilian Amazon be immediately suspended. Finding that the government failed to properly consult indigenous people on the dam, the ruling is the latest in innumerable twists and turns regarding the massive dam, which was first conceived in the 1970s, and has been widely criticized for its impact on tribal groups in the region and the Amazon environment. In addition the Regional Federal Tribunal (TRF1) found that Brazil's Environmental Impact Assessment was flawed since it was conducted after work on the dam had already begun.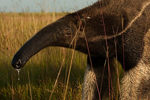 Guyana rainforests secure trust fund
(07/30/2012) The nation of Guyana sports some of South America's most intact and least-imperiled rainforests, and a new $8.5 million trust fund hopes to keep it that way. The Guyanese government has teamed up with Germany and Conservation International (CI) to create a long-term trust fund to manage the country's protected areas system (PAS).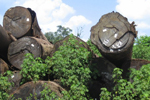 Experts: sustainable logging in rainforests impossible
(07/19/2012) Industrial logging in primary tropical forests that is both sustainable and profitable is impossible, argues a new study in Bioscience, which finds that the ecology of tropical hardwoods makes logging with truly sustainable practices not only impractical, but completely unprofitable. Given this, the researchers recommend industrial logging subsidies be dropped from the UN's Reducing Emissions from Deforestation and Forest Degradation (REDD+) program. The study, which adds to the growing debate about the role of logging in tropical forests, counters recent research making the case that well-managed logging in old-growth rainforests could provide a "middle way" between conservation and outright conversion of forests to monocultures or pasture.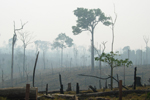 Still time to save most species in the Brazilian Amazon
(07/12/2012) Once habitat is lost or degraded, a species doesn't just wink out of existence: it takes time, often several generations, before a species vanishes for good. A new study in Science investigates this process, called "extinction debt", in the Brazilian Amazon and finds that 80-90 percent of the predicted extinctions of birds, amphibians, and mammals have not yet occurred. But, unless urgent action is taken, the debt will be collected, and these species will vanish for good in the next few decades.



Experts dispute recent study that claims little impact by pre-Columbian tribes in Amazon
(07/05/2012) A study last month in the journal Science argued that pre-Columbian peoples had little impact on the western and central Amazon, going against a recently composed picture of the early Amazon inhabited by large, sophisticated populations influencing both the forest and its biodiversity. The new study, based on hundreds of soil samples, theorizes that indigenous populations in much of the Amazon were tiny and always on the move, largely sticking to rivers and practicing marginal agriculture. However, the study raised eyebrows as soon as it was released, including those of notable researchers who openly criticized its methods and pointed out omissions in the paper, such as no mention of hundreds of geoglyphs, manmade earthen structures, found in the region.


Indigenous tribes occupy Belo Monte dam for over 10 days
(07/03/2012) As of Tuesday, the occupation of Belo Monte dam by indigenous tribes entered its 13th day. Indigenous people, who have fought the planned Brazilian dam for decades, argue that the massive hydroelectric project on the Xingu River will devastate their way of life. According to a statement from the tribes, 17 indigenous villages from 13 ethnic groups are now represented at the occupation, which has successfully scuttled some work on the dam.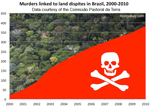 Over 700 people killed defending forest and land rights in past ten years
(06/19/2012) On May 24th, 2011, forest activist José Cláudio Ribeiro da Silva and his wife, Maria do Espírito Santo da Silva, were gunned down in an ambush in the Brazilian state of Pará. A longtime activist, José Cláudio Ribeiro da Silva had made a name for himself for openly criticizing illegal logging in the state which is rife with deforestation. The killers even cut off the ears of the da Silvas, a common practice of assassins in Brazil to prove to their employers that they had committed the deed. Less than a year before he was murdered, da Silva warned in a TEDx Talk, "I could get a bullet in my head at any moment...because I denounce the loggers and charcoal producers."



Can loggers be conservationists?
(05/10/2012) Last year researchers took the first ever publicly-released video of an African golden cat (Profelis aurata) in a Gabon rainforest. This beautiful, but elusive, feline was filmed sitting docilely for the camera and chasing a bat. The least-known of Africa's wild cat species, the African golden cat has been difficult to study because it makes its home deep in the Congo rainforest. However, researchers didn't capture the cat on video in an untrammeled, pristine forest, but in a well-managed logging concession by Precious Woods Inc., where scientist's cameras also photographed gorillas, elephants, leopards, and duikers.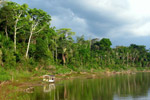 Innovative program seeks to safeguard Peruvian Amazon from impacts of Inter-Oceanic Highway
(03/06/2012) Arbio was begun by Michel Saini and Tatiana Espinosa Q. in the Peruvian Amazon region of Madre de Dios. The project focuses on a protective response to the increased encroachment and destructive land use driven by development. The recent construction of the Inter-Oceanic Highway in the Madre de Dios area presents an enormous threat to forest biodiversity. Arbio provides opportunities to help establish a buffer zone near the road to limit intrusive agricultural and deforestation activities.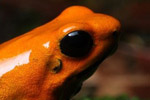 World's most toxic frog gets new reserve
(03/05/2012) Touching a wild golden poison frog could kill you within minutes: in fact, a single golden poison frog, whose Latin name Phyllobates terribilis is even more evocative than its common one, is capable of killing 10 humans with its one milligram dose of poison. Yet the deadly nature of this tiny frog has not stopped it from nearing extinction. Now, in a bid to save the species, the World Land Trust (WLT) and Colombian NGO ProAves have teamed up to establish a 50 hectare (124 acres) reserve in the Chocó rainforest.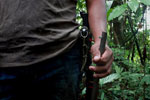 Majority of protected tropical forests "empty" due to hunting
(02/08/2012) Protected areas in the world's tropical rainforests are absolutely essential, but one cannot simply set up a new refuge and believe the work is done, according to a new paper in Bioscience. Unsustainable hunting and poaching is decimating tropical forest species in the Amazon, the Congo, Southeast Asia, and Oceana, leaving behind "empty forests," places largely devoid of any mammal, bird, or reptile over a few pounds. The loss of such species impacts the whole ecosystems, as plants lose seed dispersers and the food chain is unraveled.


New rainforest and indigenous reserve established in Peru
(02/07/2012) On February 4th, the Peruvian government and a small indigenous group created a new Amazon reserve, dubbed the Maijuna Reserve. Located in northeastern Peru, the 390,000 hectare (970,000 acres) reserve is larger than California's Yosemite National Park and over three times the size of Hong Kong.



Guyanese tribe maps Connecticut-sized rainforest for land rights
(02/07/2012) In a bid to gain legal recognition of their land, the indigenous Wapichan people have digitally mapped their customary rainforest land in Guyana over the past ten years. Covering 1.4 million hectares, about the size of Connecticut, the rainforest would be split between sustainable-use regions, sacred areas, and wildlife conservation according to a plan by the Wapichan tribe that will be released today. The plan says the tribe would preserve the forest from extractive industries.


As Amazon deforestation falls, food production rises
(01/09/2012) A sharp drop in deforestation has been accompanied by an increase in food production in the Brazilian state of Mato Grosso, reports a new study published in the journal Proceedings of the National Academy of Science. The research argues that policy interventions, combined with pressure from environmental groups, have encouraged agricultural expansion in already-deforested areas, rather than driving new forest clearing.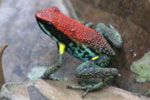 Ecuador makes $116 million to not drill for oil in Amazon
(01/02/2012) A possibly ground-breaking idea has been kept on life support after Ecuador revealed its Yasuni-ITT Initiative had raked in $116 million before the end of the year, breaking the $100 million mark that Ecuador said it needed to keep the program alive. Ecuador is proposing to not drill for an estimated 850 million barrels of oil in the Ishpingo-Tambococha-Tiputinin (ITT) blocs of Yasuni National Park if the international community pledges $3.6 billion to a United Nations Development Fund (UNDF), or about half of what the oil is currently worth. The Yasuni-ITT Initiative would preserve arguably the most biodiverse region on Earth from oil exploitation, safeguard indigenous populations, and keep an estimated 410 million tons of CO2 out of the atmosphere. However, the initiative is not without its detractors, some arguing the program is little more than blackmail; meanwhile proponents say it could prove an effective way to combat climate change, deforestation, and mass extinction.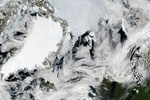 Top 10 Environmental Stories of 2011
(12/22/2011) Many of 2011's most dramatic stories on environmental issues came from people taking to the streets. With governments and corporations slow to tackle massive environmental problems, people have begun to assert themselves. Victories were seen on four continents: in Bolivia a draconian response to protestors embarrassed the government, causing them to drop plans to build a road through Tipnis, an indigenous Amazonian reserve; in Myanmar, a nation not known for bowing to public demands, large protests pushed the government to cancel a massive Chinese hydroelectric project; in Borneo a three-year struggle to stop the construction of a coal plant on the coast of the Coral Triangle ended in victory for activists; in Britain plans to privatize forests created such a public outcry that the government not only pulled back but also apologized; and in the U.S. civil disobedience and massive marches pressured the Obama Administration to delay a decision on the controversial Keystone XL pipeline, which would bring tar sands from Canada to a global market.


Following violent crackdown against protestors, Bolivia puts Amazon road project on ice
(09/27/2011) After a police crackdown against indigenous activists, Bolivian President Evo Morales has suspended a large highway project through the Amazon rainforest. The police reaction—which included tear gas, rounding up protestors en masse, and allegations of violence—resulted in several officials stepping down in protest of the government's handling. Some indigenous people marched 310 miles (498 kilometers) from the Amazon to La Paz to show solidarity against the road, saying they had not been consulted and the project would destroy vast areas of biodiverse rainforest.


Repeated burning undercuts Amazon rainforest recovery
(09/26/2011) The Amazon rainforest can recover fromlogging, but has a far more difficult time returning after repeated burning, reports a new study in mongabay.com's open-access journal Tropical Conservation Science. In areas where the Amazon had been turned to pasture and was subject to repeated burning, Visima trees become the dominant tree inhibiting the return of a biodiverse forest. The key to the sudden domination of Visima trees, according to the study, is that these species re-sprout readily following fires; a capacity most other Amazonian trees lack.






THE AMAZON RAINFOREST