HELP SUPPORT MONGABAY.COM

Mongabay.com was founded by Rhett Ayers Butler in 1999 out of his passion for wildlife and rainforests. Originally a side project which consumed nights and weekends, Rhett quit his day job to run mongabay full-time in 2004. In March 2009 Jeremy Hance became mongabay's first hire.

Mongabay is financed primarily through advertising, the majority of which is served by Google. However some of mongabay's most important projects, including the kids education initiative and our news reporting, now require resources that are unfortunately not fully met by advertising revenue. Therefore in June 2012 Mongabay.com launched a non-profit organization: mongabay.org, which as a public charity has tax-exempt status under section 501(c)(3) of the Internal Revenue Code. Contributions to Mongabay.org are deductible to U.S. taxpayers under section 170 of the Code.

If you like our service, we would be grateful for your support.


DONATIONS
BY CREDIT CARD



If you are interested in making a direct donation online, you can use Paypal (secure and does not require an account) or Google Checkout. We have two options, a one-time donation and a monthly donation.


ONE-TIME DONATION
Paypal (no account required)


Google Checkout/Wallet



BY CHECK


We have a mailing address for checks:
Mongabay.org
P.O. BOX 0291,
MENLO PARK, CA 94026-0291
USA

We will provide you with documentation for any donations of $75.00 or more.
Why support Mongabay?
---

The purpose of mongabay is to raise interest in environmental issues and foster appreciation of wildlife and wild places. The site provides quality information on rainforests and environmental issues, reaching more than two million people per month. To learn more about the mission of mongabay, check out the preface of A Place Out of Time.

Mongabay.org has the specific mission of raising awareness about social and environmental issues relating to forests and other ecosystems. It has five focal areas:, which are explained here.


How can I help?
---

You can show your support of several ways.

Financial contributions.

Other ways to help.
Cancel monthly donations to mongabay
If you'd like to cancel your recurring donation to mongabay.com, please use this link.



Rhett Butler, mongabay founder and director.


Rhett's inspiration, as told at TEDxYouth

Recent features


Community tourism fills niche around Tambopata National Reserve
(01/29/2015) When Víctor Zambrano retired from the military and returned to his family's old homestead outside the fast-growing jungle town of Puerto Maldonado in Peru, he got an unpleasant surprise. Strangers had moved in and cleared the trees to raise cattle. As Zambrano tells it, he ran up the Peruvian flag, chased the invaders off, and set to work planting 19,000 native tree seedlings.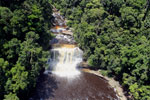 Accounting for natural capital on financial exchanges
(01/26/2015) Last month, Norway's stock exchange, the Oslo Børs, introduced a way for investors to use their money to promote sustainability. A new list by the stock exchange highlights green bonds, financial products issued by companies to raise capital for environmentally friendly projects. Notably, the list requires that issuing companies obtain and publicize outside opinions on the projects' environmental features.



Indigenous territories play dual role as homelands and protected areas
(01/22/2015) Indigenous communities claim—and scientific evidence increasingly shows—that indigenous forested territories are as well protected as, or better protected than, government-designated parks. In areas under pressure from roads or development projects, deforestation rates are sometimes even lower in indigenous territories than in official protected areas.



Palm oil giant launches online platform to support zero deforestation push
(01/22/2015) Wilmar, the world's largest palm oil company, has unveiled a tool it says will help eliminate deforestation from its global supply chain. The tool is an online dashboard that maps the company's supply chain, including the names of locations of its refineries and supplier mills.



Sundarbans still reeling from effects of December oil spill
(01/21/2015) Last month, an estimated 350,000 liters of fuel oil spilled into the Sundarbans delta on the Bay of Bengal. An oil tanker that had collided with a cargo vessel on December 9th sank into the Shela River, spilling its oil into a protected sanctuary for the rare and endangered Irrawaddy dolphins (Orcaella brevirostris) and the Ganges river dolphins (Platanista gangetica).




WEEKLY NEWSLETTER