HELP SUPPORT MONGABAY.COM

Mongabay.com was founded by Rhett Ayers Butler in 1999 out of his passion for wildlife and rainforests. Originally a side project which consumed nights and weekends, Rhett quit his day job to run mongabay full-time in 2004. In March 2009 Jeremy Hance became mongabay's first hire.

Mongabay is financed primarily through advertising, the majority of which is served by Google. However some of mongabay's most important projects, including the kids education initiative and our news reporting, now require resources that are unfortunately not fully met by advertising revenue. Therefore in June 2012 Mongabay.com launched a non-profit organization: mongabay.org, which as a public charity has tax-exempt status under section 501(c)(3) of the Internal Revenue Code. Contributions to Mongabay.org are deductible to U.S. taxpayers under section 170 of the Code.

If you like our service, we would be grateful for your support.


DONATIONS
BY CREDIT CARD



If you are interested in making a direct donation online, you can use Paypal (secure and does not require an account) or Google Checkout. We have two options, a one-time donation and a monthly donation.


ONE-TIME DONATION
Paypal (no account required)


Google Checkout/Wallet



BY CHECK


We have a mailing address for checks:
Mongabay.org
P.O. BOX 0291,
MENLO PARK, CA 94026-0291
USA

We will provide you with documentation for any donations of $75.00 or more.
Why support Mongabay?
---

The purpose of mongabay is to raise interest in environmental issues and foster appreciation of wildlife and wild places. The site provides quality information on rainforests and environmental issues, reaching more than two million people per month. To learn more about the mission of mongabay, check out the preface of A Place Out of Time.

Mongabay.org has the specific mission of raising awareness about social and environmental issues relating to forests and other ecosystems. It has five focal areas:, which are explained here.


How can I help?
---

You can show your support of several ways.

Financial contributions.

Other ways to help.
Cancel monthly donations to mongabay
If you'd like to cancel your recurring donation to mongabay.com, please use this link.



Rhett Butler, mongabay founder and director.


Rhett's inspiration, as told at TEDxYouth

Recent features


Red tape or repression? NGOs fight for a place in the new Bolivia they helped Evo Morales create
(05/22/2015) For much of Bolivian history, environmental and human rights NGOs joined indigenous communities and the poor in an uphill battle against the entrenched old guard. Under the country's first indigenous president, these organizations face unexpected challenges.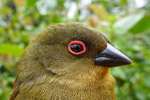 Consumer choice: Shade-grown coffee and cocoa good for the birds, farmers, ecosystems
(05/22/2015) The next time you order that "wake up" cup of Joe or reach for a sweet treat, you may want to consider whether those coffee or cocoa beans were grown in the shade or open sun. Choosing the shade grown variety can offer huge benefits to tropical birds, their ecosystems and farmers says a new study by Cagan Şekercioğlu published in the Journal of Ornithology.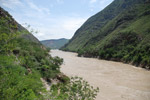 Peru eyes the Amazon for one of world's most powerful dams
(05/18/2015) Peru is proposing a huge hydroelectric dam in the Amazon that, if built, will be one of the most powerful on Earth, do significant harm to the environment, and flood the homes of thousands of people. The proposed mega-dam would be constructed at the Pongo de Manseriche, a spectacular gorge on the free flowing Marañón River, the main source of the Amazon River.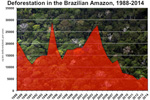 What's the current deforestation rate in the Amazon rainforest?
(05/15/2015) Nearly two-thirds of the Amazon rainforest is located in Brazil, making it the biggest component in the region's deforestation rate. Helpfully, Brazil also has the best systems for tracking deforestation, with the government and Imazon, a national civil society organization, releasing updates on a quarterly and monthly basis using MODIS satellite data, respectively. Both the Brazilian government and Imazon release more accurate data on an annual basis using higher resolution Landsat satellite imagery.



The triumph of the bison: Europe's biggest animal bounces back a century after vanishing
(05/12/2015) On a path flanked by thick woods, I first spied our quarry. When she appeared, far away between the long verticals of bare trees, I could hardly believe she was there. She was a ghost, a specter haunting this winter forest. Her horns were prettily curved, her face slender, her whole 400 kilogram (880 pound) mass framed by the trees.




WEEKLY NEWSLETTER