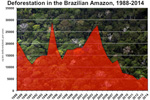 What's the current deforestation rate in the Amazon rainforest?
Rhett A. Butler
(05/15/2015) Nearly two-thirds of the Amazon rainforest is located in Brazil, making it the biggest component in the region's deforestation rate. Helpfully, Brazil also has the best systems for tracking deforestation, with the government and Imazon, a national civil society organization, releasing updates on a quarterly and monthly basis using MODIS satellite data, respectively. Both the Brazilian government and Imazon release more accurate data on an annual basis using higher resolution Landsat satellite imagery.



Borneo's rainforest may get high-tech 3D scan to boost conservation
Rhett A. Butler
(05/04/2015) Conservation efforts in Borneo's embattled rainforest may get a boost with the launch of the newest version of an advanced airplane-based monitoring and assessment system. On Friday, the Carnegie Institution officially unveiled the latest upgrade of the Carnegie Airborne Observatory, an airplane equipped with technologies that enable scientists to conduct extremely high resolution scans of forest structure, biomass, and biological diversity. The platform has generated a wealth of information in places where it has been flown before.



Activists target Roger Federer as brand ambassador for bank linked to deforestation
Rhett A. Butler
(04/22/2015) Environmentalists are asking tennis star Roger Federer to deliver a message to Credit Suisse over the banking giant's continued financing of a logging company linked to ongoing destruction of wildlife habitat in Indonesia. According to the Bruno Manser Fund two members of a rainforest community in Sumatra have written to Federer to ask for his help in persuading Credit Suisse to stop financing logging of peat forests.



50 nature pictures for Earth Day
Commentary by Rhett A. Butler
(04/22/2015) Here at Mongabay we've developed a bit of a policy of not making a big deal for Earth Day. We believe that people should respect the planet on a daily basis. Nonetheless, below are a few pictures I've taken since Earth Day 2014 that remind me of why I started Mongabay nearly 16 years ago.



Condition of tropical forests 'worsening', could become 'critical'
Rhett A. Butler
(04/07/2015) World leaders are continuing to overlook the worsening condition of tropical forests despite the biome's vast potential to help mitigate climate change, support local livelihoods and ecosystem services, and stabilize global agriculture, warns a comprehensive review published by a body founded by Prince Charles.



Who's to blame for forest loss in Borneo timber concession?
Rhett A. Butler
(04/06/2015) The apparent loss of some 4,000 hectares of forested peatland in Indonesian Borneo is raising questions on who bears responsibility for forest clearing in un-utilized concessions. On Monday, Greenomics-Indonesia issued a report revealing the loss of significant tracts of peat forest in a West Kalimantan concession held by PT Bumi Mekar Hijau (BMH), a plantation company whose operation in South Sumatra supplies Asia Pulp & Paper (APP) with woodpulp for its mills.



Russia and Canada lead the world in forest loss in 2013
Rhett A. Butler, mongabay.com
(04/02/2015) Russia and Canada led the world in forest loss, accounting for nearly forty percent of the 18 million hectares of forest lost globally in 2013, reveals a new analysis based on high resolution satellite imagery. The research — released today on Global Forest Watch, a forest monitoring and research platform — was led by Matt Hansen of the University of Maryland and involved Google, World Resources Institute (WRI), and other institutions


Brazil arrests 'Amazon's biggest destroyer'
Rhett A. Butler, mongabay.com
(02/25/2015) Authorities in Brazil have arrested a man they claim to be the single biggest deforester in the Amazon, according to a statement issued by IBAMA, Brazil's environmental protection agency.



Rainforest loss increased in the 2000s, concludes new analysis
Rhett A. Butler, mongabay.com
(02/25/2015) Loss of tropical forests accelerated roughly 60 percent during the 2000s, argues a paper published in the journal Geophysical Research Letters. The findings contradict previous research suggesting that deforestation slowed since the 1990s. The study is based on a map of 1990 forest cover developed last year by Do-Hyung Kim and colleagues from the University of Maryland. The map, which includes 34 countries that contain 80 percent of the world's tropical forests, enabled the researchers to establish a consistent baseline for tracking forest cover change across regions and countries over time.



New Guinea rainforest being leveled for palm oil, revealing gaps in zero deforestation pacts
Rhett A. Butler, mongabay.com
(02/23/2015) An Indonesian palm oil firm is destroying rainforests in New Guinea despite high profile zero deforestation pledges from its customers, finds research by Greenomics-Indonesia. Landsat imagery acquired and analyzed by Greenomics shows that Austindo Nusantara Jaya Agri (ANJ) is clearing high carbon stock forests in the southern part of West Papua's Bird's Head Peninsula in Indonesian New Guinea.



Brazil's soy moratorium dramatically reduced Amazon deforestation
Rhett A. Butler, mongabay.com
(01/23/2015) The moratorium on forest conversion established by Brazilian soy giants in 2006 dramatically reduce deforestation for soy expansion in the Amazon, and have been more effective in cutting forest destruction than the government's land use policy in the region, finds a study published today in the journal Science.



Tree climbing as a tool to build respect for forests
Rhett A. Butler, mongabay.com
(01/16/2015) The bulk of life in the rainforest is found the leafy layers of the canopy. But little was known about this world until relatively recently, when hobbyists, naturalists, and researchers began devising ways to access the upper levels of the forest. These efforts accelerated in the 1970s when scientists started to use mountaineering techniques and ropes to climb towering rainforest trees for long-term study and observation.



Deforestation climbing - along with fears - in the Amazon
Rhett A. Butler, mongabay.com
(01/13/2015) Deforestation in the Brazil Amazon continues to pace well ahead of last year's rate, shows data released today by Imazon. According to the Brazilian NGO's analysis of satellite data, 1,373 square kilometers of rainforest was chopped down between August 2014 and December 2014, a 224 percent increase relative to the prior corresponding period a year before.



Half of Indonesia's deforestation occurs outside concession areas
Rhett A. Butler, mongabay.com
(01/06/2015) Roughly half of Indonesia's natural forest loss occurs outside officially designated concession areas, concludes a new assessment that also finds higher deforestation rates in places with worse forest governance scores. The report, released last month by Forest Watch Indonesia, is based on analysis of satellite data spanning the archipelago. Unlike assessments by the Ministry of Forestry, the data includes areas outside the 'forest estate'.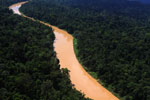 Rainforests: 10 things to watch in 2015
Rhett A. Butler, mongabay.com
(01/02/2015) 2014 was a landmark year for tropical rainforests, with dozens of major companies committing to eliminating deforestation from their supply chains, the launch of new platforms for monitoring forests, and sharp drop in clearing in the Brazilian Amazon, among other big developments. Here's a quick look ahead at what might be in store for tropical forests in 2015.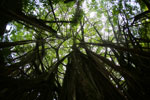 Things you want to know about Mongabay
Rhett A. Butler, mongabay.com
(01/01/2015) This is a compilation of responses to some of the most frequently asked questions for Mongabay. If you have additional questions you'd like me to answer, you can ask them using this form.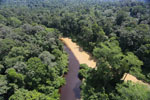 Most popular environmental news stories in 2014
mongabay.com
(12/31/2014) In 2014 Mongabay published more than 1,100 stories in English and over 450 posts in Spanish, French, Italian, Portuguese, German, Japanese, and Chinese. Mongabay-Indonesia published nearly 1,400 posts in Indonesian. Stories ran the gamut from light-hearted feel-good pieces to hard-hitting investigative content to thought-provoking interviews.



2014: the year in rainforests
Rhett Butler, mongabay.com
(12/30/2014) 2014 could be classified as 'The Year of the Zero Deforestation Commitment'. During 2014, nearly two dozen major companies, ranging from palm oil producers to fast food chains to toothpaste makers, established policies to exclude palm oil sourced at the expense of rainforests and peatlands.



Top 10 HAPPY environmental stories of 2014
Commentary by: Rhett Butler & Jeremy Hance
(12/29/2014) In what was widely seen as a possible breakthrough in the battle to coordinate some kind of response to global warming, China and the U.S. announced joint actions this year. On November 12th, the world's two most powerful countries surprised pretty much everyone by announcing that they would work together to tackle the crisis.



Favorite nature and wildlife photos from 2014
Rhett A. Butler, mongabay.com
(12/24/2014) During the course of my reporting in 2014, I had the opportunity to travel to several countries and take some pictures in the field. Below are some of my favorite images from the year. Most of these photos are from Sumatra (Indonesia), Sabah (Malaysia), and Queensland (Australia), although there are a few from the United States.



Top 10 Environmental Stories of 2014
Commentary by: Rhett Butler & Jeremy Hance
(12/23/2014) In 2014, the unimaginable happened: companies representing the majority of palm oil production and trade agreed to stop cutting down rainforests and draining peatlands for new oil palm plantations. After years of intense campaigning by environmentalists and dire warnings from scientists, nearly two dozen major producers, traders, and buyers established zero deforestation policies.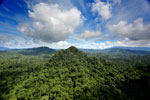 Tropical deforestation could disrupt rainfall globally
Rhett A. Butler, mongabay.com
(12/18/2014) Large-scale deforestation in the tropics could drive significant and widespread shifts in rainfall distribution and temperatures, potentially affecting agriculture both locally and far from where forest loss is occurring, concludes a study published today in Nature Climate Change.



Boosting the conservation value of 4M sq km of rainforest logging concessions
Rhett A. Butler, mongabay.com
(12/12/2014) Short of buying back logging concessions, switching from conventional logging approaches to reduced impact logging techniques across existing forestry concessions may be the best way boost biodiversity in areas earmarked for timber extraction, argues paper.



Tradeoff: Sabah banks on palm oil to boost forest protection
Rhett A. Butler, mongabay.com
(12/05/2014) Last month Sabah set aside an additional 203,000 hectares of protected forest reserves, boosting the Malaysian state's extent of protected areas to 21 percent of its land mass. But instead of accolades, Sabah forestry leaders were criticized for how they went about securing those reserves: allowing thousands of hectares of deforested land within an officially designated forestry area to be converted for oil palm plantations



What we can learn from uncontacted rainforest tribes
Rhett A. Butler, mongabay.com
(11/26/2014) If you have ever wondered about the connection between hallucinogenic frogs, uncontacted peoples, conservation, and climate change — and who hasn't? — check out this TED talk from ethnobotanist Mark Plotkin. An ethnobotanist by training, Plotkin serves as President of the Amazon Conservation Team. Plotkin took a few minutes from his busy schedule to answer a few questions from Mongabay.