Earth Day Picture Gallery: Celebrating Indonesia
Rhett A. Butler, mongabay.com
(04/22/2014) This Earth Day, we've decided to highlight the spectacular natural wonders of Indonesia, which is arguably the most biodiverse country on Earth. Indonesia is rich with wildlife thanks to its geography: some 17,000 islands spanning 1.9 million square kilometers (741,000 square miles) of tropical seas. Accordingly, the country is home to an incredible array of habitats ranging from rainforests to tropical glaciers to coral reefs, which support untold numbers of species.



Behind the scenes of Showtime's blockbuster series on climate change
Rhett A. Butler, mongabay.com
(04/18/2014) For years climate change activists and environmentalists have been clamoring for a high-profile, high-impact TV series about climate change to make Americans more aware of an issue that will affect billions of people around the globe in coming decades. This week they finally got it when Showtime released the first episode of Years of Living Dangerously, a big-budget TV series featuring a number of Hollywood's biggest stars as reporters and corespondents.



Cargill commits to zero deforestation, but environmentalists have questions
Rhett A. Butler, mongabay.com
(04/09/2014) After years of criticism from environmental groups, Cargill says it will establish policies to eliminate deforestation, peatlands conversion, and social conflict from its palm oil supply chain. But activists aren't yet sure what to make of the agribusiness giant's pledge. On Tuesday Cargill released a letter it sent to the Roundtable on Sustainable Palm Oil (RSPO), a body that sets eco-certification standards, in response to a Greenpeace Report linking it to deforestation.



Saving rainforests by buying them
Rhett A. Butler, mongabay.com
(04/04/2014) For more than twenty five years, an international non-profit known as the World Land Trust has been working to protect tropical forests through land purchase and partnerships with local groups. Last year, the U.S. arm of the group decided to rebrand itself as the Rainforest Trust to better convey its core mission to the outside world. Since then, the Rainforest Trust has launched its most ambitious project yet: conserving 5.9 million acres of tropical forest in Peru.



Community's push to clear forest for plantation challenges efforts to conserve in Indonesia
Rhett A. Butler, mongabay.com
(03/20/2014) In the swampy peatlands of Basilam Baru in Sumatra's Riau Province a conflict between a community and a woodpulp company is illustrating some of the intractable challenges of conserving forests and addressing deforestation in Indonesia. On first glance the story seems depressingly familiar. One actor wants to preserve the forest, which serves as critical habitat for endangered Sumatran tigers and clouded leopards. The other wants to clear it for a plantation.



APP pledges to restore forests, if given the opportunity
Rhett A. Butler, mongabay.com
(03/18/2014) Over the past 20 years, Sumatra's lowland rainforests have been destroyed at a virtually unmatched rate and scale. Since 1990, the island's primary forests shrank by 40 percent while its overall forest cover declined by 36 percent, mostly the result of logging, agricultural expansion, and conversion for oil palm and timber plantations. What little forest does survive is often degraded — today less than 8 percent of Sumatra retains primary forest.



Will zero deforestation commitments save Indonesia's forests?
Rhett A. Butler, mongabay.com
(03/17/2014) Skirting the Malacca Strait near the Indonesian city of Dumai the air is thick with haze from peat fires burning below. As the sky clears, a landscape of sharply-cut geometric shapes becomes apparent. What was once carbon-dense peat forests and rainforests are today massive oil palm and wood pulp plantations.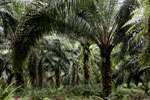 After GAR expands policy, over 50% of world's palm oil bound by zero deforestation commitments
Rhett A. Butler, mongabay.com
(03/03/2014) Over half the world's palm oil traded internationally is now bound by zero deforestation commitments after Singapore-based Golden-Agri Resources (GAR) extended its forest conservation policy across all palm oil it produces, sources and trades. In a filing posted Friday Singapore Stock Exchange, GAR announced its breakthrough forest conservation policy now applies to all the palm oil it trades.



Procter & Gamble's palm oil suppliers linked to deforestation (photos)
Rhett A. Butler, mongabay.com
(02/26/2014) A year-long investigation by Greenpeace has found companies that supply Procter & Gamble (P&G) (NYSE:PG) with palm oil are engaged in clearing of rainforests and peatlands in Indonesia, suggesting that Head & Shoulders shampoo and other consumer products made by the company may be linked to forest destruction.



Revolutionary Google-backed system unlocks power of 'big data' to save forests
Rhett A. Butler, mongabay.com
(02/20/2014) World Resources Institute (WRI) today announced the release of a tool that promises to revolutionize forest monitoring. The platform, called Global Forest Watch and developed over several years with more than 40 partners, draws from a rich array of big data related to the word's forests and translates it into interactive maps and charts that reveal trends in deforestation, forest recovery, and industrial forestry expansion. Global Forest Watch is the first tool to monitors global forests on a monthly basis, allowing authorities and conservationists to potentially take action against deforestation as it is occurring.



APP, environmentalists talk future of Indonesia's forests
Rhett Butler, mongabay.com
(02/20/2014) In February 2013, one of the world's most notorious forestry companies announced it would no longer chop down rainforests and peatlands to produce pulp and paper. The move was met with considerable skepticism by critics who had seen the company break previous high profile commitments to end deforestation. Why would this time be any different?



Helping the Amazon's 'Jaguar People' protect their culture and traditional wisdom
Rhett A. Butler, mongabay.com
(02/11/2014) Tribes in the Amazon are increasingly exposed to the outside world by choice or circumstance. The fallout of outside contact has rarely been anything less than catastrophic, resulting in untold extinction of hundreds of tribes over the centuries. For ones that survived the devastation of introduced disease and conquest, the process of acculturation transformed once proud cultures into fragmented remnants, their self-sufficiency and social cohesion stripped away, left to struggle in a new world marked by poverty and external dependence



Rainforest Alliance to independently audit APP's zero deforestation commitment
Rhett A. Butler, mongabay.com
(01/29/2014) The Rainforest Alliance has agreed to conduct an audit of Asia Pulp & Paper's progress in implementing the zero deforestation policy the forestry giant signed last year. The deal, announced Thursday in Jakarta, could help boost the credibility of APP's policy, which while heralded as a breakthrough by several environmental groups, is still viewed with skepticism by some prominent critics, who remember past broken commitments from the paper producer.



287 amphibian and reptile species in Peruvian park sets world record (photos)
Rhett A. Butler, mongabay.com
(01/28/2014) It's official: Manu National Park in Peru has the highest diversity of reptiles and amphibians in the world. Surveys of the park, which extends from high Andean cloud forests down into the tropical rainforest of the Western Amazon, and its buffer zone turned up 155 amphibian and 132 reptile species, 16 more than the 271 species documented in Ecuador's Yasuní National Park in 2010.


Norwegian insurance giant blacklists palm oil companies
Rhett A. Butler, mongabay.com
(01/27/2014) Storebrand, one of Norway's largest life insurance and pension savings companies, has sold off holdings in eleven palm oil companies due to environmental concerns. In a statement issued last week, Storebrand said it divested after it found the companies had breached its sustainability standards.



New dolphin discovered in the Amazon surprises scientists
Rhett A. Butler, mongabay.com
(01/23/2014) Researchers have discovered a new species of river dolphin from the Amazon. Writing in the journal Plos One, scientists led by Tomas Hrbek of Brazil's Federal University of Amazonas formally describe Inia araguaiaensis, a freshwater dolphin that inhabits the Araguaia River Basin. It is the first true river dolphin discovered since 1918.



Land conflicts complicate effort to spare forests from palm oil in Borneo
Rhett A. Butler, mongabay.com
(01/17/2014) A widely-heralded effort to spare carbon-dense rainforests and peatlands from palm oil development in Indonesian Borneo is facing new criticism after an investigation by rights groups found evidence of unresolved conflicts over community land. The report, published Friday by the Forest Peoples Program and TUK-Indonesia, looked at a carbon conservation pilot project run by Golden Agri Resources (GAR), a Singapore-based agribusiness giant that is one of Indonesia's largest palm oil producers.



In precedent-setting case, palm oil company fined $30M for destroying orangutan forest
Rhett A. Butler, mongabay.com
(01/09/2014) In a precedent-setting case, an Indonesian court has found a palm oil company guilty of violating environmental laws and ordered it to pay $30 million in fines and reparations for clearing an area of protected peat forest that is a stronghold for endangered orangutans in Indonesia's Aceh Province. In a ruling handed down Wednesday, the Meulaboh district court concluded that PT Kallista Alam illegally cleared and burned forest within the the protected Tripa peat swamp in northwestern Sumatra.


Most popular eco news articles of 2013
Rhett A. Butler, mongabay.com
(01/01/2014) The most popular environmental news article on mongabay.com during 2013 was a story about the recovery of the endangered Huemul deer (Hippocamelus bisulcus) in Chile. The story, written by Alexander Holmgren, was visited 308,000 times, due largely to Reddit.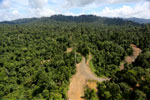 Rainforest news review for 2013
Rhett A. Butler, mongabay.com
(12/26/2013) 2013 was full of major developments in efforts to understand and protect the world's tropical rainforests. The following is a review of some of the major tropical forest-related news stories for the year. As a review, this post will not cover everything that transpired during 2013 in the world of tropical forests. Please feel free to highlight anything this post missed via the comments section at the bottom. Also please note that this review focuses only on tropical forests.



Our favorite nature pictures from 2013
Rhett A. Butler, mongabay.com
(12/24/2013) With 2013 drawing to a close, here are 100 nature pictures taken during my various Mongabay reporting trips in 2013, including Indonesia, the Pacific Northwest, Costa Rica, Namibia, and South Africa. Overall I added more than 15,000 new images — spanning rainforests, deserts and oceans — to the photo section of the site during the year.



Biggest new animal discoveries of 2013 (photos)
Rhett A. Butler, mongabay.com
(12/23/2013) Thousands of species were scientifically described for the first time in 2013. Many of these were 'cryptic species' that were identified after genetic analysis distinguished them from closely-related species, while others were totally novel. Below are some of the most interesting "new species" discoveries that took place or were formally announced in 2013.



Top 10 HAPPY environmental stories of 2013
By Rhett A. Butler and Jeremy Hance, mongabay.com
(12/19/2013) China begins to tackle pollution, carbon emissions: As China's environmental crisis worsens, the government has begun to unveil a series of new initiatives to curb record pollution and cut greenhouse emissions. The world's largest consumer of coal, China's growth in emissions is finally slowing and some experts believe the nation's emissions could peak within the decade. If China's emissions begin to fall, so too could the world's.



Ongoing deforestation reported in Borneo concession held by APP supplier
Rhett A. Butler, mongabay.com
(12/18/2013) Up to 1,400 hectares of forest have been cleared in a concession belonging to an Asia Pulp & Paper (APP) supplier in Borneo, potentially putting the company in breach of the forestry giant's zero deforestation commitment, reports a coalition of local NGO's. In a report released Tuesday, Relawan Pemantau Hutan Kalimantan (RPHK), a coalition of NGO's in part supported by WWF-Indonesia, said that blocks of natural forest have been cleared in a concession belonging to PT Daya Tani Kalbar (DTK), an APP supplier. The clearing has taken place since APP's moratorium went into effect February 1, 2013.



Top 10 Environmental Stories of 2013
By: Rhett A. Butler and Jeremy Hance
(12/10/2013) 1. Carbon concentrations hit 400ppm while the IPCC sets global carbon budget: For the first time since our appearance on Earth, carbon concentrations in the atmosphere hit 400 parts per million. The last time concentrations were this high for a sustained period was 4-5 million years ago when temperatures were 10 degrees Celsius higher. Meanwhile, in the slow-moving effort to curb carbon emissions, the Intergovernmental Panel on Climate Change (IPCC) crafted a global carbon budget showing that most of the world's fossil fuel reserves must be left untouched if we are to avoid catastrophic climate change.