Brazil arrests 'Amazon's biggest destroyer'
Rhett A. Butler, mongabay.com
(02/25/2015) Authorities in Brazil have arrested a man they claim to be the single biggest deforester in the Amazon, according to a statement issued by IBAMA, Brazil's environmental protection agency.



Rainforest loss increased in the 2000s, concludes new analysis
Rhett A. Butler, mongabay.com
(02/25/2015) Loss of tropical forests accelerated roughly 60 percent during the 2000s, argues a paper published in the journal Geophysical Research Letters. The findings contradict previous research suggesting that deforestation slowed since the 1990s. The study is based on a map of 1990 forest cover developed last year by Do-Hyung Kim and colleagues from the University of Maryland. The map, which includes 34 countries that contain 80 percent of the world's tropical forests, enabled the researchers to establish a consistent baseline for tracking forest cover change across regions and countries over time.



New Guinea rainforest being leveled for palm oil, revealing gaps in zero deforestation pacts
Rhett A. Butler, mongabay.com
(02/23/2015) An Indonesian palm oil firm is destroying rainforests in New Guinea despite high profile zero deforestation pledges from its customers, finds research by Greenomics-Indonesia. Landsat imagery acquired and analyzed by Greenomics shows that Austindo Nusantara Jaya Agri (ANJ) is clearing high carbon stock forests in the southern part of West Papua's Bird's Head Peninsula in Indonesian New Guinea.



Brazil's soy moratorium dramatically reduced Amazon deforestation
Rhett A. Butler, mongabay.com
(01/23/2015) The moratorium on forest conversion established by Brazilian soy giants in 2006 dramatically reduce deforestation for soy expansion in the Amazon, and have been more effective in cutting forest destruction than the government's land use policy in the region, finds a study published today in the journal Science.



Tree climbing as a tool to build respect for forests
Rhett A. Butler, mongabay.com
(01/16/2015) The bulk of life in the rainforest is found the leafy layers of the canopy. But little was known about this world until relatively recently, when hobbyists, naturalists, and researchers began devising ways to access the upper levels of the forest. These efforts accelerated in the 1970s when scientists started to use mountaineering techniques and ropes to climb towering rainforest trees for long-term study and observation.



Deforestation climbing - along with fears - in the Amazon
Rhett A. Butler, mongabay.com
(01/13/2015) Deforestation in the Brazil Amazon continues to pace well ahead of last year's rate, shows data released today by Imazon. According to the Brazilian NGO's analysis of satellite data, 1,373 square kilometers of rainforest was chopped down between August 2014 and December 2014, a 224 percent increase relative to the prior corresponding period a year before.



Half of Indonesia's deforestation occurs outside concession areas
Rhett A. Butler, mongabay.com
(01/06/2015) Roughly half of Indonesia's natural forest loss occurs outside officially designated concession areas, concludes a new assessment that also finds higher deforestation rates in places with worse forest governance scores. The report, released last month by Forest Watch Indonesia, is based on analysis of satellite data spanning the archipelago. Unlike assessments by the Ministry of Forestry, the data includes areas outside the 'forest estate'.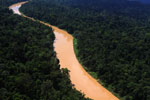 Rainforests: 10 things to watch in 2015
Rhett A. Butler, mongabay.com
(01/02/2015) 2014 was a landmark year for tropical rainforests, with dozens of major companies committing to eliminating deforestation from their supply chains, the launch of new platforms for monitoring forests, and sharp drop in clearing in the Brazilian Amazon, among other big developments. Here's a quick look ahead at what might be in store for tropical forests in 2015.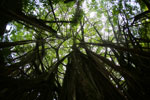 Things you want to know about Mongabay
Rhett A. Butler, mongabay.com
(01/01/2015) This is a compilation of responses to some of the most frequently asked questions for Mongabay. If you have additional questions you'd like me to answer, you can ask them using this form.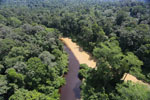 Most popular environmental news stories in 2014
mongabay.com
(12/31/2014) In 2014 Mongabay published more than 1,100 stories in English and over 450 posts in Spanish, French, Italian, Portuguese, German, Japanese, and Chinese. Mongabay-Indonesia published nearly 1,400 posts in Indonesian. Stories ran the gamut from light-hearted feel-good pieces to hard-hitting investigative content to thought-provoking interviews.



2014: the year in rainforests
Rhett Butler, mongabay.com
(12/30/2014) 2014 could be classified as 'The Year of the Zero Deforestation Commitment'. During 2014, nearly two dozen major companies, ranging from palm oil producers to fast food chains to toothpaste makers, established policies to exclude palm oil sourced at the expense of rainforests and peatlands.



Top 10 HAPPY environmental stories of 2014
Commentary by: Rhett Butler & Jeremy Hance
(12/29/2014) In what was widely seen as a possible breakthrough in the battle to coordinate some kind of response to global warming, China and the U.S. announced joint actions this year. On November 12th, the world's two most powerful countries surprised pretty much everyone by announcing that they would work together to tackle the crisis.



Favorite nature and wildlife photos from 2014
Rhett A. Butler, mongabay.com
(12/24/2014) During the course of my reporting in 2014, I had the opportunity to travel to several countries and take some pictures in the field. Below are some of my favorite images from the year. Most of these photos are from Sumatra (Indonesia), Sabah (Malaysia), and Queensland (Australia), although there are a few from the United States.



Top 10 Environmental Stories of 2014
Commentary by: Rhett Butler & Jeremy Hance
(12/23/2014) In 2014, the unimaginable happened: companies representing the majority of palm oil production and trade agreed to stop cutting down rainforests and draining peatlands for new oil palm plantations. After years of intense campaigning by environmentalists and dire warnings from scientists, nearly two dozen major producers, traders, and buyers established zero deforestation policies.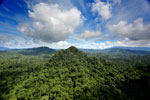 Tropical deforestation could disrupt rainfall globally
Rhett A. Butler, mongabay.com
(12/18/2014) Large-scale deforestation in the tropics could drive significant and widespread shifts in rainfall distribution and temperatures, potentially affecting agriculture both locally and far from where forest loss is occurring, concludes a study published today in Nature Climate Change.



Boosting the conservation value of 4M sq km of rainforest logging concessions
Rhett A. Butler, mongabay.com
(12/12/2014) Short of buying back logging concessions, switching from conventional logging approaches to reduced impact logging techniques across existing forestry concessions may be the best way boost biodiversity in areas earmarked for timber extraction, argues paper.



Tradeoff: Sabah banks on palm oil to boost forest protection
Rhett A. Butler, mongabay.com
(12/05/2014) Last month Sabah set aside an additional 203,000 hectares of protected forest reserves, boosting the Malaysian state's extent of protected areas to 21 percent of its land mass. But instead of accolades, Sabah forestry leaders were criticized for how they went about securing those reserves: allowing thousands of hectares of deforested land within an officially designated forestry area to be converted for oil palm plantations



What we can learn from uncontacted rainforest tribes
Rhett A. Butler, mongabay.com
(11/26/2014) If you have ever wondered about the connection between hallucinogenic frogs, uncontacted peoples, conservation, and climate change — and who hasn't? — check out this TED talk from ethnobotanist Mark Plotkin. An ethnobotanist by training, Plotkin serves as President of the Amazon Conservation Team. Plotkin took a few minutes from his busy schedule to answer a few questions from Mongabay.



Amazon deforestation moratorium extended 18 months
Rhett A. Butler, mongabay.com
(11/25/2014) The Brazilian soy industry has extended its deforestation moratorium for another 18 months. The moratorium, which was established in 2006 after a high-profile Greenpeace campaign, bars conversion of forests in Brazilian Amazon for soy production. Independent analysis has shown it to be highly effective — just prior to the moratorium, soy accounted for roughly a fifth of recent deforestation, while today its share is less than one percent.



Jane Goodall: 5 reasons to have hope for the planet
Rhett A. Butler and Jeremy Hance, mongabay.com
(11/19/2014) Jane Goodall is not only arguably the most famous conservationist who ever lived, but also the most well-known and respected female scientist on the planet today. Her path to reach that stature is an unlikely as it is inspiring. Told to 'never give up' by her mother, Goodall set out in her 20s to pursue her childhood dream: to live with animals in Africa. By the time she was 26 she doing just this.



Using games to teach kids the value of nature and philanthropy
mongabay.com
(11/18/2014) Kids are spending more time using tablets and smart phones for learning and entertainment. But hours spent gaming, Tweeting, and playing on Instagram and Facebook, may mean less engagement with nature, potentially making it more difficult for conservation organizations to inspire and influence the next generation of donors and decision makers. Given the state of the world's environment, that is a troubling thought.



A nature photographer's dream: staff photographer for the Wildlife Conservation Society
Rhett A. Butler, mongabay.com
(11/17/2014) Julie Larsen Maher has what many wildlife photographers would consider a dream job: staff photographer for the Wildlife Conservation Society (WCS), a non-profit that runs five zoos and aquariums in New York City as well as numerous site-based field programs in the U.S. and overseas. As staff photographer, Maher helps tell the stories behind WCS's conservation work, which ranges from veterinary procedures with Bronx Zoo animals to working with local communities in remote parts of Zambia to protect wildlife.



Surprising reasons to be optimistic about saving forests
Rhett A. Butler, mongabay.com
(11/14/2014) In the 1990s, the world watched with alarm as vast tracts of tropical rainforest were torn down for timber and croplands, dug up for minerals and energy, and flooded for hydroelectric projects. Conservation groups, governments, philanthropists, and institutions like the World Bank collectively spent billions of dollars on programs to stop the carnage. But as viewed from satellites high above Earth's surface, those efforts barely dented deforestation rates.



Only place where rhinos, tigers, elephants, and orangutans coexist is under threat
Rhett A. Butler, mongabay.com
(11/12/2014) A forest that is the only place where rhinos, tigers, elephants, and orangutans coexist is under threat from planned infrastructure, mining, logging, and plantation projects, warns a new report from the Rainforest Action Network. The report looks at one of the last vestiges of wilderness on the island of Sumatra, which for the past three decades has been heavily ravaged by logging, fires, and conversion to industrial timber and oil palm plantations. This area, known as the Leuser Ecosystem, is today a battleground between business-as-usual interests seeking to mine its forests and a collection of conservationists, local communities, and a collection of companies seeking to steward its resources.



Peru has massive opportunity to avoid emissions from deforestation
Rhett A. Butler, mongabay.com
(11/10/2014) Nearly a billion tons of carbon in Peru's rainforests is at risk from logging, infrastructure projects, and oil and gas extraction, yet opportunities remain to conserve massive amounts of forest in indigenous territories, parks, and unprotected areas, finds a study published this week in Proceedings of the National Academy of Sciences (PNAS).