Brazil confirms last year's rise in Amazon deforestation
Rhett A. Butler, mongabay.com
(09/12/2014) Brazil's National Space Agency INPE has officially confirmed last year's rise in Amazon deforestation.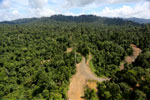 FSC meeting weighs old-growth forest protection, smallholder participation
Rhett A. Butler, mongabay.com
(09/11/2014) The Forest Stewardship Council (FSC), a body that sets social and environmental certification criteria for forestry products, is weighing measures that could step up protection for old-growth forests and make it easier for indigenous people and traditional forest communities to qualify for certification. The measures are set for a vote this week at the body's General Assembly, which is held every three years to establish and revise criteria that underpin the standard.



A path to becoming a conservation scientist
Rhett A. Butler, mongabay.com
(09/05/2014) The path to finding a career often involves twists and turns. Serendipity is important — one rarely anticipates what small events, chance occurrences, and seeds of inspiration will spur decisions that lead to pursuing one job or another. For Zuzana Burivalova, a PhD candidate based at the Swiss Federal Institute of Technology in Zurich (ETH Zurich), the road to becoming a tropical forest ecologist began as a child in a small Czech Republic village with a foldout children's book about rainforests.



Invasive species worsen damage from Hawaii's storms
Rhett A. Butler, mongabay.com
(08/22/2014) Damage from Hurricane Iselle, which recently battered Hawaii's Big Island, was exacerbated by invasion of non-native tree species, say experts who have studied the transformation of Hawaii's native forests. selle, which made landfall on the Big Island on August 7, was the third-strongest tropical cyclone to hit Hawaii since 1950. It caused upwards of $50 million in damage.



Indonesia's forests so damaged they burn whether or not there's drought
Rhett A. Butler, mongabay.com
(08/21/2014) Air pollution caused by fires set for land-clearing on Sumatra has become a regularly occurrence in Southeast Asia. While these fires are often termed forest fires, the reality is much of the area that burns each year has already been deforested and today mostly consists of grass, scrub, and remnants of what was once forest. But the impacts are nonetheless very substantial, finds a new study published in the journal Scientific Reports.


Indonesian govt reiterates plan to clear 14M ha of forest by 2020
Rhett A. Butler, mongabay.com
(08/16/2014) The Indonesian government is pressing forward with plans to clear 14 million hectares of forest between 2010 and 2020 despite a commitment to curb greenhouse gas emissions.



Big palm oil companies move forward on carbon study
Rhett A. Butler, mongabay.com
(08/14/2014) Seven palm oil giants have agreed to fund a study that will define what constitutes "High Carbon Stock" (HCS) forest, a move that will potentially determine the fate of ecosystems around the world as more companies commit to "zero-deforestation" policies based on the amount of carbon stored in vegetation.


Jane Goodall: how many elephants will be killed on World Elephant Day?
mongabay.com
(08/12/2014) Marking World Elephant Day, a designation intended to raise awareness about the plight of elephants that are being widely poached for the ivory trade, primatologist Jane Goodall urged people to have greater compassion for Earth's largest land animals.



Ecologists are underestimating the impacts of rainforest logging
Rhett A. Butler, mongabay.com
(07/31/2014) Ecologists may be underestimating the impact of logging in old-growth tropical forests by failing to account for subtleties in how different animal groups respond to the intensity of timber extraction, argues a paper published today in the journal Current Biology. The study, led by Zuzana Burivalova of ETH Zurich, is based on a meta-analysis of 48 studies that evaluated the impact of selective logging on mammals, birds, amphibians, and invertebrates in tropical forests.



The future of tropical biology research and conservation
Rhett A. Butler, mongabay.com
(07/30/2014) Last week, the Association for Tropical Biology and Conservation (ATBC) held its 51st annual meeting in Cairns, Australia. In addition to the normal symposia, plenaries, and poster sessions on a wide range of conservation topics, the convening produced a declaration calling for stronger protection of the Great Barrier Reef and two resolutions on expanding research funding in Papua New Guinea and >imploring Australia to restore its environmental leadership.



30% of Borneo's rainforests destroyed since 1973
Rhett A. Butler, mongabay.com
(07/16/2014) More than 30 percent of Borneo's rainforests have been destroyed over the past forty years due to fires, industrial logging, and the spread of plantations, finds a new study that provides the most comprehensive analysis of the island's forest cover to date. The research, published in the open-access journal PLOS ONE, shows that just over a quarter of Borneo's lowland forests remain intact.



New palm oil sustainability manifesto met with criticism from environmentalists
Rhett A. Butler, mongabay.com
(07/11/2014) This week several palm oil giants announced new environmental criteria for palm oil production. The companies say the initiative goes beyond the industry-leading standard set by the Roundtable on Sustainable Palm Oil (RSPO), but two prominent environmental groups quickly disagreed, arguing the measure has substantial loopholes that will allow growers to continue destroying forests.



APP won't acquire companies that continue to destroy forests
Rhett Butler, mongabay.com
(07/08/2014) Asia Pulp & Paper (APP) will not acquire companies that continue to destroy forests, according to a new procedure for association introduced by the Indonesian forestry giant. The procedure, developed after months of consultations with NGOs, effectively closes a loophole some environmentalists feared would allow APP to sidestep its zero deforestation commitment by acquiring companies that continued to clear forest after its February 5, 2013 deadline.



Despite moratorium, Indonesia now has world's highest deforestation rate
Rhett A. Butler, mongabay.com
(06/29/2014) Despite a high-level pledge to combat deforestation and a nationwide moratorium on new logging and plantation concessions, deforestation has continued to rise in Indonesia, according to a new study published in Nature Climate Change. Annual forest loss in the southeast Asian nation is now the highest in the world, exceeding even Brazil.



Despite early headwinds, Indonesia's biggest REDD+ project moves forward in Borneo
Rhett A. Butler, mongabay.com
(06/26/2014) Just over a year ago, the Indonesian government officially approved the country's first REDD+ forest carbon conservation project: Rimba Raya, which aims to protect more than 64,000 hectares of peat forest in Central Kalimantan. The approval came after years of delays from the Ministry of Forestry and a substantial reduction in the project's concession area. But InfiniteEarth, the firm behind the project, pressed on. Now a year later, Rimba Raya's is not only still in business, but is scaling up its operations.



Discarded cell phones to help fight rainforest poachers, loggers in real-time
Rhett A. Butler, mongabay.com
(06/24/2014) A technology that uses discarded mobile phones to create a real-time alert system against logging and poaching will soon be deployed in the endangered rainforests of Central Africa. Rainforest Connection (RFCx), a San Francisco-based non-profit startup, is partnering with the Zoological Society of London (ZSL) to install its real-time anti-deforestation technology at sites in Cameroon. 30 RFCx devices — recycled from old Android handsets — will monitor 10,000 hectares or nearly 40 square miles of rainforest, listening for audio signals associated with logging and poaching.



Protecting rainforests could sequester equivalent of a third of global emissions annually
Rhett A. Butler, mongabay.com
(06/13/2014) liminating deforestation, peatlands and forest degradation, and forest fires in the tropics could reduce global carbon emissions by two billion tons a year, or nearly a fifth, argues a new study published in Global Change Biology. The research analyzed various emissions sources and sinks across the tropics. They found that carbon emissions from activities that damage and destroy forests are nearly counterbalanced by forest regrowth, reforestation, and afforestation.



In cutting deforestation, Brazil leads world in reducing emissions
Rhett A. Butler, mongabay.com
(06/05/2014) Brazil's success in reducing deforestation in the world's largest rainforest has been much heralded, but progress may stall unless farmers, ranchers and other land users in the region are provided incentives to further improve the environmental sustainability of their operations, argues a study published this week in the journal Science.



Singapore intercepts massive illegal shipment of Madagascar rosewood
Rhett A. Butler, mongabay.com
(06/03/2014) Authorities in Singapore have made the largest-ever international seizure of rosewood logs, providing further evidence that industrial-scale smuggling of Madagascar's rainforest timber continues despite an official ban on the trade. Details of the seizure remain sparse since the investigation is still active, but leaked correspondence between officials in Madagascar indicates that the shipment amounts to 3,000 tons, or more than 29,000 illicit rosewood logs.



Logger continues to destroy Indonesian rainforest despite green promises (Photos)
Rhett A. Butler, mongabay.com
(06/03/2014) Indonesian logging giant Asia Pacific Resources International Limited (APRIL) is continuing to destroy endangered rainforests on Sumatra despite a high profile commitment to clean up its operations, reveal aerial photos captured by Greenpeace last month.



Indonesian activist: strong company commitments, media push government on forest issues
Rhett A. Butler, mongabay.com
(05/23/2014) Indonesia has become notorious for its high rate of forest loss, but there are nascent signs of progress. The central government has implemented a moratorium across some 14.5 million hectares of forest and peatlands, while a handful of Indonesian companies have adopted policies that establish social and environmental safeguards.



Intensifying cattle production in Brazil could cut global deforestation emissions 25%, says study
Rhett A. Butler, mongabay.com
(04/28/2014) Brazil could reduce more than a quarter of emissions linked to deforestation worldwide by intensifying cattle production in the Amazon, argues a new study published in the journal Proceedings of the National Academy of Sciences.



APP commits to conserve, restore 1M ha of Indonesian forest; WWF pledges support
Rhett A. Butler, mongabay.com
(04/28/2014) Asia Pulp & Paper (APP), Indonesia's largest pulp and paper company and a long-time target of environmental campaigners, has committed to protect and restore a million hectares of forest across Indonesia. The pledge, which represents an area equivalent to the total plantation area from which it sourced pulp in 2013, was immediately welcomed by WWF, which until today has remained one of APP's staunchest critics.



Earth Day Picture Gallery: Celebrating Indonesia
Rhett A. Butler, mongabay.com
(04/22/2014) This Earth Day, we've decided to highlight the spectacular natural wonders of Indonesia, which is arguably the most biodiverse country on Earth. Indonesia is rich with wildlife thanks to its geography: some 17,000 islands spanning 1.9 million square kilometers (741,000 square miles) of tropical seas. Accordingly, the country is home to an incredible array of habitats ranging from rainforests to tropical glaciers to coral reefs, which support untold numbers of species.



Behind the scenes of Showtime's blockbuster series on climate change
Rhett A. Butler, mongabay.com
(04/18/2014) For years climate change activists and environmentalists have been clamoring for a high-profile, high-impact TV series about climate change to make Americans more aware of an issue that will affect billions of people around the globe in coming decades. This week they finally got it when Showtime released the first episode of Years of Living Dangerously, a big-budget TV series featuring a number of Hollywood's biggest stars as reporters and corespondents.