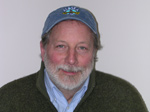 Dave Benton of the Marine Conservation Alliance
In Alaska, fishing industry drives marine conservation -- 7/24/2007
Alaska's fisheries are some of the richest in the world, with fishermen harvesting hundreds of millions of dollars' worth of salmon, crab, herring, halibut, pollock, and groundfish every year. However, such bounty has not always been the case. Over-exploitation and poor fisheries management in the 1940s and 1950s took a heavy toll on the industry. Born of this difficult origin, today Alaska sets the bar in fisheries management. Unusually for natural resource management, industry is leading the way, relying on dialog with scientists to determine catch levels and where to designate "no-fishing zones", while pushing for certification standards for sustainable seafood products. These efforts are coordinated by the Marine Conservation Alliance (MCA), an industry-backed nonprofit based in Juneau, Alaska. In July 2007, David Benton, executive director of the Marine Conservation Alliance, spoke with mongabay.com about MCA's work in Alaska.