Forest fires Forest fires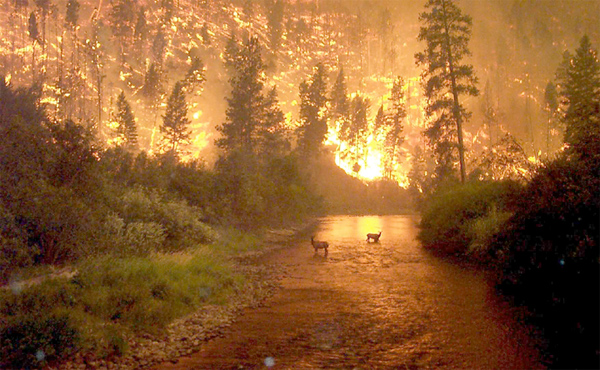 John McColgan, a member of the Alaska Forest Service, took this photograph in Bitterroot National Forest while a wildfire burned in 2010. Credit: Alaska Forest Service/McColgan. A forest fire is an uncontrolled fire in that burns in a forest area. Forest fires can set intentionally to clear land or burn undergrowth; sparked accidentally; or ignited naturally, typically by lightning, volcanic eruption, or sparks from rockfalls.

Forest fires are more common in certain types of forests. Generally these are ecosystems that experience extended periods of dryness or are adjacent to savannas and grasslands.

Forest fires may be part of a natural fire regime, where fires occur on a semi-regular basis. Plants in fire-prone habitats may be adapted to occasional burning. In fact the seeds of some tree species only germinate after burning.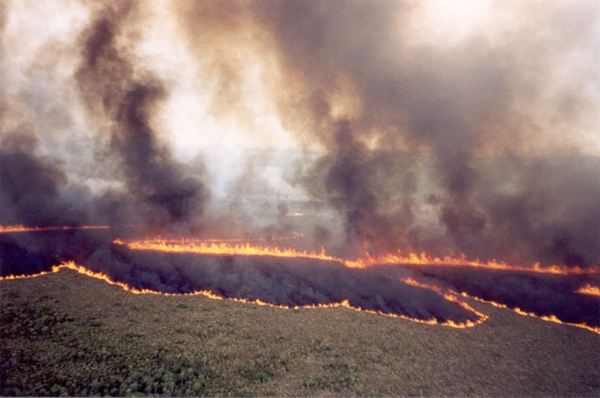 Photo of forest fire. Courtesy of USGS.

While fire is a natural occurrence in many forests, the incidence of fire is increasing in some parts of the world due to warmer conditions and more erratic rainfall patterns. For example rainforests in the Amazon and Borneo are now experiencing large-scale fires in dry years. Because these forests do not have natural fire regimes, burning causes substantial ecological damage. Several studies have warned that climate change will increase the frequency and severity of fires in Southeast Asia, the Amazon, and the Western United States.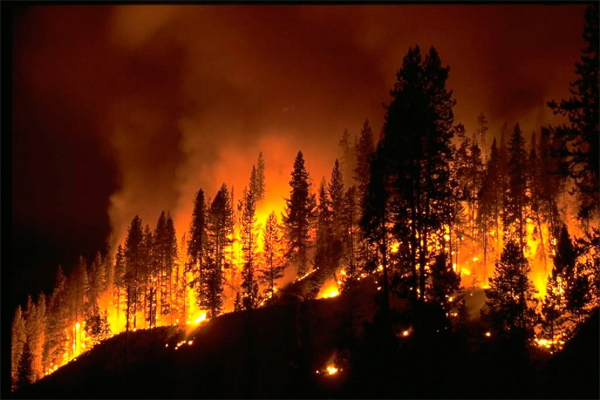 Photo of forest fire. Courtesy of NOAA.



Highlighted stories on forest fires
Scientist: 'no doubt' that climate change is playing a role in U.S. fires

(07/02/2012) A noted climate scientist says there is 'no doubt' that climate change is 'playing a role' in this year's series of record fires in the western U.S. A massive wildfire in Colorado has forced the evacuation of 36,000 people, destroyed over 300 homes, and killed two people. The devastation wrought by the Waldo Canyon Fire even prompted a visit form U.S. President Barack Obama. But this is not the only epic fire in the U.S. this year: less than a month before the Colorado disaster, New Mexico experienced its largest fire on record in Gila Nation Forest; the conflagration burned up 247,000 acres (100,000 hectares). Other major wildfires have occurred in Utah and Wyoming, as well as other parts of New Mexico and Colorado.


Last year's drought hit Amazon hard: nearly a million square miles impacted

(03/29/2011) A new study on its way to being published shows that the Amazon rainforest suffered greatly from last year's drought. Employing satellite data and supercomputing technology, researchers have found that the Amazon was likely hit harder by last year's drought than a recent severe drought from 2005. The droughts have supported predictions by the Intergovernmental Panel on Climate Change's (IPCC) that climate change, among other impacts, could push portions of the Amazon to grasslands, devastating the world's greatest rainforest. "The greenness levels of Amazonian vegetation—a measure of its health—decreased dramatically over an area more than three and one-half times the size of Texas and did not recover to normal levels, even after the drought ended in late October 2010," explains the study's lead author Liang Xu of Boston University.


Unprecedented tundra fire likely linked to climate change

(11/23/2010) A thousand square kilometers of the Alaskan tundra burned in September 2007, a single fire that doubled the area burned in the region since 1950. However, a new study in the Journal of Geophysical Research finds that the fire was even more unprecedented than imagined: sediment cores found that it was the most destructive fire in the area for at least 5,000 years and maybe longer. "If such fires occur every 200 years or every 500 years, it's a natural event," University of Illinois plant biology professor Feng Sheng Hu explains in a press release. "But another possibility is that these are truly unprecedented events caused by, say, greenhouse warming."


Fire contributes 20% of global warming emissions

(04/23/2009) Fire accounts for roughly half of greenhouse gas emissions from deforestation and about twenty percent of total emissions from human activities, report researchers writing in the journal Science. The estimates — based on analysis of fire's impact on emissions of carbon dioxide, nitrous oxide, and methane; albedo or the reflectivity of Earth's surface; and release of aerosols and other particulates — suggest fire plays a major large role in climate than conventionally believed.


New fire record for Borneo, Sumatra shows dramatic increase in rainforest destruction

(02/22/2009) Destruction of rainforests and peatlands is making Indonesia more susceptible to devastating forest fires, especially in dry el Niño years, report researchers writing in the journal Nature Geoscience. Constructing a record of fires dating back to 1960 for Sumatra and Kalimantan (on the island of Borneo) using airport visibility records to measure aerosols or "haze" prior to the availability of satellite data, Robert Field of the University of Toronto and colleagues found that the intensity and scale of fires has increased substantially in Indonesia since the early 1990s, coinciding with rapid expansion of oil palm plantations and industrial logging.


Fire monitoring by satellite becomes key conservation tool

(03/26/2008) Remote sensing is increasingly used as a tool for conservation management. Beyond traditional satellite imagery popularized by Google Earth, new sensing applications are allowing researchers located anywhere in the world to track fires, illegal logging and mining, and deforestation in some of Earth's most isolated regions using a computer or handheld device. The Fire Alert System is one example of an application that is harnessing the power of satellites to deliver key data to conservation managers. Developed by Madagascar's ministry of Environment, the International Resources Group, conservation International using data from the University of Maryland and NASA, the Fire Alert System enables near real-time monitoring of fires anywhere on the island of Madagascar, a hotspot of biological diversity. The system, which sends subscribers regular email alerts on newly-detected burning, will eventually be expanded to include all the world's protected areas, allowing managers to detect not only fires but potentially related activities like road building, logging, and even hunting.


Half the Amazon rainforest will be lost within 20 years

(02/27/2008) More than half the Amazon rainforest will be damaged or destroyed within 20 years if deforestation, forest fires, and climate trends continue apace, warns a study published in Philosophical Transactions of the Royal Society B. Reviewing recent trends in economic, ecological and climatic processes in Amazonia, Daniel Nepstad and colleagues forecast that 55 percent of Amazon forests will be "cleared, logged, damaged by drought, or burned" in the next 20 years. The damage will release 15-26 billion tons of carbon into the atmosphere, adding to a feedback cycle that will worsen both warming and forest degradation in the region. While the projections are bleak, the authors are hopeful that emerging trends could reduce the likelihood of a near-term die-back. These include the growing concern in commodity markets on the environmental performance of ranchers and farmers; greater investment in fire control mechanisms among owners of fire-sensitive investments; emergence of a carbon market for forest-based offsets; and the establishment of protected areas in regions where development is fast-expanding.


Boreal forest fires important source of emissions

(10/31/2007) Forest fires in the boreal forests of Canada are an important source of greenhouse gas emissions reports a new study published in the journal Nature.


Despite fire risk, more Americans building near forests

(10/29/2007) While much of the world is seeing an urbanization trend, U.S. housing density around national forests is expected to rise by 2050, reports a study from the U.S. Forest Service. The shift could put more people at risk of devastating forest fires and increase pressure on forests and the services they provide.


Climate change fuels more forest fires in the United States

(07/06/2006) New research says the frequency of large forest fires has increased in the western United States since the mid-1980s as spring temperatures climbed, mountain snows melted earlier and summers got hotter. The new findings, published in the July 6 issue of Science Express, suggest that climate change, not fire suppression policies and forest accumulation, is the primary driver of recent increases in large forest fires.



Recent news on forest fires