Forests
Background: Forests cover about 4 billion hectares (3 952 million hectares or about 40 million square kilometers) or 30.3 percent of the planet's land area. 10 countries hold about two-thirds the world's forest cover.

Each year about 13 million hectares of the world's forests are lost due to deforestation, 6 million of which are classified as primary or old growth forests. Forest regrowth and the establishment of plantations (2.8 million hectares per year) reduced net forest loss to around 7.3 million hectares per year from 2000 to 2005 -- an area the size of Panama and equivalent to 200 square kilometers per day, according to the U.N. Food and Agriculture Organization (FAO).


Articles
---



Timber 'mass graves' uncovered as Malaysian authorities pursue illegal loggers
(05/21/2015) A crackdown on illegal logging in Peninsular Malaysia's largest continuous forest complex has uncovered three timber 'mass graves' – burial sites where valuable logs have been stashed beneath tons of earth to hide evidence. The loggers apparently made haste in fleeing the hilly terrain where they left the timber. A joint operation by Malaysia's antigraft agency and Forestry Department found parts of logs sticking out of the ground and the red earth still unsettled, indications their quarry had hurriedly concealed the felled trees.



Primary rainforest cleared for massive palm oil plantations in Peru
(05/20/2015) More than 9,400 hectares of closed-canopy Amazonian rainforest has been removed for two oil palm plantations in the Peruvian region of Ucayali since 2011, according to scientists working for MAAP, the Monitoring of the Andean Amazon Project. The two plantations are linked to Czech entrepreneur Dennis Melka.



VICE's 'Indonesia's Palm Bomb' presents a tragic view of palm oil driven deforestation from the frontlines
(05/20/2015) For the sixth episode of its third season, HBO's Emmy-winning news series, VICE, focused its lens on Indonesia's palm oil industry. The episode, entitled, 'Indonesia's Palm Bomb', follows VICE correspondent, Ben Anderson, as he investigates the environmental and social impact of widespread (and, at times, illegal) deforestation on wildlife and indigenous communities in Sumatra.



Sumatran tiger found dead in a pig trap
(05/20/2015) Authorities in the Indonesian province of West Sumatra buried the rotting carcass of a critically endangered female tiger that died after being ensnared by a pig trap on a rubber plantation earlier this month. The creature, a mother who was probably teaching her young to hunt, was found covered in wounds, its neck entangled in wire.


Tennis star responds to rainforest advocates
(05/20/2015) Roger Federer has responded to two Indonesian activists who asked the tennis star to use his influence to encourage Credit Suisse to end its relationship with a controversial logging company, reports the Bruno Manser Fund.



High pressure: is U.S. policy deterring illegal wood imports?
(05/19/2015) Some countries, such as the U.S., have imposed legislation at the consumer level, banning the import of illegally sourced wood through their borders. A new study finds that such legislation can be effective, with a 2008 amendment to the Lacey Act significantly reducing the influx of illegal wood into the U.S.



62M ha of Latin American forests cleared for agriculture since 2001
(05/19/2015) Over 62 million hectares (240,000 square miles) of forest across Latin America — an area roughly the size of Texas or the United Kingdom — were cleared for new croplands and pastureland between 2001 and 2013, find a study published in Environmental Research Letters.



Luxury hotel chain linked to destruction of rainforests
(05/19/2015) The Mandarin Oriental hotel chain has landed in environmentalists' crosshairs for the practices of its sister company Astra Agro Lestari, a rapidly expanding palm oil producer with fully developed plantations on an area larger than Singapore. The new She's Not a Fan campaign – a play off Mandarin's celebrity-fan endorsement drive – launched yesterday with a petition calling on Astra to stop destroying forests and elephant habitat. Multinational conglomerate Jardine Matheson owns both firms.



China's investment in Latin America taking toll on the environment, setting the stage for conflict
(05/18/2015) China has been investing heavily in Latin America's natural resources and crude oil. Recently, the country even pledged to invest $250 billion over the next decade to strengthen its presence in the region, and compete with the U.S. But this increasing Chinese trade and investment in Latin America is also increasing environmental and social conflict, finds a new report published by Boston University.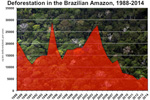 What's the current deforestation rate in the Amazon rainforest?
(05/15/2015) Nearly two-thirds of the Amazon rainforest is located in Brazil, making it the biggest component in the region's deforestation rate. Helpfully, Brazil also has the best systems for tracking deforestation, with the government and Imazon, a national civil society organization, releasing updates on a quarterly and monthly basis using MODIS satellite data, respectively. Both the Brazilian government and Imazon release more accurate data on an annual basis using higher resolution Landsat satellite imagery.



Satellite images show deforestation on fringes of UNESCO World Heritage Site in Cameroon
(05/14/2015) In the push to become a middle-income country in the next two decades, Cameroon has courted investments in its vast natural resource wealth in the form of mining, logging and large-scale agriculture. But deforestation revealed by a recent Greenpeace Africa investigation highlights a lack of coordination in determining how to use the country's land.



Indonesia's partial forest-clearing moratorium extended, but activists wanted more
(05/14/2015) Indonesian President Joko "Jokowi" Widodo extended the country's partial forest clearing moratorium yesterday on the day of its expiration, leaving largely intact a policy civil society groups had demanded be strengthened. The environment and forestry minister said the government greatly appreciated the calls from organizations like Greenpeace, Walhi, Kemitraan, Sawit Watch, World Resources Institute and others, and would address the proposed changes.



New mapping project uncovers road networks in Peru's primary forests
(05/13/2015) A research team unearthed a suspicious network of roads in northern Peru in early 2013. For two years, they watched the network grow to over 150 kilometers in length, split into two networks. The southern part of the network is located entirely in the protected buffer region of the Cordillera de Azul National Park, and is characteristic of roads meant for logging.



Zero deforestation commitments bearing fruit in the Amazon
(05/13/2015) A high profile pledge by the world's largest meat company to limit deforestation for cattle production in the Amazon appears to be working, resulting in a dramatic increase in compliance with environmental registries and reduced forest clearing among supplier ranches, finds a comprehensive study published in the journal Conservation Letters.



Satellite data shows how deforestation is impacting our weather and our food
(05/12/2015) The conversion of forests to cropland can drive local temperatures up or down by as much as a few degrees, according to a new report. Ironically, the authors write that these temperature fluctuations can lead to less productivity from the very same agricultural operations the forests were cleared to make way for.



Scientists reconstruct what was in the Harapan Rainforest of Sumatra
(05/12/2015) A new study published in mongabay.com's open-access journal Tropical Conservation Science describes how the Harapan Rainforest was prior to extensive logging and compares it to its current condition. The authors call for the Harapan's conservation because it is still very rich in species and holds rare habitats and many endemic plants.



Wilmar, Musim Mas supplier caught clearing elephant habitat for palm oil in Aceh
(05/12/2015) A new report provides evidence that a supplier of palm oil giants Wilmar and Musim Mas is bulldozing valuable forests in Indonesia's Leuser Ecosystem in violation of the companies' zero-deforestation policies as well as the Indonesia Palm Oil Pledge (IPOP), a high-profile, joint sustainability pact that also includes Golden Agri-Resources, Asian Agri, Musim Mas and the Indonesian Chamber of Commerce and Industry (Kadin).



Indonesian forestry giant calls for stronger forest moratorium
(05/11/2015) Asia Pulp & Paper (APP), an Indonesian forestry giant once targeted by environmentalists for its logging practices, has joined a growing chorus of voices calling for a stronger moratorium on deforestation and policies that enable companies to support conservation efforts. In a letter released Monday, Aida Greenbury, APP's Managing Director of Sustainability, asked Indonesian President Joko Widodo to extend the country's moratorium on new logging and plantation concessions.



Peru considers fate of Amazon wildlife paradise
(05/08/2015) The fate of La Sierra del Divisor, a 1.5 million hectare reserve lauded for its megadiversity of wildlife, will soon to be decided. According to El Comercio, next week the Peruvian government is expected to rule whether Divisor will be declared a national park. The designation, which was requested by local groups nearly a decade ago, would strengthen legal protection of the area, which faces logging, mining, coca cultivation, and agricultural encroachment. It would also establish rules for the buffer zone around the potential protected area.



World's critical habitats lost Connecticut-size area of forest in a decade
(05/08/2015) Many of the world's endangered animals live in only one place, making them hugely susceptible to environmental upset. One fell swoop, and entire species could disappear from existence forever. New analysis shows that possibility may be edging closer and closer to reality in some areas, with forests known to harbor high-risk species losing an area of tree cover the size of Connecticut in a little over a decade.












archives | news | XML / RSS feed | featured


XML / RSS / Syndication options

mongabay.com features more than 400 RSS feeds to meet your specific area of interest



MONGABAY.COM
Mongabay.com seeks to raise interest in and appreciation of wild lands and wildlife, while examining the impact of emerging trends in climate, technology, economics, and finance on conservation and development (more)

CONTENTS





WEEKLY NEWSLETTER


INTERACT



SUPPORT
Help support mongabay.com when you buy from Amazon.com


STORE

SHIRTS
HIGH RESOLUTION PHOTOS / PRINTS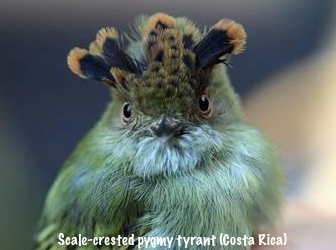 TOPICS
more