Forests
Background: Forests cover about 4 billion hectares (3 952 million hectares or about 40 million square kilometers) or 30.3 percent of the planet's land area. 10 countries hold about two-thirds the world's forest cover.

Each year about 13 million hectares of the world's forests are lost due to deforestation, 6 million of which are classified as primary or old growth forests. Forest regrowth and the establishment of plantations (2.8 million hectares per year) reduced net forest loss to around 7.3 million hectares per year from 2000 to 2005 -- an area the size of Panama and equivalent to 200 square kilometers per day, according to the U.N. Food and Agriculture Organization (FAO).


Articles
---
Dissolving pulp: a growing threat to global forests
(10/30/2014) Dissolving pulp is not just a threat to the forests of Indonesia. It is a growing industry across the globe, and it's putting several of the world's endangered forests in jeopardy.



The Search for Lost Frogs: one of conservation's most exciting expeditions comes to life in new book
(10/30/2014) One of the most exciting conservation initiatives in recent years was the Search for Lost Frogs in 2010. The brainchild of scientist, photographer, and frog-lover, Robin Moore, the initiative brought a sense of hope—and excitement—to a whole group of animals often ignored by the global public—and media outlets. Now, Moore has written a fascinating account of the expedition: In Search of Lost Frogs.


Amazon rainforest is getting drier, confirms another study
(10/30/2014) Parts of the Amazon rainforest are getting considerably less rain, leading trees to absorb less carbon, finds a study published this week in the journal Proceedings of the National Academy of Sciences.



Fashion industry making progress in cutting deforestation from clothing
(10/30/2014) Several more clothing companies have committed to eliminate fiber produced via destruction of endangered forests, adding momentum to a zero deforestation movement within the fashion sector, argues a new report published by Canopy, an environmental non-profit.



APP acknowledges historic land-grabbing in China, pledges reform
(10/30/2014) While Asia Pulp and Paper (APP) has made considerable progress on addressing social and environmental problems associated with its operations in Indonesia, the forestry giant still has much to do to rectify historic social grievances in China, says a report published by Landesa and Rights and Resources Initiative (RRI).



Destroyed habitat, fewer resources, Ebola: the many repercussions of Liberia's deforestation
(10/29/2014) Liberia is one of the last strongholds of intact forest in West Africa. These forests are the home of many unique species of plants and animals, and many Liberians rely on the forests for direct economic benefits. The presence of intact forests may even be important for preventing the future outbreak of disease such as Ebola, which can be transmitted to people from animal vectors displaced by deforestation.



Tigers vs. diamonds: India's protected areas rampantly downgraded to make room for people, industry (PART II)
(10/29/2014) In India's central state of Madhya Pradesh lie 500 square kilometers (200 square miles) of protected land demarcated as the Panna Tiger Reserve. Recently, however, its protection status has been questioned, and global-scale analyses show Panna is far from alone among India's many threatened Protected Areas.



How protected are they? Report finds world's Protected Areas may relax, shrink, even completely disappear (PART I)
(10/28/2014) On March 1, 1872, the United States Congress declared 3,400 square miles of land spanning three states as the country's - and the world's - first national park. We call it Yellowstone. Today, there are over 160,000 PAs spanning 12.7 percent of the planet's land surface.


Artists, musicians, writers protest government plans for massive coal plant in the Sundarbans
(10/28/2014) Over the weekend, Bangladeshi artists performed plays, sang songs, and recited poetry all in a bid to protect the Sundarbans—the world's biggest mangrove forest—from the threat of a massive coal plant. Construction is already under way on the hugely controversial Rampal coal plant, a 1,320 megawatt plant set just 14 kilometers from the edge of the Sundarbans.



Between the forest and the sea: life and climate change in Guna Yala - Part I
(10/27/2014) The island-dwelling Guna people of Panama are one of the most sovereign indigenous communities in the world, but now severe weather and sea level rise are causing regular flooding on many of the islands, and will likely force the Guna to have to abandon their island homes for the mainland. This multimedia piece offers an introduction to everyday life and customs in Guna Yala and touches upon the uncertain future the Guna are now facing thanks to the impacts of climate change.


Scientific association calls on Nicaragua to scrap its Gran Canal
(10/27/2014) ATBC—the world's largest association of tropical biologists and conservationists—has advised Nicaragua to halt its ambitious plan to build a massive canal across the country. The ATBC warns that the Chinese-backed canal, also known as the Gran Canal, will have devastating impacts on Nicaragua's water security, its forests and wildlife, and local people.



Conservationists propose Dracula Reserve in Ecuador
(10/24/2014) Deep in the dark, cool forests of Ecuador and Colombia live strange and mysterious organisms. Some inhabit the trees and others stay to the ground, and many are threatened by human encroachment. Because of this threat, Rainforest Trust has launched a Halloween fundraising drive to help pay for the creation of the Dracula Reserve--named for its dramatic inhabitant, the Dracula orchid.



Google's new Gombe Street View lets users 'walk' along chimp trails and into Jane Goodall's house
(10/24/2014) Google Maps is now available for Tanzanian forest paths. Users can walk virtually along the same trails Jane Goodall has used for her decades of chimpanzee monitoring -- and even into her house.


Beef, palm oil, soy, and wood products from 8 countries responsible for 1/3 of forest destruction
(10/23/2014) Four commodities produced in just eight countries are responsible for a third of the world's forest loss, according to a new report. Those familiar with the long-standing effort to stop deforestation won't be surprised by the commodities named: beef, palm oil, soy, and wood products (including timber and paper). Nor will they be very surprised by most of the countries: Brazil, Indonesia, and Malaysia.



Brazil declares new protected area larger than Delaware
(10/23/2014) Earlier this week, the Brazilian government announced the declaration of a new federal reserve deep in the Amazon rainforest. The protections conferred by the move will illegalize deforestation, reduce carbon emissions, and help safeguard the future of the area's renowned wildlife.



Next big idea in forest conservation? Recognize the value of novel forests
(10/23/2014) Think first before you eradicate non-native species says Dr. Ariel E. Lugo, the current director of the International Institute of Tropical Forestry within the USDA Forest Service, based in Puerto Rico. Lugo, an accomplished ecologist, supports the idea that both native and non-native plants have important roles to play in conservation efforts.



Gold mining expanding rapidly along Guiana Shield, threatening forests, water, wildlife
(10/22/2014) Gold mining is on the rise in the Guiana Shield, a geographic region of South America that holds one of the world's largest undisturbed tract of rainforest. A new mapping technology using a radar and optical imaging combination has detected a significant increase in mining since 2000, threatening the region's forests and water quality.



Colombia reports drop in deforestation
(10/21/2014) Colombia has for the first time released an annual report on deforestation, revealing that forest loss during 2013 was lower than the recent average. The government says some 120,933 hectares of natural forest were cleared between January and December 2013.



'No forests, no cash': palm oil giants commit to sustainability, but will they follow through?
(10/21/2014) Four of Indonesia's largest palm oil producers signed a landmark commitment in New York in September to further implement sustainable practices across one of the country's largest commercial sectors. Then-President Susilo Bambang Yudhoyono and the Indonesia Chamber of Commerce (KADIN) witnessed the undertaking, which is hoped to expand the country's palm oil industry while making it more environmentally friendly.



Coal, climate and orangutans – Indonesia's quandary
(10/21/2014) What do the climate and orangutans have in common? They are both threatened by coal - the first by burning it, and the second by mining it. At the recent United Nations Climate Summit in New York, world leaders and multinational corporations pledged a variety of actions to reduce greenhouse gas emissions and deforestation to avert a looming disaster caused by global warming.












archives | news | XML / RSS feed | featured


XML / RSS / Syndication options

mongabay.com features more than 400 RSS feeds to meet your specific area of interest



MONGABAY.COM
Mongabay.com seeks to raise interest in and appreciation of wild lands and wildlife, while examining the impact of emerging trends in climate, technology, economics, and finance on conservation and development (more)

CONTENTS





WEEKLY NEWSLETTER


INTERACT



SUPPORT
Help support mongabay.com when you buy from Amazon.com


STORE

SHIRTS
HIGH RESOLUTION PHOTOS / PRINTS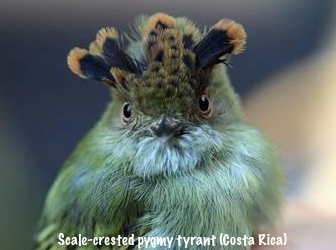 TOPICS
more