Forests
Background: Forests cover about 4 billion hectares (3 952 million hectares or about 40 million square kilometers) or 30.3 percent of the planet's land area. 10 countries hold about two-thirds the world's forest cover.

Each year about 13 million hectares of the world's forests are lost due to deforestation, 6 million of which are classified as primary or old growth forests. Forest regrowth and the establishment of plantations (2.8 million hectares per year) reduced net forest loss to around 7.3 million hectares per year from 2000 to 2005 -- an area the size of Panama and equivalent to 200 square kilometers per day, according to the U.N. Food and Agriculture Organization (FAO).


Articles
---
Chinese-backed smelter plan causes concern among Sulawesi fishermen
(03/31/2015) As a pair of Chinese-owned miners companies proceed with plans to construct nickel smelters in Indonesia's Central Sulawesi province, in line with a national edict to increase in-country mineral processing capacity, locals fear the factories will only intensify environmental degradation from the same firms' mining operations and harm fishing communities that rely on the area.



9 months after Amazonian oil pipeline spill, effects and fears linger
(03/30/2015) When Peru's state-run oil company pulled out of this small Kukama Indian village in mid-December after cleaning up an oil pipeline spill, residents thought life could slowly return to normal. But more than three months later, wisps of oil floating down the Cuninico River—along with a larger spill in the neighboring community of San Pedro—are a reminder that the problems are not over.



Large animals invaluable for tree-seed dispersal and regeneration of tropical forests
(03/30/2015) Nearly two-thirds of tropical forests in Southeast Asia have been degraded by logging, agriculture and other human uses, and their fauna have been decimated by hunting and the bushmeat trade. But if those degraded tropical forests are to recover naturally, they will need to rely on their remaining large wild animals to disperse large tree seeds, according to a new study.



Locals revolt against gold miner in Sulawesi
(03/30/2015) Residents of Indonesia's Buyat Bay and a national legal aid institute are preparing a case against a gold miner they say began operating in secret without locals' consent. They also accuse the company, owned by a prominent politician, of failing to acquire the proper licenses, clearing forest in a protected area and damaging the environment.


APRIL suspends contractor after environmentalists expose ongoing deforestation
(03/28/2015) Asia Pacific Resources International Holdings Limited (APRIL) has suspended a contractor and a plantation manager after environmentalists exposed deforestation that violates the logging giant's sustainability policy.



Low crop prices means time is ripe for new forest protection programs
(03/27/2015) Today, conservation compliance is a U.S. policy between governments and farmers that reward farmers with federal subsidies for good conservation practices on designated vulnerable lands. But economist Clayton Ogg believes it could now be used to save forests in countries like Brazil, China, India, and Indonesia. "The main drivers for deforestation in recent years are high crop prices. However, as crop prices fall to more normal levels, farmers depend very heavily on government subsidies, and the subsidies become the major driver for deforestation," Ogg told mongabay.com.



Just how useful is forest restoration? New study seeks to find out
(03/27/2015) Across the world, scientists estimate there are about two billion hectares of degraded forestland. In Indonesia alone, 25 million hectares of former logging concessions currently have no management, according to research. A study recently published in mongabay.com's open access journal Tropical Conservation Science suggests this may represent an important opportunity for biodiversity conservation through restoration.



Aceh unveils protected area in beleaguered Tripa peat swamp
(03/27/2015) As Indonesia's Supreme Court prepares to rule on an appeal from oil palm developer Kallista Alam, ordered to pay Rp366 billion in fines and reparations for cut-and-burning forest in the Tripa peat swamp region, the Aceh government has established a protected zone in the company's former concession, the culmination of a months-long program to rehabilitate the area.



APRIL violates sustainability policy by clearing peat forest after Jan cut-off
(03/26/2015) New data shows Asia Pacific Resources International Holdings Limited (APRIL) is continuing to destroy rainforests on deep peat despite a high profile pledge to clean up its operations. Today Greenomics-Indonesia released an analysis of two NASA Landsat images confirming that APRIL's subsidiary PT Riau Andalan Pulp Paper (RAPP) has cleared significant tracts of peat forest on Pulau Pedang island off Sumatra's coast since January 2015.



Why palm oil expanded, and what keeps it growing
(03/26/2015) Today, oil palm is Indonesia's most important cash crop. In 2014, Indonesia produced 33.5 million tons of palm oil, generating $18.9 billion in export revenue. This makes palm oil Indonesia's third most valuable export, behind only coal and petroleum gas. However, the rise of Indonesian palm oil is only a relatively recent phenomenon. The chart below shows the remarkable growth that the industry has displayed over the past 30 years.



Mexico's club mosses at risk of extinction
(03/26/2015) All nine species of the club moss genus Phlegmariurus found in the state of Veracruz in eastern Mexico are at risk of extinction, according to a new study published in the journal Tropical Conservation Science. One of these species, P. orizabae, has not been recorded in the wild since 1854.



Indonesia's biodiversity-protected areas no match for encroachers, finds study
(03/26/2015) Indonesia's biodiversity-focused protected areas are failing to slow deforestation, while other categories have achieved mixed results, finds a new study. The coupling of poor law enforcement with the presence of high-value timber seems to be the main culprit.



Destruction of elephant, tiger, and orangutan habitat doubles
(03/25/2015) The rate of forest loss in Indonesia's Leuser Ecosystem — the only place on Earth where rhinos, orangutans, tigers, and elephants live in the same habitat — has more than doubled due to logging, encroachment, and conversion to industrial plantations, warn conservationists. In a statement issued Tuesday, the Sumatran Orangutan Society reported that 80,316 hectares of forest were lost between 2008 and 2013, a sharp increase from the 30,830 hectares cleared between 2002 and 2008.



Photos: expedition to Amazon's white sands may have found new primate
(03/24/2015) Most people think of the Amazon rainforest as one massive, homogenous ecosystem—a giant castle of green. However, within the Amazon rainforest lie a myriad of distinct ecosystems, sporting unique characteristics and harboring endemic species. One of the rarer ecosystems in the Amazon is the white sands forest.



Reforestation programs may help reduce illegal logging in Indonesian Borneo
(03/24/2015) Can the act of planting a tree change one's attitude towards forests and conservation? Erica Pohnan, Hotlin Ompusunggu, and Campbell Webb, from the conservation NGO Alam Sehat Lestari (ASRI), set out to answer this question by evaluating the effectiveness of reforestation programs in and around Gunung Palung National Park in West Kalimantan, Indonesia.



'How about that extension?' activists ask as forest exploitation moratorium deadline nears
(03/24/2015) Less than two months before the expiration of an Indonesian forest exploitation moratorium set up under an agreement with Norway, activists called on Environment and Forestry Minister Siti Nurbaya Bakar to extend the prohibition, as she promised to do after taking office last year.



World's fragmented forests are deteriorating
(03/24/2015) The world's forests are fragmented and deteriorating, states a new paper published in Science Advances. After analyzing satellite imagery and compiling data from long-term fragmentation studies, the authors conclude that 70 percent of remaining forest land exists within 1 km of an edge, which negatively impacts their fauna, flora, and ecosystem services.



Seeing the trees but not the forest (commentary)
(03/20/2015) Understanding forest dynamics is necessary for the sound management of forests, for both production and conservation. This includes an understanding of the extent of forest area, information about what the forest contains and how the forest resource is managed. Forest monitoring provides this information.



Study finds roads in Southeast Asia may be devastating forests, wildlife
(03/20/2015) Habitat loss and illegal hunting are leading drivers behind mammal population decline and extinction in the tropical forests of Southeast Asia. But what's driving these drivers? Road infrastructure, according to research. Researchers conducted the first-ever comprehensive study examining the impacts of road infrastructure on mammal populations in Southeast Asia; their findings were recently published in PLOS One.


DRC mulls changing Virunga's boundaries for oil
(03/19/2015) Last Friday, the government of the Democratic Republic of Congo (DRC) announced it was considering changing the boundaries of Virunga National Park to accommodate oil exploitation. Africa's oldest park, Virunga is home to around a quarter of the world's mountain gorillas as well as thousands of other species, many of them threatened with extinction.












archives | news | XML / RSS feed | featured


XML / RSS / Syndication options

mongabay.com features more than 400 RSS feeds to meet your specific area of interest



MONGABAY.COM
Mongabay.com seeks to raise interest in and appreciation of wild lands and wildlife, while examining the impact of emerging trends in climate, technology, economics, and finance on conservation and development (more)

CONTENTS





WEEKLY NEWSLETTER


INTERACT



SUPPORT
Help support mongabay.com when you buy from Amazon.com


STORE

SHIRTS
HIGH RESOLUTION PHOTOS / PRINTS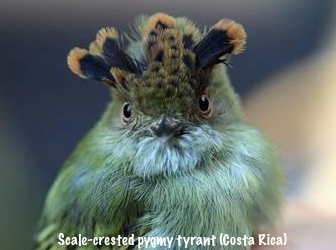 TOPICS
more