Background: Coral Reefs
Background: Coral reefs are often called the "rainforests of the sea" for their high levels of biodiversity despite a scarcity of nutrients. What exactly are corals? Corals are tiny animals that live in colonies and derive nourishment and energy from a symbiotic relationship with zooxanthellae algae known as dinoflagellates. Coral reefs are formed over the course of thousands of years as limestone skeletons constructed by corals accumulate and form a structural base for living corals.

The world's largest coral reef is the Great Barrier Reef, found off the Pacific coast of Australia. The second largest reef lies off the Atlantic coast of Central America, near Belize.

Coral reefs are increasing threatened by climate change, unsustainable fishing practices, the construction business (coral limestone is used for concrete), coastal deforestation (especially of mangroves), soil erosion, and pollution. Even unmanaged tourism and the aquarium fish trade can damage reefs.


Articles
---
Does haze from burning forests affect marine life?
(03/10/2014) Two scientists are calling on researchers, NGOs, and governments to begin studying the impact of burning forests and peatlands in Indonesia on the already-threatened marine ecosystems of Southeast Asia. Every year, Indonesian farmers set forests, vegetation, and peatlands alight to clear them for agriculture, often palm oil, and pulp and paper plantations. Not only do these practices destroy hugely-diverse tropical forests, but the resulting haze spreads to many parts of Southeast Asia, threatening regional health and impacting economies. Now, a new paper argues that the sinister impacts of Indonesia's burning may extend as far as the oceans.



Corals thriving despite acidified conditions in remote Pacific bay
(02/25/2014) Scientists have discovered a small island bay in the Pacific which could serve as a peephole into the future of the ocean. Palau's Rock Island Bay harbors a naturally occurring anomaly – its water is acidified as much as scientists expect the entire ocean to be by 2100 as a result of rising carbon dioxide emissions.



Protected forests linked to healthy coral reefs in Fiji
(01/27/2014) Increasing forest protection in the right areas could increase benefits up to 10.4 percent to coral reef condition, according to a recent study of Fiji's forests and reefs in Marine Policy. Benefits from protected forests such as improved water quality due to decreased runoff and increased distribution of the vegetation are more closely linked to coral reef health than previously thought.



Scientists discover a new coral in the French Polynesia
(12/20/2013) With humans scattered throughout the globe, it is hard to imagine lands still unexplored or species undocumented. Yet, on the remote French Polynesian Gambier Islands a new coral reef species has been found thriving in underwater lagoons. Echinophyllia tarae was discovered by marine biologist Francesca Benzoni and the research crew members of the Tara Oceans International Research Expedition.



Sea and storm: coastal habitats offer strongest defense
(10/11/2013) Surging storms and rising seas threaten millions of U.S. residents and billions of dollars in property along coastlines. The nation's strongest defense, according to a new study by scientists with the Natural Capital Project at the Stanford Woods Institute for the Environment, comes from natural coastal habitats.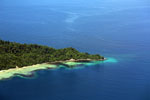 Governments should respond to ocean acidification 'as urgently as they do to national security threats'
(10/03/2013) The oceans are more acidic now than they have been for at least 300m years, due to carbon dioxide emissions from burning fossil fuels, and a mass extinction of key species may already be almost inevitable as a result, leading marine scientists warned on Thursday. An international audit of the health of the oceans has found that overfishing and pollution are also contributing to the crisis, in a deadly combination of destructive forces that are imperiling marine life, on which billions of people depend for their nutrition and livelihood.


Shark overfishing hurts coral reefs
(09/20/2013) Overfishing for sharks is having detrimental effects on coral reefs, finds a new study published in the journal PLOS One.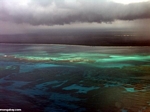 Mesoamerican Reef needs more local support, says report
(09/13/2013) From massive hotel development through the agriculture industry, humans are destroying the second largest barrier reef in the world: the Mesoamerican Reef. Although global climate change and its effects on reefs via warming and acidification of coastal waters have made recent headlines, local human activities may destroy certain ecosystems before climate change has a chance to do it. The harmful effects of mining, agriculture, commercial development, and fishing in coastal regions have already damaged more than two-thirds of reefs across the Caribbean, in addition to worsening the negative effects of climate change.



Finding a needle in a haystack: two new species of octocorals discovered in the Pacific Ocean
(09/04/2013) The vast expanse of the Earth's oceans makes finding a new species like finding a needle in a haystack. In fact, finding a needle in a haystack may be easier than finding a new species of octocoral in the Pacific Ocean. But Gary Williams with the California Academy of Sciences has recently found not only one but two new species, including a new genus of octocoral.


Google Earth presents fish-eye view of coral reefs
(08/20/2013) You can now visit up-close and personal some of the world's most imperiled ecosystems on Google Earth: coral reefs. The Google team is working with scientists to provide 360 degree panoramas, similar to Google street-view, to give armchair ecologists a chance to experience the most biodiverse ecosystems under the waves.


U.S. bombs Great Barrier Reef, promises 'rapid recovery' of armaments
(07/23/2013) Four unarmed bombs dropped by the US military into the Great Barrier Reef Marine Park pose a low risk to wildlife and a joint mission will aim for their "rapid recovery", according to the government agency in charge of the reef. The Great Barrier Reef Marine Park Authority said two of the bombs are inert, containing concrete, while the other two were not armed, making the chance of detonation "extremely low".


Logging endangers UNESCO World Heritage Site in Solomon Islands
(06/22/2013) A world heritage site in the Solomon Islands is 'in danger' due to logging, warns the United Nations Educational, Scientific and Cultural Organization (UNESCO).


UN may downgrade Great Barrier Reef's heritage status due to Australia's inaction on threats
(06/17/2013) The federal government insists it is striving to avoid the Great Barrier Reef being listed 'in danger' ahead of a crunch UN meeting, after rejecting a Senate recommendation to block new port developments near the World Heritage ecosystem.


Pacific islanders are the 'victims of industrial countries unable to control their carbon dioxide emissions'
(05/15/2013) With islands and atolls scattered across the ocean, the small Pacific island states are among those most exposed to the effects of global warming: increasing acidity and rising sea level, more frequent natural disasters and damage to coral reefs. These micro-states, home to about 10 million people, are already paying for the environmental irresponsibility of the great powers.



Samsung admits to using tin linked to child labor, deforestation; Apple mum on sourcing
(04/25/2013) Mobile device giant Samsung has admitted to using tin sourced from a controversial mining operation on the Indonesian island of Bangka, where unregulated mining kills 150 miners a year and causes substantial environmental damage, reports The Guardian and Mongabay-Indonesia.


Double bad: Chinese vessel that collided with protected coral reef holding 22,000 pounds of pangolin meat
(04/15/2013) What do you do when you're smuggling 22,000 pounds of an endangered species on your boat? Answer: crash into a protected coral reef in the Philippines. Last Monday a Chinese vessel slammed into a coral reef in the Tubbataha National Marine Park; on Saturday the Filipino coastguard discovered 400 boxes of pangolin meat while inspecting the ship. Pangolins, which are scaly insect-eating mammals, have been decimated by the illegal wildlife trade as their scales are prized in Chinese Traditional Medicine and their meat is considered a delicacy.



Proposed coal plant threatens Critically Endangered Philippine cockatoo
(04/02/2013) One kilometer off the Philippine island of Palawan lies the Rasa Island Wildlife Sanctuary; here forest grows unimpeded from a coral island surrounded by mangroves and coral reefs. Although tiny, over a hundred bird species have been recorded on the island along with a major population of large flying foxes, while in the waters below swim at least 130 species of coral fish, three types of marine turtles, and that curious-looking marine mammal, dugongs. Most importantly, perhaps, the island is home to the world's largest population of Philippine cockatoos (Cacatua haematuropygia), currently listed as Critically Endangered. But, although uninhabited by people, Rasa Island may soon be altered irrevocably by human impacts.



Warnings of global ecological tipping points may be overstated
(03/05/2013) There's little evidence that the Earth is nearing a global ecological tipping point, according to a new Trends in Ecology and Evolution paper that is bound to be controversial. The authors argue that despite numerous warnings that the Earth is headed toward an ecological tipping point due to environmental stressors, such as habitat loss or climate change, it's unlikely this will occur anytime soon—at least not on land. The paper comes with a number of caveats, including that a global tipping point could occur in marine ecosystems due to ocean acidification from burning fossil fuels. In addition, regional tipping points, such as the Arctic ice melt or the Amazon rainforest drying out, are still of great concern.



Typhoon Bopha decimated coral reefs
(01/24/2013) When Typhoon Bopha, also known as Pablo, ran ashore on Mindanao, it was the largest tropical storm it ever hit the Philippine island. In its wake the massive superstorm left over 1,000 people were dead and 6.2 million affected with officials saying illegal logging and mining worsened the scale of the disaster. However, the Category 5 typhoon also left a trail of destruction that has been less reported: coral reefs.



Photos: Mozambique creates Africa's biggest marine protected area
(11/13/2012) Last week, the East African nation of Mozambique announced it was protecting 10,411 square kilometers (4,020 square miles) of coastal marine waters, making the new Marine Protected Area (MPA) the biggest on the continent. The protected area, dubbed the Primeiras and Segundas Archipelago ("First" and "Second" islands), includes ten islands as well as mangrove forests, rich coral reefs, and seagrass ecosystems.












archives | news | XML / RSS feed | featured


XML / RSS / Syndication options

mongabay.com features more than 400 RSS feeds to meet your specific area of interest



MONGABAY.COM
Mongabay.com seeks to raise interest in and appreciation of wild lands and wildlife, while examining the impact of emerging trends in climate, technology, economics, and finance on conservation and development (more)

CONTENTS





WEEKLY NEWSLETTER


INTERACT



SUPPORT
Help support mongabay.com when you buy from Amazon.com


STORE

SHIRTS
HIGH RESOLUTION PHOTOS / PRINTS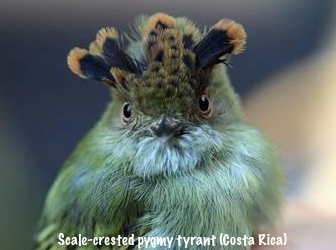 TOPICS
more