Background: Coral Reefs
Background: Coral reefs are often called the "rainforests of the sea" for their high levels of biodiversity despite a scarcity of nutrients. What exactly are corals? Corals are tiny animals that live in colonies and derive nourishment and energy from a symbiotic relationship with zooxanthellae algae known as dinoflagellates. Coral reefs are formed over the course of thousands of years as limestone skeletons constructed by corals accumulate and form a structural base for living corals.

The world's largest coral reef is the Great Barrier Reef, found off the Pacific coast of Australia. The second largest reef lies off the Atlantic coast of Central America, near Belize.

Coral reefs are increasing threatened by climate change, unsustainable fishing practices, the construction business (coral limestone is used for concrete), coastal deforestation (especially of mangroves), soil erosion, and pollution. Even unmanaged tourism and the aquarium fish trade can damage reefs.


Articles
---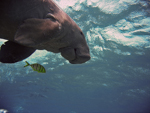 US ambassador reiterates commitment to controversial Okinawa air base, a setback for endangered dugong
(07/06/2015) A longstanding plan to relocate a major US airbase on the Japanese island of Okinawa has provoked local ire. Opponents claim the development will cause catastrophic environmental damage and seal the fate in the region of the iconic dugong, a cousin of the manatee. Hopes of a long-awaited breakthrough were frustrated recently when a meeting between the US ambassador to Japan and the anti-air base governor of Okinawa ended with the US reiterating its commitment to the new base.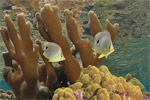 Scientists find surprising climate change refuge for reef-building corals: beneath mangroves
(06/16/2015) Coral reefs are the gardens of the ocean. Covering just a tiny fraction of the vast sea floor, they are among the most biodiverse ecosystems on the planet. However, global warming and ocean acidification increasingly threaten them. Now scientists have discovered that corals could potentially survive global warming by numbering among the Earth's first climate change refugees. They could flee warming oceans to find a new home in the shade beneath coastal mangroves, says a recent study published in the journal Biogeosciences.



Human impacts are 'decoupling' coral reef ecosystems
(03/09/2015) There is a growing consensus among scientists that we have entered the age of the Anthropocene, or the epoch of humans. In other words, at some point between the 12,000 years separating the beginning of agriculture and the Industrial Revolution, humans became the dominant source of change on the planet, shaping everything from the land to the atmosphere to even the geologic record where we etch our reign.



Madagascar establishes a sanctuary for sharks
(02/06/2015) The government of Madagascar has established the Indian Ocean island's first shark sanctuary in an area famous for its marine biodiversity, reports the Wildlife Conservation Society (WCS).



Giant clam = giant impact: study compiles how mega-clams impact seas
(02/06/2015) The world's biggest bivalves are the aptly named giant clams. Inhabiting the warm waters of the Indo-Pacific, the largest of these species, the eponymous giant clam (Tridacna squamosal), can reach up to 1.2 meters (4 feet) in length and weigh over 230 kilograms (500 pounds). Historically known as the killer clam for its supposed ability to trap careless divers, these harmless and colorful bivalves are favorite animals for divers and snorkelers to spot, but they may also be big players in the ecosystem.



Reefs reduce 97 percent of wave energy, could be better than artificial barriers
(12/15/2014) We have a lot of stake in the coast. Coastal waters are where we host fisheries, build homes and turn to for tourism and recreation. So how should coastal communities, which comprise nearly 40 percent of the world's population, safeguard against flooding, erosion and violent weather? Marine scientist Michael Beck suggests the solution is growing right beneath some waves and, in many cases, it has been waiting there for thousands of years.


Australia cancels plan to dump dredge in Great Barrier Reef
(09/02/2014) A consortium of companies—North Queensland Bulk Ports, GVK Hancock and Adani Group—have announced they are giving up on a hugely-controversial plan to dump five million tonnes of dredged sediment in the Great Barrier Reef. The plans ran into considerable opposition from environment, conservation, and tourism groups who feared harm to the world's largest coral reef system.



Elephants under the sea: awkward-looking fish modify the coral-reef ecosystem in mixed ways
(08/06/2014) Bumphead parrotfish are noisy feeders. They break off large branches of corals using their powerful beaks, grind them up in their bodies to extract nutrients, and expel the undigested material in large cloudy plumes of feces. Their voracious feeding is, however, not just a loud, messy affair. During the course of their feeding, they also change the coral reef ecosystem in numerous ways.


Scientists ask Australia to strengthen, not weaken, protection for Great Barrier Reef
(07/24/2014) A convening of nearly 600 tropical biologists and conservation scientists has called upon the Australian government to strengthen protection of the Australia's Great Barrier Reef. The declaration, issued at the annual meeting of the Association for Tropical Biology and Conservation (ATBC), comes as Prime Minister Tony Abbott pushes to allow industrial dumping in the Great Barrier Reef Marine Park as well as port development in a nearby coastal area.



Fishing for coherent regulations along Fiji's coral reefs
(07/16/2014) Will Fiji implement a much-needed update to its fisheries laws before the September election? If you want to quiet a room in Fiji or feel like a lobster in a boiling pot, bring up coastal fishing rights, and ask what's happening with the plan to update the country's fisheries laws.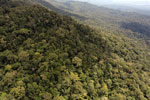 Booming populations, rising economies, threatened biodiversity: the tropics will never be the same
(07/07/2014) For those living either north or south of the tropics, images of this green ring around the Earth's equator often include verdant rainforests, exotic animals, and unchanging weather; but they may also be of entrenched poverty, unstable governments, and appalling environmental destruction. A massive new report, The State of the Tropics, however, finds that the truth is far more complicated.



Bigger than Mexico? Obama announces major expansion of Pacific protected area
(06/18/2014) President Obama announced yesterday he intends to drastically expand the Pacific Remote Islands Marine National Monument making what will likely be the largest marine protected area on the planet. While the full extent of the ocean park has yet to be determined, it could potentially protect over two million square kilometers, an area larger than Mexico.



New study finds environmental damage globally may cost more than U.S. GDP
(06/06/2014) A new study added up all the world's ecosystem services – from carbon storage and crop pollination, to recreation and flood mitigation – and found, every year, nature provides $145 trillion in benefits. It also indicates that land use changes, most of which has been caused by humans, may be reducing these benefits by trillions of dollars every year.



Coral could prevent HIV: newly discovered protein blocks infection
(05/09/2014) In the waters off the coast of northern Australia lives a species of feathery coral. Years ago, bits of it were collected by the Australian Institute of Marine Science and stored at the National Cancer Institute's extract repository, along with 200,000 other samples. Researchers retrieved and tested this coral sample, and recently reported that it was very effective at blocking HIV infection of host cells.



Does haze from burning forests affect marine life?
(03/10/2014) Two scientists are calling on researchers, NGOs, and governments to begin studying the impact of burning forests and peatlands in Indonesia on the already-threatened marine ecosystems of Southeast Asia. Every year, Indonesian farmers set forests, vegetation, and peatlands alight to clear them for agriculture, often palm oil, and pulp and paper plantations. Not only do these practices destroy hugely-diverse tropical forests, but the resulting haze spreads to many parts of Southeast Asia, threatening regional health and impacting economies. Now, a new paper argues that the sinister impacts of Indonesia's burning may extend as far as the oceans.



Corals thriving despite acidified conditions in remote Pacific bay
(02/25/2014) Scientists have discovered a small island bay in the Pacific which could serve as a peephole into the future of the ocean. Palau's Rock Island Bay harbors a naturally occurring anomaly – its water is acidified as much as scientists expect the entire ocean to be by 2100 as a result of rising carbon dioxide emissions.



Protected forests linked to healthy coral reefs in Fiji
(01/27/2014) Increasing forest protection in the right areas could increase benefits up to 10.4 percent to coral reef condition, according to a recent study of Fiji's forests and reefs in Marine Policy. Benefits from protected forests such as improved water quality due to decreased runoff and increased distribution of the vegetation are more closely linked to coral reef health than previously thought.



Scientists discover a new coral in the French Polynesia
(12/20/2013) With humans scattered throughout the globe, it is hard to imagine lands still unexplored or species undocumented. Yet, on the remote French Polynesian Gambier Islands a new coral reef species has been found thriving in underwater lagoons. Echinophyllia tarae was discovered by marine biologist Francesca Benzoni and the research crew members of the Tara Oceans International Research Expedition.



Sea and storm: coastal habitats offer strongest defense
(10/11/2013) Surging storms and rising seas threaten millions of U.S. residents and billions of dollars in property along coastlines. The nation's strongest defense, according to a new study by scientists with the Natural Capital Project at the Stanford Woods Institute for the Environment, comes from natural coastal habitats.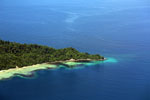 Governments should respond to ocean acidification 'as urgently as they do to national security threats'
(10/03/2013) The oceans are more acidic now than they have been for at least 300m years, due to carbon dioxide emissions from burning fossil fuels, and a mass extinction of key species may already be almost inevitable as a result, leading marine scientists warned on Thursday. An international audit of the health of the oceans has found that overfishing and pollution are also contributing to the crisis, in a deadly combination of destructive forces that are imperiling marine life, on which billions of people depend for their nutrition and livelihood.












archives | news | XML / RSS feed | featured


XML / RSS / Syndication options

mongabay.com features more than 400 RSS feeds to meet your specific area of interest



MONGABAY.COM
Mongabay.com seeks to raise interest in and appreciation of wild lands and wildlife, while examining the impact of emerging trends in climate, technology, economics, and finance on conservation and development (more)

CONTENTS





WEEKLY NEWSLETTER


INTERACT



SUPPORT
Help support mongabay.com when you buy from Amazon.com


STORE

SHIRTS
HIGH RESOLUTION PHOTOS / PRINTS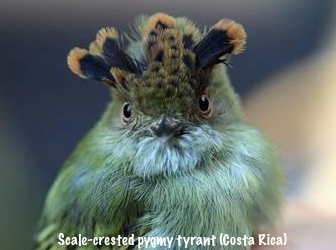 TOPICS
more