Impact of Climate Change on Coral Reefs
Background: Scientists have expressed a great deal of concern over the potential impact of climate change on coral reef ecosystems. Both increasingly levels of acidity, which reduce the ability of coral to generate their main structural material, and higher sea temperatures, which can cause "bleaching" or expulsion of the symbiotic algae that enable corals to feed, are cited as the primary risks to reefs in a world of higher atmospheric carbon dioxide levels. Some research suggests that as much as 95 percent of the corals on Australia's Great Barrier Reef could die by 2050 should temperatures rise by 2 ocean temperatures increase by the 1.5 degrees Celsius projected by climate scientists. Despite the bleak outlook, it appears that some corals may be able to adjust to changing conditions. The end result is that reefs 50 years from now may be quite different than reefs of the present.


Articles
---
Human impacts are 'decoupling' coral reef ecosystems
(03/09/2015) There is a growing consensus among scientists that we have entered the age of the Anthropocene, or the epoch of humans. In other words, at some point between the 12,000 years separating the beginning of agriculture and the Industrial Revolution, humans became the dominant source of change on the planet, shaping everything from the land to the atmosphere to even the geologic record where we etch our reign.



Corals thriving despite acidified conditions in remote Pacific bay
(02/25/2014) Scientists have discovered a small island bay in the Pacific which could serve as a peephole into the future of the ocean. Palau's Rock Island Bay harbors a naturally occurring anomaly – its water is acidified as much as scientists expect the entire ocean to be by 2100 as a result of rising carbon dioxide emissions.



Protected forests linked to healthy coral reefs in Fiji
(01/27/2014) Increasing forest protection in the right areas could increase benefits up to 10.4 percent to coral reef condition, according to a recent study of Fiji's forests and reefs in Marine Policy. Benefits from protected forests such as improved water quality due to decreased runoff and increased distribution of the vegetation are more closely linked to coral reef health than previously thought.



Scientists discover a new coral in the French Polynesia
(12/20/2013) With humans scattered throughout the globe, it is hard to imagine lands still unexplored or species undocumented. Yet, on the remote French Polynesian Gambier Islands a new coral reef species has been found thriving in underwater lagoons. Echinophyllia tarae was discovered by marine biologist Francesca Benzoni and the research crew members of the Tara Oceans International Research Expedition.



Sea and storm: coastal habitats offer strongest defense
(10/11/2013) Surging storms and rising seas threaten millions of U.S. residents and billions of dollars in property along coastlines. The nation's strongest defense, according to a new study by scientists with the Natural Capital Project at the Stanford Woods Institute for the Environment, comes from natural coastal habitats.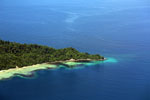 Governments should respond to ocean acidification 'as urgently as they do to national security threats'
(10/03/2013) The oceans are more acidic now than they have been for at least 300m years, due to carbon dioxide emissions from burning fossil fuels, and a mass extinction of key species may already be almost inevitable as a result, leading marine scientists warned on Thursday. An international audit of the health of the oceans has found that overfishing and pollution are also contributing to the crisis, in a deadly combination of destructive forces that are imperiling marine life, on which billions of people depend for their nutrition and livelihood.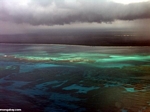 Mesoamerican Reef needs more local support, says report
(09/13/2013) From massive hotel development through the agriculture industry, humans are destroying the second largest barrier reef in the world: the Mesoamerican Reef. Although global climate change and its effects on reefs via warming and acidification of coastal waters have made recent headlines, local human activities may destroy certain ecosystems before climate change has a chance to do it. The harmful effects of mining, agriculture, commercial development, and fishing in coastal regions have already damaged more than two-thirds of reefs across the Caribbean, in addition to worsening the negative effects of climate change.


Google Earth presents fish-eye view of coral reefs
(08/20/2013) You can now visit up-close and personal some of the world's most imperiled ecosystems on Google Earth: coral reefs. The Google team is working with scientists to provide 360 degree panoramas, similar to Google street-view, to give armchair ecologists a chance to experience the most biodiverse ecosystems under the waves.


Pacific islanders are the 'victims of industrial countries unable to control their carbon dioxide emissions'
(05/15/2013) With islands and atolls scattered across the ocean, the small Pacific island states are among those most exposed to the effects of global warming: increasing acidity and rising sea level, more frequent natural disasters and damage to coral reefs. These micro-states, home to about 10 million people, are already paying for the environmental irresponsibility of the great powers.



Warnings of global ecological tipping points may be overstated
(03/05/2013) There's little evidence that the Earth is nearing a global ecological tipping point, according to a new Trends in Ecology and Evolution paper that is bound to be controversial. The authors argue that despite numerous warnings that the Earth is headed toward an ecological tipping point due to environmental stressors, such as habitat loss or climate change, it's unlikely this will occur anytime soon—at least not on land. The paper comes with a number of caveats, including that a global tipping point could occur in marine ecosystems due to ocean acidification from burning fossil fuels. In addition, regional tipping points, such as the Arctic ice melt or the Amazon rainforest drying out, are still of great concern.



Typhoon Bopha decimated coral reefs
(01/24/2013) When Typhoon Bopha, also known as Pablo, ran ashore on Mindanao, it was the largest tropical storm it ever hit the Philippine island. In its wake the massive superstorm left over 1,000 people were dead and 6.2 million affected with officials saying illegal logging and mining worsened the scale of the disaster. However, the Category 5 typhoon also left a trail of destruction that has been less reported: coral reefs.



Threatened Galapagos coral may predict the future of reefs worldwide
(11/07/2012) The Galapagos Islands have been famous for a century and a half, but even Charles Darwin thought the archipelago's list of living wonders didn't include coral reefs. It took until the 1970s before scientists realized the islands did in fact have coral, but in 1983, the year the first major report on Galapagos reef formation was published, they were almost obliterated by El Niño. This summer, a major coral survey found that some of the islands' coral communities are showing promising signs of recovery. Their struggle to survive may tell us what is in store for the rest of the world, where almost three-quarters of corals are predicted to suffer long-term damage by 2030.



Great Barrier Reef loses half its coral in less than 30 years
(10/01/2012) The Great Barrier Reef has lost half of its coral cover in the last 27 years, according to a new study released today in the Proceedings of the National Academy of Sciences (PNAS). Based on over 2,000 surveys from 1985 to this year the study links the alarming loss to three impacts: tropical cyclone damage, outbreaks crown-of-thorns starfish that devour corals, and coral bleaching.


Coral reefs in Caribbean on life support
(09/11/2012) Only 8 percent of the Caribbean's reefs today retain coral, according to a new report by the International Union for Conservation of Nature (IUCN). With input and data from 36 scientists, the report paints a bleak picture of coral decline across the region, threatening fisheries, tourism, and marine life in general.


Coral calcification rates fall 44% on Australia's Great Barrier Reef
(09/04/2012) Calcification rates by reef-building coral communities on Australia's Great Barrier Reef have slowed by nearly half over the past 40 years, a sign that the world's coral reefs are facing a grave range of threats, reports a new study published in the Journal of Geophysical Research - Biogeosciences.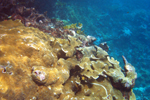 Strangest island in the Caribbean may be a sanctuary for critically endangered coral
(07/16/2012) Don't feel bad if you've never heard of Navassa Island, even though it's actually part of the U.S. according to the Guano Islands Act of 1856. This uninhabited speck between Haiti and Jamaica, barely bigger than New York City's Central Park, has a bizarre and bloody history—and may be a crucial refuge for endangered coral in the Caribbean.



2,600 scientists: climate change killing the world's coral reefs
(07/10/2012) In an unprecedented show of concern, 2,600 (and rising) of the world's top marine scientists have released a Consensus Statement on Climate Change and Coral Reefs that raises alarm bells about the state of the world's reefs as they are pummeled by rising temperatures and ocean acidification, both caused by greenhouse gas emissions. The statement was released at the 12th International Coral Reef Symposium.


Featured video: Google Earth highlights imperiled coral reefs around the world
(04/18/2012) A new video by Google Earth and the World Resources Institute (WRI) highlights the world's many endangered coral reefs. A part of the WRI's Reefs at Risk program, the video highlights regional and global threats to the oceans' most biodiverse ecosystem. According to the WRI, a stunning 75 percent of the world's reefs are currently threatened.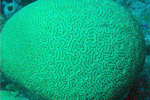 Researchers challenge idea that marine reserves promote coral recovery
(11/09/2011) Fleshy whorls of thick brown algae blanket the once-vibrant corals in Glover's Reef, Belize. According to a controversial study published August 14 in the journal Coral Reefs, a decade of marine reserve protection has failed to help these damaged Caribbean corals recover.



Unanimous agreement among scientists: Earth to suffer major loss in species
(11/09/2011) The thylacine, the dodo, the great auk, the passenger pigeon, the golden toad: these species have become symbols of extinction. But they are only the tip of the recent extinction crisis, and according to a survey of 583 conservation scientists, they are only the beginning. In a new survey in Conservation Biology, 99.5 percent of conservation scientists said a serious loss in biodiversity was either 'likely', 'very likely', or 'virtually certain'. The prediction of a significant loss of species is not surprising—scientists have been warning for decades that if global society continues with business as usual the world will suffer from mass extinction—what is perhaps surprising is the practically unanimous expectation that a global biodiversity decline will occur.












archives | news | XML / RSS feed | featured


XML / RSS / Syndication options

mongabay.com features more than 400 RSS feeds to meet your specific area of interest



MONGABAY.COM
Mongabay.com seeks to raise interest in and appreciation of wild lands and wildlife, while examining the impact of emerging trends in climate, technology, economics, and finance on conservation and development (more)

CONTENTS





WEEKLY NEWSLETTER


INTERACT



SUPPORT
Help support mongabay.com when you buy from Amazon.com


STORE

SHIRTS
HIGH RESOLUTION PHOTOS / PRINTS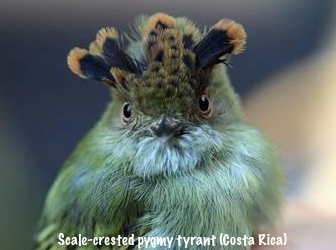 TOPICS
more