Delaware Zip Codes

---

What is the zip code for places in Delaware ?

Listed numerically by zip code
Zip code | Name | Area Code(s) | 19701 Bear
19702 Christiana
19702 Newark
19703 Claymont
19706 Delaware City
19707 Hockessin
19708 Kirkwood
19709 Middletown
19710 Montchanin
19711 Newark
19712 Avon Products Inc
19712 Newark
19713 Newark
19714 Newark
19715 Newark
19716 Newark
19717 Newark
19718 Christiana Medical Center
19718 Newark
19720 Manor
19720 Minquadale
19720 New Castle
19721 Citibank
19721 New Castle
19725 Newark
19725 Shared Firm Zip
19726 Newark
19726 Shared Firm Zip
19730 Odessa
19731 Port Penn
19732 Rockland
19733 Saint Georges
19734 Blackbird
19734 Townsend
19735 Winterthur
19736 Yorklyn
19801 Wilmington
19802 Edgemoor
19802 Wilmington
19803 Talleyville
19803 Talleyville Postal Store
19803 Wilmington
19804 Newport
19804 Stanton
19804 Wilmington
19805 Elsmere
19805 Wilmington
19806 Wilmington
19807 Greenville
19807 Wilmington
19808 Marshallton
19808 Wilmington
19809 Bellefonte
19809 Edgemoor
19809 Wilmington
19810 Arden
19810 Edgemoor
19810 Wilmington
19850 Wilmington
19880 Wilmington
19884 Bank of America
19884 Greenville
19884 Wilmington
19885 Shared Firm Zip
19885 Wilmington
19886 Bank of America
19886 Shared Firm Zip
19886 Wilmington
19890 Wilmington
19890 Wilmington Trust
19891 Bank of America
19891 Wilmington
19892 Citibank
19892 Wilmington
19893 Chase Manhattan Bank N A
19893 Wilmington
19894 Hercules Incorporated
19894 Wilmington
19895 Delmarva Power
19895 Wilmington
19896 Verizon
19896 Wilmington
19897 Astrazeneca
19897 Wilmington
19898 Dupont Co Inc
19898 Wilmington
19899 Wilmington
19901 Dover
19901 Leipsic
19902 Dover
19902 Dover AFB
19902 Dover Air Force Base
19903 Dover
19904 Dover
19905 Dover
19906 Dover
19930 Bethany Beach
19931 Bethel
19933 Bridgeville
19934 Camden
19934 Camden Wyo
19934 Camden Wyoming
19934 Camden-Wy
19934 Camden-Wyo
19934 Camden-Wyoming
19934 Wyoming
19936 Cheswold
19938 Clayton
19939 Dagsboro
19940 Delmar
19941 Ellendale
19943 Felton
19944 Fenwick Island
19944 Fenwick Isle
19944 Selbyville
19945 Frankford
19946 Frederica
19947 Georgetown
19950 Farmington
19950 Greenwood
19951 Harbeson
19952 Harrington
19953 Hartly
19954 Houston
19955 Kenton
19956 Laurel
19958 Lewes
19958 Lewes Beach
19960 Lincoln
19961 Little Creek
19962 Magnolia
19963 Milford
19963 Slaughter Beach
19964 Marydel
19966 Long Neck
19966 Millsboro
19967 Millville
19967 Ocean View
19968 Milton
19969 Nassau
19970 Clarksville
19970 Millville
19970 Ocean View
19970 Oceanview
19971 Dewey Bch
19971 Dewey Beach
19971 Rehoboth
19971 Rehoboth Bch
19971 Rehoboth Beach
19973 Blades
19973 Seaford
19975 Fenwick Island
19975 Selbyville
19975 West Fenwick
19977 Smyrna
19979 Viola
19980 Woodside



Why is zip code data on an environmental science site?
In 2002 I was working on a project that correlated pollution and income for zip codes across the United States. Visitors told me the data files were very useful so I left them on the site and now update the postal information on a periodic basis even though the focus of the site is conservation.


Recent environmental features
From theory to deadly reality: malaria moving upslope due to global warming
(03/06/2014) Malaria is a global scourge: despite centuries of efforts to combat the mosquito-borne disease, it still kills between 660,000 to 1.2 million people a year, according to World Health Organization data from 2010. Astoundingly, experts estimate that around 300 million people are infected with the disease every year or about 4 percent of the world's total population. And these stats may only get worse. For years scientists have vigorously debated whether or not malaria will expand as global warming worsens, but a new study in Science lays down the first hard evidence.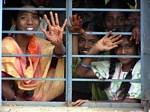 Can the millions in urban India live among greenery?
(03/06/2014) Large swathes of wilderness alternating with pockets of urbanization may be a reality in some countries, but in India boundaries are soft. Where a city ends and where a village begins in its outskirts is somewhat fuzzy. Rapidly developing megacities like Bangalore and Pune, localities like Gurgaon outside New Delhi, have been subsuming surrounding villages into their ever-expanding boundaries for the last couple of decades.



The price of gold: winners and losers in Latin America's mining industry
(03/05/2014) On a Friday afternoon in June, the Plaza de Armas in Cajamarca is pulsing with life. It's winter here, and although thick white clouds hover low in the distance, the sun in this northern Peruvian city is warm. Couples sit on benches facing one another. Kids run in the grass between flowerbeds. Men in suits stride along the perimeter. It's an idyllic day. But signs of something more ominous are not far from sight. On the mountainside overlooking the town the words Nova Conga have been carved into the vegetation. It is a constant reminder that beyond the square, hemmed with international hotels and expensive restaurants, there is another reality.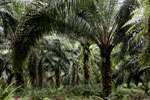 After GAR expands policy, over 50% of world's palm oil bound by zero deforestation commitments
(03/03/2014) Over half the world's palm oil traded internationally is now bound by zero deforestation commitments after Singapore-based Golden-Agri Resources (GAR) extended its forest conservation policy across all palm oil it produces, sources and trades. In a filing posted Friday Singapore Stock Exchange, GAR announced its breakthrough forest conservation policy now applies to all the palm oil it trades.



Can palm oil move past its bad reputation?
(03/02/2014) Indonesia's palm oil industry has gained a notorious reputation in recent years. Palm oil companies are routinely accused of clearing primary forests, destroying the habitats of endangered species, releasing massive amounts of carbon by draining peat swamps and fueling land conflicts with local communities. In the face of this widespread criticism, some palm oil companies are exploring ways to clean up their operations by implementing innovative programs to minimize harm to the environment and ensure local communities benefit from palm oil investments, according to a new study.



Wonderful Creatures: the tiny, predatory penis-worm that lies in wait in the sand
(02/28/2014) The seabed is really where it's at in terms of animal diversity. Of the 35 known animal lineages, representatives of all but two are found here. In contrast, the huge numbers of species that inhabit tropical rainforests represent a mere 12 lineages. One group of animals that illustrates the diversity of the seabed is the Priapulida, which also go by the unfortunate common name of "penis worms." Only 20 species of priapulid are known today, a shadow of their diverse past, which extends back for well over 500 million years. Not commonly seen, the priapulids have attracted little attention from the zoology community as a whole.



Saving sharks one sandwich at a time: conservationists target 'shark bake'
(02/28/2014) Thousands of Carnival revelers in Trinidad wouldn't think of missing the chance to go to Maracas Beach, the most famous strip of sand on the small Caribbean island off the northeast coast of Venezuela. Beachgoers might not think twice about eating a favorite food called "shark bake" either – at least, until now. But this week, conservationists launched a shark-saving campaign timed to get maximum exposure out of the celebration that will bring throngs of visitors to the island.



Indonesian cop caught smuggling rare timber worth millions escapes with 2-year sentence
(02/21/2014) Green activists are crying foul after an Indonesian police officer believed to have laundered nearly $128 million in proceeds from illegal fuel and timber smuggling was sentenced to just two years in prison for illegal logging – a verdict described as 'shockingly lenient' and 'unbelievable' given the extent of his alleged crimes



The lemur end-game: scientists propose ambitious plan to save the world's most imperiled mammal family
(02/20/2014) Due to the wonderful idiosyncrasies of evolution, there is one country on Earth that houses 20 percent of the world's primates. More astounding still, every single one of these primates—an entire distinct family in fact—are found no-where else. The country is, of course, Madagascar and the primates in question are, of course, lemurs. But the far-flung island of Madagascar, once a safe haven for wild evolutionary experiments, has become an ecological nightmare. Overpopulation, deep poverty, political instability, slash-and-burn agriculture, illegal logging for lucrative woods, and a booming bushmeat trade has placed 94 percent of the world's lemurs under threat of extinction, making this the most imperiled mammal group on the planet. But, in order to stem a rapid march toward extinction, conservationists today publicized an emergency three year plan to safeguard 30 important lemur forests in the journal Science.



Shoot to conserve: Corey Knowlton's rhino hunt escalates the debate over trophy hunting and environmentalism
(02/20/2014) 'After a long conversation with the FBI I have decided to temporarily suspend my activity on this page. I want to thank all of you who have commented [on] this important issue of Black Rhino Conservation.' – Corey Knowlton, Feb 3, 2014. This was the last post on Corey Knowlton's Facebook page. Knowlton is the hunter who won the Dallas Safari Club auction on January 11th to kill a Critically Endangered black rhino. All the money—$350,000—will go to a fund to protect rhinos. The plan is that sometime soon—once the paperwork clears the U.S. Fish and Wildlife Service—Knowlton will go to Namibia on a "trophy hunt" (accompanied by a park service official), shoot the designated rhino, and bring the old bull's hide back home to Texas.



Revolutionary Google-backed system unlocks power of 'big data' to save forests
(02/20/2014) World Resources Institute (WRI) today announced the release of a tool that promises to revolutionize forest monitoring. The platform, called Global Forest Watch and developed over several years with more than 40 partners, draws from a rich array of big data related to the word's forests and translates it into interactive maps and charts that reveal trends in deforestation, forest recovery, and industrial forestry expansion. Global Forest Watch is the first tool to monitors global forests on a monthly basis, allowing authorities and conservationists to potentially take action against deforestation as it is occurring.



APP, environmentalists talk future of Indonesia's forests
(02/20/2014) In February 2013, one of the world's most notorious forestry companies announced it would no longer chop down rainforests and peatlands to produce pulp and paper. The move was met with considerable skepticism by critics who had seen the company break previous high profile commitments to end deforestation. Why would this time be any different?



The making of Amazon Gold: once more unto the breach
(02/19/2014) When Sarah duPont first visited the Peruvian Amazon rainforest in the summer of 1999, it was a different place than it is today. Oceans of green, tranquil forest, met the eye at every turn. At dawn, her brain struggled to comprehend the onslaught of morning calls and duets of the nearly 600 species of birds resounding under the canopy. Today, the director of the new award-winning film, Amazon Gold, reports that "roads have been built and people have arrived. It has become a new wild west, a place without law. People driven by poverty and the desire for a better life have come, exploiting the sacred ground."



Local communities key to saving the Critically Endangered Mexican black howler monkey
(02/14/2014) For conservation initiatives around the world, community involvement is often crucial. An additional challenge is how to conserve species once their habitats have become fragmented. A primatologist in Mexico is bringing these together in a celebration of a Critically Endangered primate species: the Mexican black howler monkey. In 2013 Juan Carlos Serio-Silva was part of a team that not only helped to secure the establishment of a protected area for the Mexican black howler monkey, but also engaged local communities in a week of festivities, dubbed the First International Black Howler Monkey Week.



Helping the Amazon's 'Jaguar People' protect their culture and traditional wisdom
(02/11/2014) Tribes in the Amazon are increasingly exposed to the outside world by choice or circumstance. The fallout of outside contact has rarely been anything less than catastrophic, resulting in untold extinction of hundreds of tribes over the centuries. For ones that survived the devastation of introduced disease and conquest, the process of acculturation transformed once proud cultures into fragmented remnants, their self-sufficiency and social cohesion stripped away, left to struggle in a new world marked by poverty and external dependence



On edge of extinction, could drones and technology save the Little Dodo?
(02/10/2014) Almost nothing is known about the little dodo, a large, archaic, pigeon-like bird found only on the islands of Samoa. Worse still, this truly bizarre bird is on the verge of extinction, following the fate of its much more famous relative, the dodo bird. Recently, conservationists estimated that fewer than 200 survived on the island and maybe far fewer; frustratingly, sightings of the bird have been almost non-existent in recent years. But conservation efforts were buoyed this December when researchers stumbled on a juvenile little dodo hanging out in a tree. Not only was this an important sighting of a nearly-extinct species, but even more so it proved the species is still successfully breeding. In other words: there is still time to save the species from extinction so long as conservationists are able to raise the funds needed.



How hunters have become key to saving Bulgaria's capercaillie
(02/04/2014) Surprising clatter cuts through the silence in the snowy forest shortly before sunrise. The powerful clicking sounds like a dropping Ping-Pong ball before culminating in a loud pop resembling the opening of a champagne bottle. This sound is heard clearly and far. Propped on a thick pine tree branch, with a peacock-fanned tale, relaxed wings and head pointing skyward, a western capercaillie is singing. The song terminates with a low-frequency sound similar to scraping a fork to the bottom of a frying pan. It's exactly during those last few moments of singing that something unusual happens: the male bird goes temporarily deaf. Hence the species' common name in Bulgarian—deaf bird.



Next big idea in forest conservation? Connecting forest fragments
(01/31/2014) Dr. Stuart Pimm is an expert in extinctions: why they happen, how fast they happen, and how they can be prevented. Reconnecting forest fragments and avoiding fragmentation, according to Pimm, are among the most crucial things we can do to conserve global biodiversity. His organization SavingSpecies identifies areas at-risk for extinctions and helps local organizations fundraise so they can protect and restore habitats and safeguard biodiversity.



Predator appreciation: how saving lions, tigers, and polar bears could rescue ourselves
(01/29/2014) In the new book, In Predatory Light: Lions and Tigers and Polar Bears, authors Elizabeth Marshall Thomas, Sy Montgomery, and John Houston, and photographers Cyril Christo and Marie Wilkinson share with us an impassioned and detailed appeal to appreciate three of the world's biggest predators: lions, tigers, and polar bears. Through lengthy discussions, combining themes from scientific conservation to local community folklore, In Predatory Light takes us step by step deeper into the wild world of these awe-inspiring carnivores and their varied plight as they facedown extinction.



Feral crèches: parenting in wild India
(01/28/2014) The Wildlife Conservation Society-India has been camera trapping wild animals for over 20 years in the Western Ghats. The results reveal the most intimate, fascinating and sometimes comical insights into animal behavior and ecology. These mammals generally become secretive and protective during parenting, and therefore we seldom get to see little ones in the wild. But discretely placed camera traps have not only caught glimpses of these adorable wild babies, but also produced wonderful family albums!