Delaware Zip Codes

---

What is the zip code for places in Delaware ?

Listed numerically by zip code
Zip code | Name | Area Code(s) | 19701 Bear
19702 Christiana
19702 Newark
19703 Claymont
19706 Delaware City
19707 Hockessin
19708 Kirkwood
19709 Middletown
19710 Montchanin
19711 Newark
19712 Avon Products Inc
19712 Newark
19713 Newark
19714 Newark
19715 Newark
19716 Newark
19717 Newark
19718 Christiana Medical Center
19718 Newark
19720 Manor
19720 Minquadale
19720 New Castle
19721 Citibank
19721 New Castle
19725 Newark
19725 Shared Firm Zip
19726 Newark
19726 Shared Firm Zip
19730 Odessa
19731 Port Penn
19732 Rockland
19733 Saint Georges
19734 Blackbird
19734 Townsend
19735 Winterthur
19736 Yorklyn
19801 Wilmington
19802 Edgemoor
19802 Wilmington
19803 Talleyville
19803 Talleyville Postal Store
19803 Wilmington
19804 Newport
19804 Stanton
19804 Wilmington
19805 Elsmere
19805 Wilmington
19806 Wilmington
19807 Greenville
19807 Wilmington
19808 Marshallton
19808 Wilmington
19809 Bellefonte
19809 Edgemoor
19809 Wilmington
19810 Arden
19810 Edgemoor
19810 Wilmington
19850 Wilmington
19880 Wilmington
19884 Bank of America
19884 Greenville
19884 Wilmington
19885 Shared Firm Zip
19885 Wilmington
19886 Bank of America
19886 Shared Firm Zip
19886 Wilmington
19890 Wilmington
19890 Wilmington Trust
19891 Bank of America
19891 Wilmington
19892 Citibank
19892 Wilmington
19893 Chase Manhattan Bank N A
19893 Wilmington
19894 Hercules Incorporated
19894 Wilmington
19895 Delmarva Power
19895 Wilmington
19896 Verizon
19896 Wilmington
19897 Astrazeneca
19897 Wilmington
19898 Dupont Co Inc
19898 Wilmington
19899 Wilmington
19901 Dover
19901 Leipsic
19902 Dover
19902 Dover AFB
19902 Dover Air Force Base
19903 Dover
19904 Dover
19905 Dover
19906 Dover
19930 Bethany Beach
19931 Bethel
19933 Bridgeville
19934 Camden
19934 Camden Wyo
19934 Camden Wyoming
19934 Camden-Wy
19934 Camden-Wyo
19934 Camden-Wyoming
19934 Wyoming
19936 Cheswold
19938 Clayton
19939 Dagsboro
19940 Delmar
19941 Ellendale
19943 Felton
19944 Fenwick Island
19944 Fenwick Isle
19944 Selbyville
19945 Frankford
19946 Frederica
19947 Georgetown
19950 Farmington
19950 Greenwood
19951 Harbeson
19952 Harrington
19953 Hartly
19954 Houston
19955 Kenton
19956 Laurel
19958 Lewes
19958 Lewes Beach
19960 Lincoln
19961 Little Creek
19962 Magnolia
19963 Milford
19963 Slaughter Beach
19964 Marydel
19966 Long Neck
19966 Millsboro
19967 Millville
19967 Ocean View
19968 Milton
19969 Nassau
19970 Clarksville
19970 Millville
19970 Ocean View
19970 Oceanview
19971 Dewey Bch
19971 Dewey Beach
19971 Rehoboth
19971 Rehoboth Bch
19971 Rehoboth Beach
19973 Blades
19973 Seaford
19975 Fenwick Island
19975 Selbyville
19975 West Fenwick
19977 Smyrna
19979 Viola
19980 Woodside



Why is zip code data on an environmental science site?
In 2002 I was working on a project that correlated pollution and income for zip codes across the United States. Visitors told me the data files were very useful so I left them on the site and now update the postal information on a periodic basis even though the focus of the site is conservation.


Recent environmental features
Your name here: auctioning the naming rights to new species to fund conservation
(04/17/2015) Meg Lowman is on a mission to save northern Ethiopia's church forests, one at a time. Numbering around 3,500, these small "sacred" patches of forest surrounding churches are isolated natural oases in Ethiopia's otherwise mostly agricultural terrain, and they are losing ground to human activity at an alarming rate. Church forests are considered critical conservation areas. They are home to hundreds of species found nowhere else in the world, with new discoveries still being made.



Photo Essay: Geopolitical pawns, the fishermen of Lý Sơn, Vietnam
(04/17/2015) 'When they came, what could we do?' 46-year-old fisherman Nguyên Phú asks, crouching down like a frog with his hands above his head. 'We just put our hands up like this, and said, 'Don't shoot! Don't shoot!'' Their caution is warranted. If they venture too deeply into Vietnam's claimed territorial waters, a Chinese patrol boat will swoop down on them.



Indonesia's public water movement consolidates after two of its biggest wins
(04/17/2015) With the tide of privatized water in Indonesia as close to turning since the dictator Suharto was president, an entire spectrum of stakeholders are scrambling to chart a path forward on the heels of two landmark – and unexpected – court decisions. First, the Constitutional Court struck down the main governing law on water resources. Then a Jakarta court annulled the city's contract with private operators Palyja and Aetra, which have run the city's piped network since 1998 amid continual allegations of corruption and mismanagement.



Court rules deforestation of Peruvian rainforest for chocolate was legal
(04/16/2015) A regional court in Loreto, Peru recently ruled that the clearing of more than 2,000 hectares of forest by Cacao del Peru Norte for a plantation to grow cacao, the raw material behind chocolate, was legal, reported the investigative news site OjoPúblico on April 9. The ruling rejects contentions brought by Forestry Department that the company should have sought approval to clear the trees.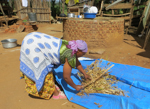 Empowering women in order to save the harvest
(04/16/2015) There are plenty of technological challenges to reducing food waste in sub-Saharan Africa, but a challenge that might prove more important to overcome is gender inequality. Women are responsible for nearly half of agricultural labor in sub-Saharan Africa, with some estimates reaching up to 90 percent. But they often don't have the authority to make financial decisions for their families, even when it comes to managing or selling the crops they've grown themselves.



Expedition in the Congo rediscovers lost primate
(04/14/2015) The last time there was a sighting of Bouvier's red colobus disco was all the rage, the Internet was non-existent, and Madonna still referred solely to the mother of God. But then the African monkey vanished and conservationists feared it had gone extinct—a victim of the bushmeat trade. For years, research groups called for an expedition to find out if Bouvier's red colobus still survived.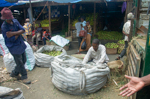 Combating food waste in sub-Saharan Africa
(04/09/2015) In sub-Saharan Africa, a sizeable portion of essential food crops are lost before they can be eaten or sold. Long a neglected aspect of the agricultural system, this waste stream of food is starting to attract attention from global agriculture organizations and financial institutions, offering hope that the losses can be reduced, and with them rates of rural hunger and malnutrition.



New group hopes to raise global profile of the peace-loving bonobo
(04/08/2015) Of the world's six species of great ape (not including us), it's safe to say that bonobos (Pan paniscus) are the least studied and least known publicly. But a new organization, the Bonobo Project, is hoping to change that. To the untrained eye, a bonobo looks little different from their closest relative, the chimpanzee. But the differences between these two cousins are actually quite large.



Who's to blame for forest loss in Borneo timber concession?
(04/06/2015) The apparent loss of some 4,000 hectares of forested peatland in Indonesian Borneo is raising questions on who bears responsibility for forest clearing in un-utilized concessions. On Monday, Greenomics-Indonesia issued a report revealing the loss of significant tracts of peat forest in a West Kalimantan concession held by PT Bumi Mekar Hijau (BMH), a plantation company whose operation in South Sumatra supplies Asia Pulp & Paper (APP) with woodpulp for its mills.



Fighting fire with money: can finance protect Indonesia's forests?
(04/06/2015) In previous articles, we have seen an overview of the problems with the Indonesian palm oil industry. Such problems are largely caused by rent-seeking politicians and businessmen, who are willing to sacrifice endangered wildlife, the health of their countrymen and long-term environmental stability in the pursuit of profit. These actors exert a significant influence on and within the Indonesian government. As a result, Indonesia remains conflicted between the opposing goals of conservation and economic growth.



Kenya crackdown on terrorism threatens NGOs, wildlife, media
(04/03/2015) The terrorist attack that killed at least 147 people at Garissa University on April 2nd was another tragic milestone in Kenya's ongoing battle with the al-Shabab terrorist group based in Somalia. In response to several other brutal attacks on civilians, Kenya's government recently passed and proposed harsh new laws that are alarming environmental activists, non-governmental organizations (NGOs), the media, opposition politicians and the public.



Could inland aquaculture help save the oceans and feed the world?
(04/02/2015) Mark Kwok has always loved the ocean. An avid diver and spear fisherman, he has travelled the planet in search of exotic fish and undersea adventure. Born into a wealthy Hong Kong family, he had the freedom to explore the world's oceans. But in the last decade or so, he hasn't been content just looking at fish. He's been growing them. In a squat, unassuming cluster of buildings in an industrial suburb north of Hong Kong, Kwok is experimenting with a potentially revolutionary technology.



Russia and Canada lead the world in forest loss in 2013
(04/02/2015) Russia and Canada led the world in forest loss, accounting for nearly forty percent of the 18 million hectares of forest lost globally in 2013, reveals a new analysis based on high resolution satellite imagery. The research — released today on Global Forest Watch, a forest monitoring and research platform — was led by Matt Hansen of the University of Maryland and involved Google, World Resources Institute (WRI), and other institutions



Here comes progress: what will planned megaprojects mean for an Amazon city?
(03/31/2015) The city of Itaituba, in western Pará state, is home to several construction projects of strategic interest for the Brazilian government. However, with local infrastructure fragile, residents are worried they will not share in the spoils.



9 months after Amazonian oil pipeline spill, effects and fears linger
(03/30/2015) When Peru's state-run oil company pulled out of this small Kukama Indian village in mid-December after cleaning up an oil pipeline spill, residents thought life could slowly return to normal. But more than three months later, wisps of oil floating down the Cuninico River—along with a larger spill in the neighboring community of San Pedro—are a reminder that the problems are not over.



Photos: expedition to Amazon's white sands may have found new primate
(03/24/2015) Most people think of the Amazon rainforest as one massive, homogenous ecosystem—a giant castle of green. However, within the Amazon rainforest lie a myriad of distinct ecosystems, sporting unique characteristics and harboring endemic species. One of the rarer ecosystems in the Amazon is the white sands forest.



Who's funding palm oil?
(03/19/2015) Palm oil may be the single most important crop that you never heard of. A vegetable fat that resembles reddish butter at room temperature, palm oil is derived from the fruit of the oil palm tree. Both nutritious and highly versatile, palm oil is now an important component of products ranging from biofuels and food to soaps and cosmetics. Estimates indicate that as much as 50 percent of the products used by the average Western consumer every day contain palm oil or its derivatives.



Discovery of 'Lost City' spurs conservation pledge
(03/18/2015) Earlier this month, National Geographic made big news: the discovery of what it called a 'lost city' below the thick jungles of Honduras. While the coverage has led to scientists crying sensationalism, it also resulted this week in a commitment of protection by the Honduras President, Juan Orlando Hernández, for a long-neglected portion of the country.



New study argues the Anthropocene began in 1610
(03/11/2015) In 1610, William Shakespeare began penning one of his greatest plays, The Tempest, which some critics view as a commentary on European colonization of far-away islands and continents. Along those lines, a study today in Nature argues that 1610 is the first year of the human-dominated epoch, known as the Anthropocene, due to the upheavals caused by the 'discovery' of the New World.



Human impacts are 'decoupling' coral reef ecosystems
(03/09/2015) There is a growing consensus among scientists that we have entered the age of the Anthropocene, or the epoch of humans. In other words, at some point between the 12,000 years separating the beginning of agriculture and the Industrial Revolution, humans became the dominant source of change on the planet, shaping everything from the land to the atmosphere to even the geologic record where we etch our reign.