What is the zip code for places in Delaware ?









Listed numerically by zip code
Zip code | Name | Area Code(s)

19701 Bear
19702 Christiana
19702 Newark
19703 Claymont
19706 Delaware City
19707 Hockessin
19708 Kirkwood
19709 Middletown
19710 Montchanin
19711 Newark
19712 Avon Products Inc
19712 Newark
19713 Newark
19714 Newark
19715 Newark
19716 Newark
19717 Newark
19718 Christiana Medical Center
19718 Newark
19720 Manor
19720 Minquadale
19720 New Castle
19721 Citibank
19721 New Castle
19725 Newark
19725 Shared Firm Zip
19726 Newark
19726 Shared Firm Zip
19730 Odessa
19731 Port Penn
19732 Rockland
19733 Saint Georges
19734 Blackbird
19734 Townsend
19735 Winterthur
19736 Yorklyn
19801 Wilmington
19802 Edgemoor
19802 Wilmington
19803 Talleyville
19803 Talleyville Postal Store
19803 Wilmington
19804 Newport
19804 Stanton
19804 Wilmington
19805 Elsmere
19805 Wilmington
19806 Wilmington
19807 Greenville
19807 Wilmington
19808 Marshallton
19808 Wilmington
19809 Bellefonte
19809 Edgemoor
19809 Wilmington
19810 Arden
19810 Edgemoor
19810 Wilmington
19850 Wilmington
19880 Wilmington
19884 Bank of America
19884 Greenville
19884 Wilmington
19885 Shared Firm Zip
19885 Wilmington
19886 Bank of America
19886 Shared Firm Zip
19886 Wilmington
19890 Wilmington
19890 Wilmington Trust
19891 Bank of America
19891 Wilmington
19892 Citibank
19892 Wilmington
19893 Chase Manhattan Bank N A
19893 Wilmington
19894 Hercules Incorporated
19894 Wilmington
19895 Delmarva Power
19895 Wilmington
19896 Verizon
19896 Wilmington
19897 Astrazeneca
19897 Wilmington
19898 Dupont Co Inc
19898 Wilmington
19899 Wilmington
19901 Dover
19901 Leipsic
19902 Dover
19902 Dover AFB
19902 Dover Air Force Base
19903 Dover
19904 Dover
19905 Dover
19906 Dover
19930 Bethany Beach
19931 Bethel
19933 Bridgeville
19934 Camden
19934 Camden Wyo
19934 Camden Wyoming
19934 Camden-Wy
19934 Camden-Wyo
19934 Camden-Wyoming
19934 Wyoming
19936 Cheswold
19938 Clayton
19939 Dagsboro
19940 Delmar
19941 Ellendale
19943 Felton
19944 Fenwick Island
19944 Fenwick Isle
19944 Selbyville
19945 Frankford
19946 Frederica
19947 Georgetown
19950 Farmington
19950 Greenwood
19951 Harbeson
19952 Harrington
19953 Hartly
19954 Houston
19955 Kenton
19956 Laurel
19958 Lewes
19958 Lewes Beach
19960 Lincoln
19961 Little Creek
19962 Magnolia
19963 Milford
19963 Slaughter Beach
19964 Marydel
19966 Long Neck
19966 Millsboro
19967 Millville
19967 Ocean View
19968 Milton
19969 Nassau
19970 Clarksville
19970 Millville
19970 Ocean View
19970 Oceanview
19971 Dewey Bch
19971 Dewey Beach
19971 Rehoboth
19971 Rehoboth Bch
19971 Rehoboth Beach
19973 Blades
19973 Seaford
19975 Fenwick Island
19975 Selbyville
19975 West Fenwick
19977 Smyrna
19979 Viola
19980 Woodside



Why is zip code data on an environmental science site?
In 2002 I was working on a project that correlated pollution and income for zip codes across the United States. Visitors told me the data files were very useful so I left them on the site and now update the postal information on a periodic basis even though the focus of the site is conservation.


Recent environmental features
Journalists win environmental news reporting prizes
(12/10/2013) Mongabay's internship program has benefited from the hard work and great environmental reporting of more than 30 writing interns since the program's inception in July 2012. This year, Mongabay asked this pool of contributing authors to submit their most compelling piece out of over 150 articles. The submissions were then reviewed by a panel.



Top 10 Environmental Stories of 2013
(12/10/2013) 1. Carbon concentrations hit 400ppm while the IPCC sets global carbon budget: For the first time since our appearance on Earth, carbon concentrations in the atmosphere hit 400 parts per million. The last time concentrations were this high for a sustained period was 4-5 million years ago when temperatures were 10 degrees Celsius higher. Meanwhile, in the slow-moving effort to curb carbon emissions, the Intergovernmental Panel on Climate Change (IPCC) crafted a global carbon budget showing that most of the world's fossil fuel reserves must be left untouched if we are to avoid catastrophic climate change.



World's biggest palm oil company makes zero deforestation commitment
(12/05/2013) Wilmar, the world's largest palm oil trader and a long-time target of environmentalists, has signed a landmark policy that commits the company to eliminate deforestation from its supply chain. The deal, if fully implemented, has the potential to transform the palm oil industry, which has emerged over the past decade as one of the world's most important drivers of tropical forest destruction.



Sky islands: exploring East Africa's last frontier
(12/04/2013) The montane rainforests of East Africa are little-known to the global public. The Amazon and Congo loom much larger in our minds, while the savannas of East Africa remain the iconic ecosystems for the region. However these ancient, biodiverse forests—sitting on the tops of mountains rising from the African savanna—are home to some remarkable species, many found only in a single forest. A team of international scientists—Michele Menegon, Fabio Pupin, and Simon Loader—have made it their mission to document the little-known reptiles and amphibians in these so-called sky islands, many of which are highly imperiled.



Animal Earth: exploring the hidden biodiversity of our planet
(12/03/2013) Most of the species on Earth we never see. In fact, we have no idea what they look like, much less how spectacular they are. In general, people can identify relatively few of their backyard species, much less those of other continents. This disconnect likely leads to an inability in the general public to relate to biodiversity and, by extension, the loss of it. One of the most remarkable books I have read is a recent release that makes serious strides to repair that disconnect and affirm the human bond with biodiversity. Animal Earth: The Amazing Diversity of Living Creatures written by Ross Piper, a zoologist with the University of Leeds, opens up the door to discovery.



Reversing local extinction: scientists bring the northern bald ibis back to Europe after 300 years
(12/02/2013) The northern bald ibis (Geronticus eremita), also called the hermit ibis or waldrapp, is a migratory bird. Once, the bald ibis lived in the Middle East, northern Africa and southern and central Europe, but due to hunting, loss of habitat and pesticide-use, the birds disappeared from most of these areas and is currently considered Critically Endangered. It became extinct in Europe 300 years ago; the bird is almost gone in Syria, with only a single individual recorded at the country's lone breeding site in 2013; and the only stronghold left is a small population of around 500 birds in Morocco. But now, a team of scientists from Austria is working to reestablish a self-sustaining, migratory population of bald ibis in Europe.



New project works to raise the profile of the world's littlest bear
(12/02/2013) The world's least-known bear also happens to be the smallest: sun bears (Helarctos malayanus), so called for the yellowish horseshoe mark on its chest, are found across Southeast Asia. But despite their telltale markings, super-long tongues, and endearing cuteness, sun bears remain little-studied and little-known compared to many of the region's other large mammals. Now, a new project is working to raise the profile of the sun bears of Borneo—Survival of the Sun Bears—which are a smaller subspecies of the mainland animals.



Scientists discover new cat species roaming Brazil
(11/27/2013) As a family, cats are some of the most well-studied animals on Earth, but that doesn't mean these adept carnivores don't continue to surprise us. Scientists have announced today the stunning discovery of a new species of cat, long-confused with another. Looking at the molecular data of small cats in Brazil, researchers found that the tigrina—also known as the oncilla in Central America—is actually two separate species. The new species has been dubbed Leopardus guttulus and is found in the Atlantic Forest of southern Brazil, while the other Leopardus tigrinus is found in the cerrado and Caatinga ecosystems in northeastern Brazil.



New children's book celebrates the rich wildlife of Kibale National Park
(11/25/2013) There are many ways in which people practice conservation. The most well-known are working to save species in the field or setting up protected areas. But just as important—arguably more important for long-term conservation success—is conservation education, especially with children. Anyone who grew up watching David Attenborough documentaries, reading Gerald Durrell books, or simply exploring ecosystems on their own can tell you how important it is to encounter the wonders of wildlife at a young age. And for many of us most of our first encounters with wild animals are in illustrated books. Eric Losh's new book, The Chorus of Kibale, not only provides an educational opportunity for children to become acquainted with the many animals in Kibale National park in Uganda—through wonderful pictures and sounds—but proceed also go directly to two conservation groups working in the region, U.N.I.T.E. for the environment and the Primate Education Network (PEN).



The quicksilver demon: rogue gold-mining is the world's largest source of mercury pollution
(11/20/2013) In 1956, in the quiet seaside town of Minamata on the southwestern coast of Japan's Kyushu Island, cats began to behave very strangely. They convulsed, displayed excessive salivation, and gradually lost the ability to walk. Then, dead birds began to fall out of the sky. Shellfish opened and decomposed. Fish also displayed abnormal behaviors, eventually floating up to the surface of the Shiranui Sea. Many of the ailing cats wandered into the sea and drowned. Soon, there were no more cats alive in the area.



The swan song of India's dancing bears
(11/20/2013) India's last dancing bear has retired. As the stars of their cruel little roadshows, sloth bears danced to the piercing sounds of the damru for hundreds of years. Orphaned by poachers and trained by the Qalandars, a nomadic Muslim community, these bears trudged through towns and villages to earn their masters a meager livelihood.



UN talks tough to global coal industry
(11/19/2013) Yesterday, at the International Coal and Climate Summit—just a couple miles from the ongoing UN Climate Summit—Christiana Figueres delivered a speech unlike anything ever heard at a coal industry meeting before. Figueres, the Executive Director of the UN Framework Convention on Climate Change (UNFCCC), took time off from wrangling world leaders and officials toward a climate agreement to talk tough to an industry currently worth around $3 trillion.



Fracking: the good, the bad and the ugly
(11/18/2013) The last few years have ushered in a new national and global awareness of fracking, the 150-year-old technology for extracting natural gas and oil from rock. Fracking, short for hydraulic fracturing, uses ultra-high-pressure slurries to create hairline fractures throughout solid rock. Oil, and more frequently gas, comes rushing out while sand from the mixture holds the fractures open in this nearly alchemical process. As many readers are aware, there are two very divisive schools of thought on fracking. One side touts it as the future of energy. The other derides fracking as inherently toxic and demands its immediate and permanent cessation. Like so many aspects of life, the truth lies somewhere in between.



World's most vulnerable nation to climate change turns to coal power
(11/18/2013) In October, a global risks analysis company, Maplecroft, named Bangladesh the world's most vulnerable nation to climate change by 2050. The designation came as little surprise, since Bangladesh's government and experts have been warning for years of climatic impacts, including rising sea levels, extreme weather, and millions of refugees. However, despite these very public warnings, in recent years the same government has made a sudden turn toward coal power—the most carbon intensive fuel source—with a master plan of installing 15,000 megawatts (MW) of coal energy by 2030, which could potentially increase the country's current carbon dioxide emissions by 160 percent.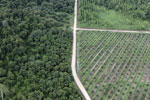 Zero net deforestation is the wrong target, warn experts
(11/14/2013) Environmental initiatives that target zero net deforestation may miss their mark when it comes to slowing climate change and protecting biodiversity, warns a commentary published in this week's issue of the journal Science. While zero net deforestation may seem like a worthy target in efforts to curb forest loss, Sandra Brown and Daniel Zarin argue that the goal is at best, ambiguous, and at worst, may lead to perverse outcomes for the world's forests.



Powered by Google, high resolution forest map reveals massive deforestation worldwide
(11/14/2013) Researchers today released a long-awaited tool that reveals the extent of forest cover loss and gain on a global scale. Powered by Google's massive computing cloud, the interactive forest map establishes a new baseline for measuring deforestation and forest recovery across all of the world's countries, biomes, and forest types. The map has far-reaching implications for efforts to slow deforestation, which accounts for roughly ten percent of greenhouse gas emissions produced by human activities, according to the authors of the paper that describes the tool and details its first findings.



Bangladesh plans massive coal plant in world's biggest mangrove forest
(11/11/2013) On October 22nd Bangladeshi and Indian officials were supposed to hold a ceremony laying the foundation stone for the Rampal power plant, a massive new coal-fired plant that will sit on the edge of the Sundarbans, the world's largest mangrove forest. However, the governments suddenly cancelled the ceremony, instead announcing that the project had already been inaugurated in early October by the countries' heads of state via a less-ornate Skype call. While the governments say the change was made because of busy schedules, activists contend the sudden scuttling of the ceremony was more likely due to rising pressure against the coal plant, including a five-day march in September that attracted thousands.



Could camera trap videos galvanize the world to protect Yasuni from oil drilling?
(11/07/2013) Even ten years ago it would have been impossible to imagine: clear-as-day footage of a jaguar plodding through the impenetrable Amazon, or a bicolored-spined porcupine balancing on a branch, or a troop of spider monkeys feeding at a clay lick, or a band of little coatis racing one-by-one from the dense foliage. These are things that even researchers who have spent a lifetime in the Amazon may never see. Now anyone can: scientists at the Tiputini Biodiversity Station in Ecuador's Yasuní National Park have recently begun using camera trap videos to take movies of animals few will ever view in their lifetimes. The videos—following years of photo camera trapping—provide an intimate view of a world increasingly threatened by the oil industry.



The mystery of the disappearing elephant tusk
(10/30/2013) Give it a few thousand years, and tusks could completely disappear from the Asian elephant (Elephas maximus). The beautifully smooth, elongated ivory incisors neatly bordering a long trunk are iconic in the public mind. The reigning hypothesis is that tusks evolved to help male elephants fight one another, as demonstrated when males compete over females in estrus. However, a recent study published in the journal Animal Behaviour has shown that tusks may not be key factors in tussles, at least as far as elephants are concerned.



Gold mining in the Amazon rainforest surges 400%
(10/28/2013) The extent of gold mining in the Peruvian Amazon has surged 400 percent since 1999 due to rocketing gold prices, wreaking havoc on forests and devastating local rivers, finds a new study published in the Proceedings of the National Academy of Sciences (PNAS). The assessment, led by Greg Asner of the Carnegie Institution for Science, is based on a combination of satellite imagery, on-the-ground field surveys, and an advanced airplane-based sensor that can accurately measure the rainforest canopy and sub-canopy vegetation at a resolution of 1.1 meters (42 inches).