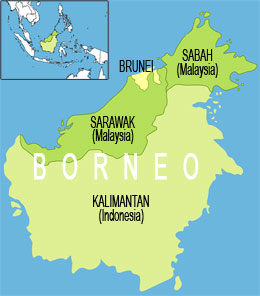 Sections:





THE PEOPLE OF BORNEO

---
Borneo is home to nearly 18 million people, nearly doubling since 1980. Borneo, like New Guinea, has long had two very different populations: lowly populated, highly tribalized groups in the inaccessible interior and relatively dense agricultural populations along the coast and the lower floodplains of major rivers. The inland people (Dayaks) were primarily hunter-gatherers with some shifting cultivation, spoke a number of tribal languages, and practiced mostly animist religions. In contrast, coastal populations relied heavily on oceanic trade, rice farming and fishing, spoke regional dialects of Malay, and were predominantly Muslim. The coastal Malay population dominated (as they still do today) politically and militarily the inland tribal population, which was characterized by constant clan war-fare.

When the Dutch arrived in Borneo they encouraged missionaries to convert the inland Dayaks, a term that refers to the indigenous farming population of Borneo, not a distinct tribe. The Dutch had considerably less success making inroads with the coastal Muslim. There had long been animosity between the inland and the coastal populations, and the addition of organized religion only added conflict. After independence, the influx of transmigrants and loggers only worsened relations between the largely Christian Dayaks and Muslims.

Today about two-thirds of the population of Borneo is Muslim, while around 30 percent is non-Muslim indigenous. Few nomadic tribes exist on the island.
>
WWF's "Treasure Island At Risk" report reviews the main groups in Borneo, including the seven main Dayak groups: the Iban (formerly known as Sea Dayak); the Bidayuh (Land Dayak); the Kayan-Kenyah group; the Maloh; the Barito; the Kelabit-Lun Bawang group; and the Dusun-Kadazan-Murut.

Penan
The Penan are a group of hunter-gatherers that live in the rainforests of Borneo. Their origin and history are poorly known and today there are probably less than 10,000 Penan. Sellato (1994) reports that less than 4 percent of these are still entirely nomadic. Nomadic Penan are highly dependent of sago palm and wild boar for subsistence.

In the late 1980s the Penan, along with other groups, made international headlines when they blocked roads at more than 20 logging sites in Sarawak. The blockages were re-established off-and-on into the late 1990s.



REFERENCES

---
WWF Germany, Borneo: Treasure Island at Risk, June 2005 [pdf, 773 KB]
Sellato B.: Nomads of the Borneo Rainforest; University of Hawaii Press, Honolulu, 1994
mongabay.com