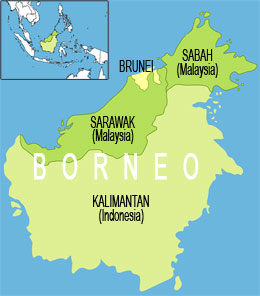 Sections: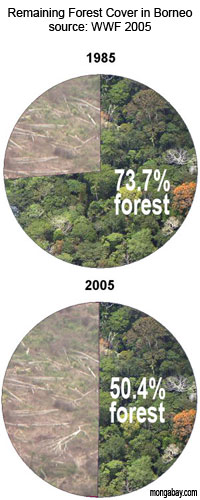 West Papua 'oil palm atlas' portrays industry's explosion in region
(05/06/2015) There's a saying in the Indonesian palm oil industry: Sumatra is yesterday, Kalimantan is today, and Papua is tomorrow. Tomorrow might well have arrived. A new report sheds light on the industry's rapid expansion in Indonesia's Papua and West Papua provinces – and on the companies behind the plantation drive. The result is a portrayal of a frontier region's early encounters with a crop that has come to dominate the Sumatran and Bornean landscapes – a portrait made that much starker by the central government's foreign media blackout in the territory.


Sarawak leader pledges no more logging, palm oil expansion
(05/05/2015) Sarawak's leader has allegedly pledged to stop granting industrial timber and palm oil concessions in the Malaysian state's increasingly endangered rainforests, asserts the Bruno Manser Fund (BMF).



Orangutan rescued amid sea of palm oil
(05/04/2015) The rescue, which took place in early April, was conducted by the Orangutan Information Centre (OIC) in response to a report of an adult male orangutan isolated in an fragment forest surrounded by oil palm plantations. The orangutan was found to be in poor health, according to Krisna, OIC's Human Orangutan Conflict Response Unit field coordinator.



Palm giants ask Indonesian gov't to clear path toward sustainability
(05/01/2015) Executives from palm oil giants Wilmar, Cargill and Golden Agri Resources appeared at a green investment summit in Jakarta this week, providing a window into the nature of a high-profile, joint sustainability pact the companies have entered into together with Asian Agri, Musim Mas and the Indonesian Chamber of Commerce and Industry. The agreement, known as the Indonesia Palm Oil Pledge, has been lauded in some quarters for its potential to transform the sector and dismissed in others as mere lip service to protecting the environment.



Leuser Park authorities still trying to move thousands of squatters
(04/28/2015) The Indonesian government will take another stab at relocating thousands of squatters from Mount Leuser National Park, most of whom were dispaced by the decades-long insurgency in Aceh province and whose presence has fueled deforestation in the protected area.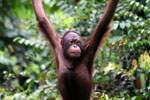 Report: Borneo could save billions while still meeting conservation and development goals
(04/27/2015) The three nations that share Borneo could save themselves $43 billion by more closely coordinating their environmental conservation and economic development efforts, according to a report published in the journal Nature Communications.



Jokowi must strengthen Indonesia's forest moratorium, not just extend it: activists
(04/25/2015) Less than a month before the expiry of a moratorium on new licenses for land-based exploitation in primary forests and on peat, environmentalists are calling for the Indonesian president to not only prolong the policy but strengthen it too, hampered as they say it has been by chaotic implementation, weak enforcement, standards that don't go far enough and, some suggest, a lack of political will to see it through.



Officials: Sumatran rhino is extinct in the wild in Sabah
(04/23/2015) There are no Sumatran rhinos left in the wild in the Malaysian state of Sabah, confirmed Masidi Manjun, the Tourism, Culture and Envi­ronment Minister, over the weekend. In 2008, conservationists estimated there were around 50 rhinos in the state. Five years later, it dropped that estimate to just ten. Now, it's admitted the awful truth: the wild rhino is very likely gone.



McDonald's to address deforestation across all commodities it sources
(04/21/2015) Fast food giant McDonald's will combat deforestation across its main commodity supply chains, including palm oil, beef, paper and packaging, coffee, and poultry. The commitment is the most comprehensive of any major restaurant chain.



Criticism of GAR and Wilmar African oil palm projects highlight global 'no-deforestation' challenges
(04/16/2015) Despite high-profile no-deforestation policies, palm oil giants Golden Agri-Resources and Wilmar have attracted criticism recently over their projects in Africa, particularly regarding the correct implementation of free, prior and informed consent (FPIC) of affected communities. Some NGOs have suggested these persistent problems indicate no lessons have been learned from years of bad practice in Indonesia.



THE SOCIAL IMPACT OF OIL PALM IN BORNEO

---
For most of its history Borneo was scarcely populated by humans. The unforgiving climate and dense rainforest kept populations small and scattered. In the past half century this has all changed. The influx of more than half a million transmigrants into Borneo over the past thirty years has doubled the island's population and created tremendous demand for jobs. Initially the rubber and logging industries provided employment, but when this collapsed in the mid- (Malaysia) to late-1990s (Kalimantan), work opportunities dried up for most of the local population. Despite this, hundreds of new arrivals continued to show up in Borneo on a weekly basis.

Rising unemployment was a serious concern in Borneo in the late 1990s and early 2000s and ethnic conflict raged in parts of Kalimantan during this time. The sudden rise of the oil palm in the late 1990s and early 2000s was seen as a welcome opportunity for many residents and local governments. Observers are only now seeing the full-cost of rapid growth in the sector.

Environmental Impacts

Beyond the obvious deforestation that results from clearing lowland rainforest for plantations (86 percent of deforestation in Malaysia from 1995-2000 was for oil palm plantations), there are other environmental impacts of oil palm cultivation. Several studies have found a significant reduction (on the order of 80 percent for plants and 80-90 percent for mammals, birds, and reptiles) in biological diversity following forest conversion to oil palm plantation. Further, many animals will not move through plantations while others, like orangutans, become crop pests putting them at risk of defensive poaching by plantation managers. The use of herbicides and pesticides can also impact species composition and pollute local waterways. Drainage systems required for plantations (oil palm plantations in Borneo are often established in swamp forest) may lower water tables, affecting neighboring forest areas. Further, destruction of peat lands increases the risk of flooding and fire. Land-clearing fires set by large oil palm plantation owners were the single largest cause of the massive 1997-1998 fires in Borneo.

For more see Why is oil palm replacing tropical rainforests?

Social Impacts

The social impacts of oil palm plantations are just beginning to be understood, in a large part thanks to the work of Dr. Lisa Curran. While there is no doubt that oil palm plantations provide much needed employment opportunities in Borneo there are questions on the fairness of the existing system which appears to sometimes lock small plantation owners into conditions akin to slavery.

Given the scarcity of timber in parts of Borneo, much of its population has few economic options at present. Oil palm seems to be the best alternative for communities that are just eking a living off rubber cultivation, subsistence rice farming, and fruit gardens. When a large agricultural firm enters an area, some community members are often eager to become part of an oil palm plantation. Lacking legal title to their land, deals are often structured so that members of the community acquire 2-3 hectares (508 acres) of land for oil palm cultivation. They typically borrow some $3,000-6,000 (at 30 percent interest per year) from the parent firm for the seedlings, fertilizers, and other supplies. Because oil palm takes 3-4 years to bear fruit, they work as day laborers at $2.50 per day on mature plantations. In the meantime their plot generates no income but requires fertilizers and pesticides, which are purchased from the oil palm company. Once their plantation becomes productive, the average income for a 2 hectare allotment is $682-900 per month. In the past, rubber and wood generated $350-1000 month, according to Curran. The low level of income combined with large start-up costs and relatively high interest payments virtually ensures that small holders will be perpetually indebted to the oil palm company.

Curran said this debt, combined with almost total dependence on entities they barely trust, has a psychological impact on communities. Because there are no ways to contest actions by the company, conflicts invariably arise within communities, especially when a large part of the community (Dayaks often oppose oil palm schemes) has opposed the plantation. At times under-the-table means are used to sway a community. For example, a gift of a motorbike can win over influential community leaders. Once the oil palm firm gets the approval, it may negotiate on a one-on-one basis with each household, eliminating any sort of bargaining power of the greater community.

Surveys by Curran suggest that communities in West Kalimantan are deeply concerned about flooding after the establishment of oil palm plantations. They also worry about loss of forest resources and culture -- older community members don't always like the idea of women and children working on plantations. Oil palm cultivation also makes local people more dependent on agricultural firms since they no longer grow their own food. Finally, some communities have expressed dissatisfaction for working for Malaysians. They would rather be working independently, according to Curran. While they have a litany of complaints, few see other alternatives.

Meanwhile oil palm firms are making a fortune. By Curran's calculations, some firms in West Kalimantan are seeing a 26 percent annual internal rate of return over a 25-year period, an astounding number. Because of booming demand for biofuels, they have little downside risk.

"Firms are making a lot of money without a lot of accountability," said Curran, speaking at Stanford University in January 2007.

For more see Oil Palm





PICTURES OF OIL PALM IN BORNEO

---
REFERENCES

---
Lisa Curran, personal communication
WWF Germany, Borneo: Treasure Island at Risk, June 2005 [pdf, 773 KB]
mongabay.com