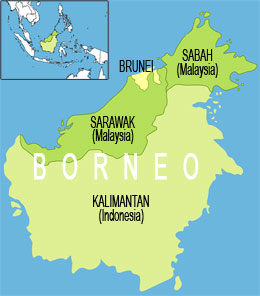 Sections: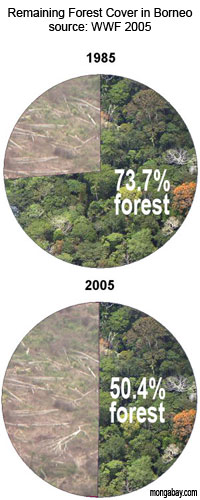 Walking the walk: zoo kicks off campaign for orangutans and sustainable palm oil
(10/20/2014) If you see people wearing orange this October, it might not be for Halloween, but for orangutans. Chester Zoo's conservation campaign, Go Orange for Orangutans, kicks off this month for its second year. The campaign aims to raise money, and awareness, for orangutans in Borneo, which have become hugely impacted by deforestation often linked to palm oil plantations.



To become less damaging, target non-forest lands for palm oil, says book
(10/16/2014) Palm oil production has been spectacularly profitable but ecologically disastrous across Southeast Asia, consuming millions of hectares of indigenous lands, rainforests, and peatlands in recent decades. That paradox has made the crop highly controversial despite its importance in providing a high-yielding source of vegetable oil. A new book, published freely online by the Center for International Forestry Research (CIFOR), weighs in on the debate and concludes — like many before it — that the problem is not the crop itself, but how it is produced.


Rogue palm oil company appeals deforestation case to Indonesia's supreme court
(10/14/2014) Oil palm company PT. Kallista Alam has filed an appeal with the Supreme Court continuing the closely-watched legal battle set to redefine Indonesia's commitment to environmental justice. Lawyers for the company filed the new appeal on October 6, claiming the initial case is invalid because it failed to include all relevant parties as defendants—including the governor of Aceh, who issued the concession permit in 2011.



Brazil unlikely to sustain gains in reducing deforestation without new incentives for ranchers, says study
(10/09/2014) Cattle ranchers that drive the vast majority of forest clearing in the Brazilian Amazon are unlikely to be held at bay indefinitely unless they are afforded new incentives for keeping trees standing, argues new analysis published by an economic research group. The findings suggest that Brazil's recent progress in reducing deforestation — annual forest loss in the region has dropped by roughly 80 percent since 2004 — could easily be reversed.



Report rates palm oil companies on sustainability commitments
(10/05/2014) A new report published Forest Heroes, an advocacy campaign pushing for an end to deforestation, ranks global palm oil companies on their sustainability commitments. The Green Tigers, authored by Glen Hurowitz, reviews the recent history of environmental policies in the palm oil sector, beginning with the formation of the Roundtable on Sustainable Palm Oil (RSPO) in 2004 through the wave of comprehensive zero deforestation commitments in 2013-2014.



Central Kalimantan to set up palm oil monitoring system to in bid cut deforestation 80%
(10/05/2014) The Indonesian province of Central Kalimantan is moving forward on an oil palm plantation monitoring system it hopes will help meet a commitment to reduce deforestation 80 percent by 2020. The online monitoring system will include "information on the performance of plantation concessions such as productivity, the number of smallholder farmers, deforestation and other land cover change, and fire occurrence," according to Earth Innovation Institute which designed and is helping the provincial government implement the system.



Companies hire local communities to evade palm oil restrictions in Indonesia
(10/04/2014) As more palm oil companies are held accountable for deforestation in Indonesia, a growing number are hiring local communities to do their dirty work. According to the Oil Palm Farmers Union (SPKS), companies promise to buy mature fruits at attractive rates from smallholders and local villages who agree to clear and plant in protected forest areas. Through these agreements, companies distance themselves from the process, leaving the locals to bear responsibility for the destruction.



High Court denies appeal by palm oil company that cleared protected peat forest
(09/30/2014) Furthering Indonesia's renewed commitment to environmental justice, the High Court of Banda Aceh denied an appeal by PT. Kallista Alam, the oil palm company found guilty of destroying over 1,000 hectares of protected peat forest in Gunung Leuser ecosystem. The Court upheld the previous ruling, which fined the company 366 billion rupiah ($30 million) in penalties and restoration fees.


Malaysian palm oil company destroys Borneo forests, despite buyer's zero deforestation commitment
(09/30/2014) Malaysian palm oil company Genting Plantations is continuing to destroy forests despite a high-profile pledge by one of its customers to eliminate deforestation from its supply chain, alleges a report published by Greenomics, an Indonesian environmental group.



Termites suffer in logged forests and palm oil plantations
(09/25/2014) Ants appear more resilient to forest degradation than termites. Scientists have long studied how birds, mammals, and amphibians respond to forest degradation, but what about the most abundant animals in the forest? Insects. A new study in Biodiversity and Conservation looks at how ants and termites reacted to forest changes in Malaysian Borneo.



THE SOCIAL IMPACT OF OIL PALM IN BORNEO

---
For most of its history Borneo was scarcely populated by humans. The unforgiving climate and dense rainforest kept populations small and scattered. In the past half century this has all changed. The influx of more than half a million transmigrants into Borneo over the past thirty years has doubled the island's population and created tremendous demand for jobs. Initially the rubber and logging industries provided employment, but when this collapsed in the mid- (Malaysia) to late-1990s (Kalimantan), work opportunities dried up for most of the local population. Despite this, hundreds of new arrivals continued to show up in Borneo on a weekly basis.

Rising unemployment was a serious concern in Borneo in the late 1990s and early 2000s and ethnic conflict raged in parts of Kalimantan during this time. The sudden rise of the oil palm in the late 1990s and early 2000s was seen as a welcome opportunity for many residents and local governments. Observers are only now seeing the full-cost of rapid growth in the sector.

Environmental Impacts

Beyond the obvious deforestation that results from clearing lowland rainforest for plantations (86 percent of deforestation in Malaysia from 1995-2000 was for oil palm plantations), there are other environmental impacts of oil palm cultivation. Several studies have found a significant reduction (on the order of 80 percent for plants and 80-90 percent for mammals, birds, and reptiles) in biological diversity following forest conversion to oil palm plantation. Further, many animals will not move through plantations while others, like orangutans, become crop pests putting them at risk of defensive poaching by plantation managers. The use of herbicides and pesticides can also impact species composition and pollute local waterways. Drainage systems required for plantations (oil palm plantations in Borneo are often established in swamp forest) may lower water tables, affecting neighboring forest areas. Further, destruction of peat lands increases the risk of flooding and fire. Land-clearing fires set by large oil palm plantation owners were the single largest cause of the massive 1997-1998 fires in Borneo.

For more see Why is oil palm replacing tropical rainforests?

Social Impacts

The social impacts of oil palm plantations are just beginning to be understood, in a large part thanks to the work of Dr. Lisa Curran. While there is no doubt that oil palm plantations provide much needed employment opportunities in Borneo there are questions on the fairness of the existing system which appears to sometimes lock small plantation owners into conditions akin to slavery.

Given the scarcity of timber in parts of Borneo, much of its population has few economic options at present. Oil palm seems to be the best alternative for communities that are just eking a living off rubber cultivation, subsistence rice farming, and fruit gardens. When a large agricultural firm enters an area, some community members are often eager to become part of an oil palm plantation. Lacking legal title to their land, deals are often structured so that members of the community acquire 2-3 hectares (508 acres) of land for oil palm cultivation. They typically borrow some $3,000-6,000 (at 30 percent interest per year) from the parent firm for the seedlings, fertilizers, and other supplies. Because oil palm takes 3-4 years to bear fruit, they work as day laborers at $2.50 per day on mature plantations. In the meantime their plot generates no income but requires fertilizers and pesticides, which are purchased from the oil palm company. Once their plantation becomes productive, the average income for a 2 hectare allotment is $682-900 per month. In the past, rubber and wood generated $350-1000 month, according to Curran. The low level of income combined with large start-up costs and relatively high interest payments virtually ensures that small holders will be perpetually indebted to the oil palm company.

Curran said this debt, combined with almost total dependence on entities they barely trust, has a psychological impact on communities. Because there are no ways to contest actions by the company, conflicts invariably arise within communities, especially when a large part of the community (Dayaks often oppose oil palm schemes) has opposed the plantation. At times under-the-table means are used to sway a community. For example, a gift of a motorbike can win over influential community leaders. Once the oil palm firm gets the approval, it may negotiate on a one-on-one basis with each household, eliminating any sort of bargaining power of the greater community.

Surveys by Curran suggest that communities in West Kalimantan are deeply concerned about flooding after the establishment of oil palm plantations. They also worry about loss of forest resources and culture -- older community members don't always like the idea of women and children working on plantations. Oil palm cultivation also makes local people more dependent on agricultural firms since they no longer grow their own food. Finally, some communities have expressed dissatisfaction for working for Malaysians. They would rather be working independently, according to Curran. While they have a litany of complaints, few see other alternatives.

Meanwhile oil palm firms are making a fortune. By Curran's calculations, some firms in West Kalimantan are seeing a 26 percent annual internal rate of return over a 25-year period, an astounding number. Because of booming demand for biofuels, they have little downside risk.

"Firms are making a lot of money without a lot of accountability," said Curran, speaking at Stanford University in January 2007.

For more see Oil Palm





PICTURES OF OIL PALM IN BORNEO

---
REFERENCES

---
Lisa Curran, personal communication
WWF Germany, Borneo: Treasure Island at Risk, June 2005 [pdf, 773 KB]
mongabay.com