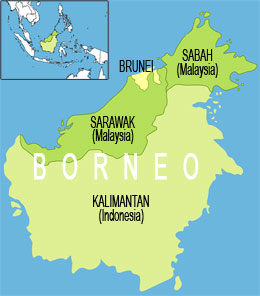 Sections:





LOGGING IN BORNEO

---
More wood was extracted from Borneo between 1985 and 2000 that Africa and the Amazon combined - Lisa Curran

The above statement is a testament to the degree of logging in Borneo over the past 20 years or so. The island has seen some of the most intensive logging ever recorded in a tropical forest with extraction sometimes exceeding 240 cubic meters per hectare (the Amazon averages 23 cubic meters per hectare). This intensity of logging was eventually the industry's undoing: the timber market crashed in both Malaysia and Indonesia within the past 15 years. Still forestry is still important on the island today, especially in Kalimantan and Sarawak where large number of people still work for logging companies, generating hundreds of millions of dollars for the local economy. Here's a brief look at logging in Borneo. For more information I suggest looking at the references at the bottom of this page.

History

Logging took off first in Malaysian Borneo, then in Indonesian Kalimantan. Both countries saw a similar boom and bust cycle driven by government subsidies of roads and processing facilities and easy credit. Illegal logging was widespread in both countries.

Malaysia
In the early 1990s at least one-third of log exports from Malaysia were illegal, including 40 percent of timber sent to Japan. Illegal logging is still an issue in Malaysia, though far less than in Indonesia. Most of Malaysia's involvement in the illegal timber trade today is through wood smuggling and illicit operations in other countries, especially Indonesia. Malaysian firms are complicit in illicit harvesting in Kalimantan -- timber is sometimes smuggled across the border and then shipped as "Malaysian" wood.


| | | | | | |
| --- | --- | --- | --- | --- | --- |
| Region | 1992 | 1993 | 1994 | 1995 | 4-year total |
| Sabah | 2,064,000 | 293,000 | 0 | 6,000 | 2,363,000 |
| Sarawak | 6,363,000 | 4,922,000 | 4,463,000 | 3,902,000 | 19,650,000 |

The decrease in timber taken from Sarawak and Sabah is directly the result of declining forest cover and increasing environmental regulation.





Indonesia
Illegal logging is a much bigger problem in Indonesia where an estimated 70-75 percent of timber is harvested illegally, costing the government hundreds of millions to billions in lost tax income. East Kalimantan alone is thought to lose out on $100 million per year in revenue with well over half of wood production being illegal.

According to WWF, illegal logging in Indonesia is driven by several factors:
Excess saw mill capacity in Indonesia and Malaysia. Both Malaysia and Indonesia still have facilities to process large amounts of timber even though wood production has declined since the halcyon days of the 1990s. WWF reports that the two countries have the capacity for about 58.2 million cubic meters of wood per year, yet legal production forests can only supply about 25.4 million cubic meters. The shortfall is made up by illegally harvested timber.
Lack of local concern about illegal logging. WWF notes that most people in Borneo aren't particularly worried about illegal logging. In fact, the scarcity of jobs means that the average person would welcome a job in the forestry sector, whether the operation is legal or not.
Local political interests and corruption. Logging, legal or illegal, creates jobs and stimulates the local economy in the short term, something almost no politician is going to reject. Further, enterprising officials can make a healthy living lining their pockets with the proceeds of illegal timber. The culture of corruption was cemented during Suharto's reign and continues today.
Economics. CIFOR (2004) notes that legal wood costs $85 per cubic meter to deliver to the saw mill for large firms, whereas the cost of illegal timber is $32. For small concession holders, the costs are $46 and $5, respectively. It is simply much cheaper to use illegal timber. As WWF put it, "The financial benefits derived from illegal logging are more lucrative than from legal logging."
For these reasons attempts to clamp down on illegal logging through log export bans and other measures have not been met with success. In 2006 the United States offered Indonesia $1 million dollars, an pittance considering the four provincial governments of Kalimantan collectively lose more than $1 million in tax revenue per day to illegal logging, to crack down on illicit harvesting.

For more see Logging







NEWS ON INDONESIA

---
Rhino populations in Sumatra, Borneo should be combined to save Sumatran rhino from extinction
(05/15/2013) A new study argues for treating endangered Sumatran populations in Borneo and Sumatra as 'a single conservation unit', lending academic support to a controversial proposal to move wild rhinos from Malaysia to Indonesia.



Rainforest tribe urges Norwegian king to recall energy executive
(05/13/2013) In an unusual bid to stop a series of dams that will flood their rainforest home, a group of tribesmen in Borneo are urging King Harald V of Norway to call one of his subjects home. The subject is Torstein Dale Sjøtveit, a Norwegian citizen who is the CEO of Sarawak Energy, a Malaysian firm that is building several dams in the state of Sarawak. The hydroelectric projects are controversial because they require the forced displacement of indigenous communities and will flood large tracts of rainforest.


Palm oil company violated RSPO standards, evicted from sustainability body
(05/13/2013) The Roundtable on Sustainable Palm Oil (RSPO) has evicted Indonesian palm oil giant Dutapalma Nusantara for violating key principles for sustainability.



Indonesian palm oil giant cutting deforestation from supply chain
(05/13/2013) Indonesian palm oil giant Golden Agri-Resources (GAR) is continuing to reduce deforestation under its 2011 forest conservation policy despite ongoing forest destruction by other palm oil producers in the sector, finds a new assessment by Greenomics, an Indonesian activist group. However the report finds GAR's operations are not completely deforestation-free.



New UN report gives Indonesia low marks in forest governance
(05/09/2013) A new UN report exposes serious flaws in Indonesia's forest governance, serving as a wake up call to policy makers aiming to conserve forests in the country, which boasts the third largest area of tropical forest coverage in the world. On Monday, the United Nations Development Programme (UNDP) together with the Government of Indonesia launched a comprehensive forest governance index, which evaluates forest governance at the central, provincial and district levels and offers policy recommendations designed to better equip the country to conserve forests and peatlands.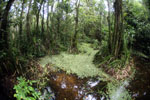 Endangered primates and cats may be hiding out in swamps and mangrove forests
(05/02/2013) What happens to animals when their forest is cut down? If they can, they migrate to different forests. But in an age when forests are falling far and fast, many species may have to shift to entirely different environments. A new paper in Folia Primatologica theorizes that some 60 primate species and 20 wild cat species in Asia and Africa may be relying more on less-impacted environments such as swamp forests, mangroves, and peat forests.



Malaysia may loan Indonesia rhinos to save species from extinction
(04/30/2013) Conservationists and officials meeting last month at a rhino crisis summit in Singapore agreed to a radical plan to loan Sumatran rhinos between nations if it means saving the critically endangered species from extinction. The proposal, which could still be thwarted by red tape and political opposition, could lead Malaysia to send some of its Sumatran rhinos to semi-captive breeding facilities in Indonesia.


APP answers questions on new forest conservation policy
(04/29/2013) In February, Asia Pulp & Paper, one the world's largest paper producers, announced a forest conservation policy that would effectively exclude fiber sourced through conversion of rainforests and peatlands. The announcement however was met by skepticism by many in the environmental movement due to APP's failures to abide by previous commitments to avoid rainforest logging.


Probe confirms Singapore-based palm oil company engaged in land-grabbing in Borneo
(04/26/2013) An independent investigation has shown that First Resources Ltd, a palm oil plantation company and member of the Roundtable on Sustainable Palm Oil (RSPO), failed to obtain proper consent from local communities before clearing rainforests for plantations in Indonesian Borneo, an Indonesian indigenous rights group reported last week.


Unidentified toxin caused the deaths of Borneo elephants
(04/18/2013) After three months, officials still don't know for certain what killed at least 14 Bornean elephants (Elephas maximus borneensis) in the Malaysian state of Sabah. However tests do indicate that the herd perished from a "caustic intoxicant," possibly ingested accidentally or just as easily intentionally poisoned. A distinct subspecies, Bornean elephants are the world's smallest with a population that has fallen to around 2,000 on the island.



Illegal logging threatens lowland forests in Indonesian national park
(04/16/2013) Illegal logging in the heart of Indonesia's Gunung Palung National Park may be putting one of the country's last remaining lowland forests at risk. The park, located in Indonesia's West Kalimantan province on the island of Borneo, is home to a number of endangered species including hornbills and gibbons, as well as around 2,500 orangutans, and is the site of a research station that has been collecting data on the forest for more than 20 years.



Fighting deforestation—and corruption—in Indonesia
(04/11/2013) The basic premise of the Reducing Emissions from Deforestation and Degradation (REDD+) program seems simple: rich nations pay tropical countries for preserving their forests. Yet the program has made relatively limited progress on the ground since 2007, when the concept got tentative go-ahead during U.N. climate talks in Bali. The reasons for the stagnation are myriad, but despite the simplicity of the idea, implementing REDD+ is extraordinarily complex. Still the last few years have provided lessons for new pilot projects by testing what does and doesn't work. Today a number of countries have REDD+ projects, some of which are even generating carbon credits in voluntary markets. By supporting credibly certified projects, companies and individuals can claim to "offset" their emissions by keeping forests standing. However one of the countries expected to benefit most from REDD+ has been largely on the sidelines. Indonesia's REDD+ program has been held up by numerous factors, but perhaps the biggest challenge for REDD+ in Indonesia is corruption.


Sarawak to protect population of rarest orangutan sub-species
(04/10/2013) After facilitating large-scale logging and conversion of extensive areas of rainforest habitat, the government of Sarawak says it will protect a population of up to 200 of the world's rarest Bornean orangutans recently identified during field surveys by conservationists, reports the Wildlife Conservation Society (WCS).


WWF: careful planning went into announcement on rhino rediscovery in Indonesian Borneo
(04/08/2013) WWF-Indonesia had considered the impact of the publication of finding traces of Sumatran rhinos in Kalimantan. In the two-month period before it was published, WWF-Indonesia had coordinated with various parties, including the local government, the Forestry Ministry, rhino experts, local university and other related parties to set up strategies and to ensure commitment to full protection of the rhino.




Sumatran rhino population plunges, down to 100 animals
(04/08/2013) Less than 100 Sumatran rhinos survive in the world today, according to a bleak new population estimate by experts. The last survey in 2008 estimated that around 250 Sumatran rhinos survived, but that estimate now appears optimistic and has been slashed by 60 percent. However conservationists are responding with a major new agreement between the Indonesian and Malaysian governments at a recent summit by the International Union for Conservation of Nature's Species Survival Commission (IUCN SSC).



Investigation clears APP of deforestation allegations in Borneo
(04/04/2013) Two logging companies that supply Asia Pulp & Paper (APP) with timber have not violated the Indonesian forestry giant's new zero deforestation commitment, according to a field investigation by The Forest Trust, a conservation group. The investigation was a direct response to allegations raised in a report published last week by Relawan Pemantau Hutan Kalimantan (RPHK), a consortium of local NGOs in West Kalimantan, the western-most province in Indonesian Borneo. The RPHK report found evidence of active clearing within two concession areas linked to Asia Tani Persada (ATP) and Daya Tani Kalbar (DTK), companies that supply APP with timber for its pulp mills.



Has WWF just condemned the last rhino in Kalimantan?
(04/04/2013) WWF-Indonesia recently caught the attention of the global media with their announcement that the Sumatran rhinoceros still exists in Indonesian Borneo, some 40 years after being declared extinct there. This sounds like great news for biodiversity conservation. But is it really?



An insidious threat to tropical forests: over-hunting endangers tree species in Asia and Africa
(04/04/2013) A fruit falls to the floor in a rainforest. It waits. And waits. Inside the fruit is a seed, and like most seeds in tropical forests, this one needs an animal—a good-sized animal—to move it to a new place where it can germinate and grow. But it may be waiting in vain. Hunting and poaching has decimated many mammal and bird populations across the tropics, and according to two new studies the loss of these important seed-disperser are imperiling the very nature of rainforests.


Sumatran rhino found in Kalimantan after unseen in region for 20 years
(04/02/2013) Conservationists working to save the Sumatran rhino—one of the world's most imperiled mammals—heard good news this week as WWF-Indonesia has found evidence of at least one Sumatran rhino persisting in the Indonesian state of Kalimantan, located on the island of Borneo. Small populations of Sumatran rhinos (Dicerorhinus sumatrensis) survive on Sumatra and on Borneo (in the Malaysian state of Sabah), but this is the first time scientists have confirmed the presence of the notoriously shy animal in Kalimantan in over two decades.



Jumping the gun? Confusion over APP deforestation report
(03/29/2013) On Thursday AFP reported that green groups have accused Indonesian forestry giant Asia Pulp & Paper (APP) of breaking its commitment to stop clearing natural forests and peatlands. But that's not entirely accurate. What the coalition of environmental groups in Indonesian Borneo actually reported was clearing by two companies that supply APP with fiber, not deforestation by APP-owned companies.






REFERENCES

---
Lisa Curran, personal communication
Tacconi L., Obidzinski K., Agung F.: Learning Lessons to Promote Forest Certification and Control Illegal Logging in Indonesia; CIFOR, 2004
WWF Germany, Borneo: Treasure Island at Risk, June 2005 [pdf, 773 KB]
mongabay.com