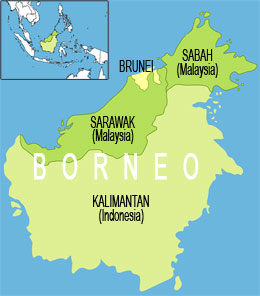 Sections: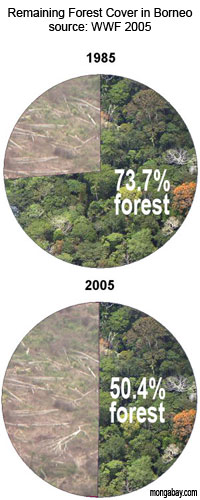 LOGGING IN BORNEO

---
More wood was extracted from Borneo between 1985 and 2000 that Africa and the Amazon combined - Lisa Curran

The above statement is a testament to the degree of logging in Borneo over the past 20 years or so. The island has seen some of the most intensive logging ever recorded in a tropical forest with extraction sometimes exceeding 240 cubic meters per hectare (the Amazon averages 23 cubic meters per hectare). This intensity of logging was eventually the industry's undoing: the timber market crashed in both Malaysia and Indonesia within the past 15 years. Still forestry is still important on the island today, especially in Kalimantan and Sarawak where large number of people still work for logging companies, generating hundreds of millions of dollars for the local economy. Here's a brief look at logging in Borneo. For more information I suggest looking at the references at the bottom of this page.

History

Logging took off first in Malaysian Borneo, then in Indonesian Kalimantan. Both countries saw a similar boom and bust cycle driven by government subsidies of roads and processing facilities and easy credit. Illegal logging was widespread in both countries.

Malaysia
In the early 1990s at least one-third of log exports from Malaysia were illegal, including 40 percent of timber sent to Japan. Illegal logging is still an issue in Malaysia, though far less than in Indonesia. Most of Malaysia's involvement in the illegal timber trade today is through wood smuggling and illicit operations in other countries, especially Indonesia. Malaysian firms are complicit in illicit harvesting in Kalimantan -- timber is sometimes smuggled across the border and then shipped as "Malaysian" wood.


| | | | | | |
| --- | --- | --- | --- | --- | --- |
| Region | 1992 | 1993 | 1994 | 1995 | 4-year total |
| Sabah | 2,064,000 | 293,000 | 0 | 6,000 | 2,363,000 |
| Sarawak | 6,363,000 | 4,922,000 | 4,463,000 | 3,902,000 | 19,650,000 |

The decrease in timber taken from Sarawak and Sabah is directly the result of declining forest cover and increasing environmental regulation.





Indonesia
Illegal logging is a much bigger problem in Indonesia where an estimated 70-75 percent of timber is harvested illegally, costing the government hundreds of millions to billions in lost tax income. East Kalimantan alone is thought to lose out on $100 million per year in revenue with well over half of wood production being illegal.

According to WWF, illegal logging in Indonesia is driven by several factors:
Excess saw mill capacity in Indonesia and Malaysia. Both Malaysia and Indonesia still have facilities to process large amounts of timber even though wood production has declined since the halcyon days of the 1990s. WWF reports that the two countries have the capacity for about 58.2 million cubic meters of wood per year, yet legal production forests can only supply about 25.4 million cubic meters. The shortfall is made up by illegally harvested timber.
Lack of local concern about illegal logging. WWF notes that most people in Borneo aren't particularly worried about illegal logging. In fact, the scarcity of jobs means that the average person would welcome a job in the forestry sector, whether the operation is legal or not.
Local political interests and corruption. Logging, legal or illegal, creates jobs and stimulates the local economy in the short term, something almost no politician is going to reject. Further, enterprising officials can make a healthy living lining their pockets with the proceeds of illegal timber. The culture of corruption was cemented during Suharto's reign and continues today.
Economics. CIFOR (2004) notes that legal wood costs $85 per cubic meter to deliver to the saw mill for large firms, whereas the cost of illegal timber is $32. For small concession holders, the costs are $46 and $5, respectively. It is simply much cheaper to use illegal timber. As WWF put it, "The financial benefits derived from illegal logging are more lucrative than from legal logging."
For these reasons attempts to clamp down on illegal logging through log export bans and other measures have not been met with success. In 2006 the United States offered Indonesia $1 million dollars, an pittance considering the four provincial governments of Kalimantan collectively lose more than $1 million in tax revenue per day to illegal logging, to crack down on illicit harvesting.



FEATURED ARTICLES LOGGING IN BORNEO

---
Indonesia should convert logging concessions to protected areas to stop deforestation for plantations, argues study
(09/05/2013) Reclassifying logging concessions as permanent forest estates and thereby barring them from conversion to industrial plantations would be an effective strategy for helping conserve Indonesia's fast-dwindling forests, argues a new study published in PLoS ONE. The study analyzed forest loss in areas zoned for different uses in Indonesian Borneo. It found that deforestation rates in timber concessions and protected areas were 'not significantly different' provided logging concessions were not reclassified as industrial plantation concessions.


80% of rainforests in Malaysian Borneo logged


(07/17/2013) 80 percent of the rainforests in Malaysian Borneo have been heavily impacted by logging, finds a comprehensive study that offers the first assessment of the spread of industrial logging and logging roads across areas that were considered some of Earth's wildest lands less than 30 years ago. The research, conducted by a team of scientists from the University of Tasmania, University of Papua New Guinea, and the Carnegie Institution for Science, is based on analysis of satellite data using Carnegie Landsat Analysis System-lite (CLASlite), a freely available platform for measuring deforestation and forest degradation. It estimated the state of the region's forests as of 2009.


Industrial logging leaves a poor legacy in Borneo's rainforests


(07/17/2012) For most people "Borneo" conjures up an image of a wild and distant land of rainforests, exotic beasts, and nomadic tribes. But that place increasingly exists only in one's imagination, for the forests of world's third largest island have been rapidly and relentlessly logged, burned, and bulldozed in recent decades, leaving only a sliver of its once magnificent forests intact. Flying over Sabah, a Malaysian state that covers about 10 percent of Borneo, the damage is clear. Oil palm plantations have metastasized across the landscape. Where forest remains, it is usually degraded. Rivers flow brown with mud.





LOGGING PHOTOS from BORNEO

---


For more see
Logging
NEWS ON BORNEO

---

Malaysian palm oil company destroys Borneo forests, despite buyer's zero deforestation commitment
(09/30/2014) Malaysian palm oil company Genting Plantations is continuing to destroy forests despite a high-profile pledge by one of its customers to eliminate deforestation from its supply chain, alleges a report published by Greenomics, an Indonesian environmental group.



Coal mine has heavy impact in Indonesian Borneo
(09/26/2014) Baharuddin should be happy. The rambutan and durian trees flanking his home are heavy with fruit. Two hectares of chilies stretch before his house. The price of chili — a staple commodity in Indonesia — has been stable for six months. From his 2,000 plants he hopes to earn 40 million rupiah ($3,400), much of which he wants to invest in expanding his crop. That is, if his farm can survive the threats that have destroyed so many of his neighbor's.



Termites suffer in logged forests and palm oil plantations
(09/25/2014) Ants appear more resilient to forest degradation than termites. Scientists have long studied how birds, mammals, and amphibians respond to forest degradation, but what about the most abundant animals in the forest? Insects. A new study in Biodiversity and Conservation looks at how ants and termites reacted to forest changes in Malaysian Borneo.



Bizarre lizard newest victim of reptile pet trade
(09/15/2014) If you've never heard of the earless monitor lizard, you're not alone: this cryptic lizard has long-escaped the attention of the larger public. But over the past couple years its bizarre appearance has been splashed across social media sites for reptile collectors. While this decidedly-quirky attention may seem benign, it could actually threaten the species' existence.


Palm oil company continues to operate illegal plantation despite court ruling
(09/12/2014) A palm oil company in Central Kalimantan continues to operate business as usual, despite a Supreme Court ruling confirming it has no legal permit to do so. Since 2009, PT Hati Prima Agro (HPA), a subsidiary of palm oil giant Bumitama Gunajaya Agro Group (BGA), has cleared over 7,000 ha of land in Central Kalimantan, even though their permits were revoked by the Ministry of Forestry in 2008.



Elephants pay the price for palm oil in Malaysian Borneo, impact may reach far beyond reported kills
(09/10/2014) More than a dozen elephant kills were reported in Sabah in 2013 alone, but it is unknown exactly how many have lost their lives in recent years as palm plantations encroach further and further into the rainforest. What is clear is that if the loss of their forest habitat continues to drive conflicts with humans at the rate it is now, Borneo elephants' long-term survival may be in jeopardy.


Scientists honor missing activist by naming a spider after him
(08/25/2014) Swiss researchers have honored the memory of a missing indigenous peoples activist by naming an undescribed species of spider after him, reports the Bruno Manser Fund, the group he founded.



Indonesia to hear indigenous peoples' grievances on land disputes
(08/22/2014) Public hearings into alleged violations of indigenous peoples' land rights will open next week in Palu on the island of Sulawesi. This is the beginning of a series of hearings by the Commission on Human Rights to explore conflicts affecting indigenous people in forest areas. The Commission will travel throughout Indonesia, providing concerned parties an opportunity to meet and discuss land disputes, before submitting the results of their findings to the next president.



20 orangutan pictures for World Orangutan Day
(08/19/2014) August 19 is World Orangutan Day, a designation intended to raise awareness about the great red ape, which is threatened by habitat loss, the pet trade, and hunting. Once distributed across much of southeast Asia, today orangutans are only found on the islands of Borneo and Sumatra. Both species of orangutan — the Sumatran and the Bornean — are considered endangered.



Forgotten species: the exotic squirrel with a super tail
(08/13/2014) With among the world's largest tails compared to body-size, the tufted ground squirrel just might be the most exotic squirrel species on the planet. Found only on the island of Borneo, this threatened species is also surrounded by wild tales, including the tenacity to take down a deer for dinner. New research explores the squirrel's monster tail and whether other tales about it may be true.






REFERENCES

---
Lisa Curran, personal communication
Tacconi L., Obidzinski K., Agung F.: Learning Lessons to Promote Forest Certification and Control Illegal Logging in Indonesia; CIFOR, 2004
WWF Germany, Borneo: Treasure Island at Risk, June 2005 [pdf, 773 KB]
mongabay.com