Environmental issues

Deforestation, soil erosion, and water pollution from a gold mine in Peru. Several environmental issues can result from a single activity.



By Jeremy Hance

Environmental issues are problems that impact the natural world, i.e. ecosystems, as well as the human beings who depend on them. Although environmental issues have been around since humans have (Plato complained of deforestation and resulting erosion in Greece), the modern movement concerned with environmental issues proceeded alongside, and often in response to, the rise of industrialization.

Current environmental issues include climate change, deforestation, biodiversity loss, pollution, invasive species, ecosystem destruction, ocean acidification, desertification, erosion, sprawl, fossil fuels, and overpopulation among many others.

Responses to environmental issues have included the creation of protected areas, such as national parks and wildlife reserves; laws to protect the habitat of endangered species; regulations on hunting and fishing; clean up of toxic pollution; international treaties to address global issues like depletion of the ozone layer; restoration of damaged ecosystems; reintroductions of wildlife; and others.

Since human beings are intimately connected to the environment, depending on it for clean water, food production, and breathable air, tackling environmental problems is about creating a better world for current and future generations. In recent decades, some environmental issues have moved beyond local and regional problems, to become global ones, such as climate change, mass extinction, and ocean acidification.

Deforestation



Deforestation in Borneo


Soil erosion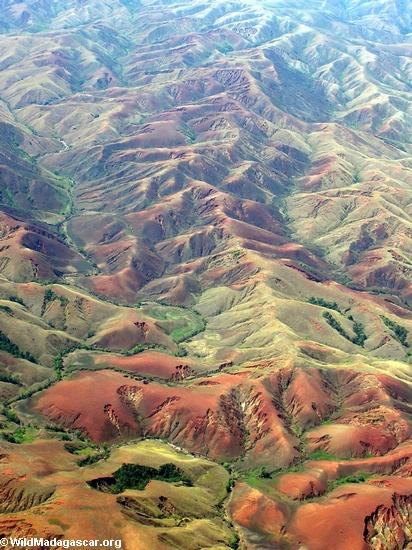 Soil erosion in Madagascar following deforestation.


Air pollution



Air pollution in China.


Biodiversity loss



Red ruffed lemurs are hunted by poachers


Littering / trash



Trash in Indonesia




Urban sprawl



Urban sprawl in Las Vegas


Fires



Forest fires in Indonesia produce greenhouse gases that contribute to climate change


Global warming


Glaciers in places like Alaska are melting due to climate change
News on environmental issues
Meeting an Illegal Logger
(08/27/2014) 'I make six times the amount of money logging as I would working my small plot of land or even working legally in a pulp and paper or palm oil plantation.' An illegal logger explains the economic conditions in South Sumatra. Mongabay Special Reporting Fellow Robert S. Eshelman interviews an illegal logger in Indonesia on the topic of cleaning up commodity supply chains.



Where should the roads go? New map offers a solution to the 'Pandora's Box of environmental problems'
(08/27/2014) Roads make it possible to bring goods to market, to get to the office, to log a forest, to hunt its wildlife. Without roads, human society as we know it could not exist. However, to build roads, trees must be cleared and swamps drained, shrinking valuable wildlife habitat and fragmenting populations in the process. A new study unveils an innovative map that defines which areas of the world would be best used to build roads – and which should be left alone.



Invasion of the lionfish: new research finds the situation may be worse than we thought
(08/27/2014) You may have recently read the controversial story on invasive lionfish research involving Dr. Zack Jud of Florida International University and a young girl named Lauren Arrington. While the issue of attribution in scientific research is crucial to the discipline, much of the media focus so far has sidestepped the real issue: what lionfish tolerance for brackish water really means for the environment.



The Gran Canal: will Nicaragua's big bet create prosperity or environmental ruin?
(08/27/2014) A hundred years ago, the Panama Canal reshaped global geography. Now a new project, spearheaded by a media-shy Chinese millionaire, wants to build a 278-kilometer canal through Nicaragua. While the government argues the mega-project will change the country's dire economic outlook overnight, critics contend it will cause undue environmental damage, upend numerous communities, and do little to help local people.



How do we save the world's vanishing old-growth forests?
(08/26/2014) There's nothing in the world like a primary forest, which has never been industrially logged or cleared by humans. They are often described as cathedral-like, due to pillar-like trees and carpet-like undergrowth. Yet, the world's primary forests—also known as old-growth forests—are falling every year, and policy-makers are not doing enough to stop it.



What lies within, we may never know: deforestation threatening Sulawesi's unique wildlife
(08/26/2014) For 10 million years the Indonesian island of Sulawesi has been disconnected from other landforms, almost inviting evolution to color outside the lines. Despite a growing population and limited space, Sulawesi has managed to provide a safe haven to hundreds of unique species as they evolved over millennia. But that haven may soon be lost to uncontrolled extraction of forest products from Sulawesi's many pristine ecosystems.



Can it be stopped? Ghana's forests 'could completely disappear in less than 25 years'
(08/25/2014) Ghana contains forests that are biologically unique and important both for the wildlife they contain and the human communities that depend on them. However, the country is experiencing one of the greatest rates of deforestation in West Africa. At its current rate of forest loss, a study estimates that Ghana could be devoid of major forest cover in less than a quarter-century.


Featured video: new Netflix documentary highlights the work of Sylvia Earle to save the oceans
(08/25/2014) Sylvia Earle is one of the ocean's staunchest defenders. A National Geographic Society Explorer in Residence and former chief scientist with NOAA, Earle has spent a lifetime documenting the rapid decline of the world's oceans and calling for more action to defend the body of water that cradles the world's continents.


Scientists honor missing activist by naming a spider after him
(08/25/2014) Swiss researchers have honored the memory of a missing indigenous peoples activist by naming an undescribed species of spider after him, reports the Bruno Manser Fund, the group he founded.



Scientists name new endangered species after the company that will decide its fate
(08/24/2014) Scientists have discovered a new snail species near a cement quarry in Malaysia, which as far as they know lives nowhere else in the world. It lives on a limestone hill called Kanthan given as a concession to an international company Lafarge. The cement producer quarries the hill for raw materials. As a result, the scientists have named the species after the company that will decide if it goes extinct.









CONTENTS
WEEKLY NEWSLETTER