Environmental issues

Deforestation, soil erosion, and water pollution from a gold mine in Peru. Several environmental issues can result from a single activity.



By Jeremy Hance

Environmental issues are problems that impact the natural world, i.e. ecosystems, as well as the human beings who depend on them. Although environmental issues have been around since humans have (Plato complained of deforestation and resulting erosion in Greece), the modern movement concerned with environmental issues proceeded alongside, and often in response to, the rise of industrialization.

Current environmental issues include climate change, deforestation, biodiversity loss, pollution, invasive species, ecosystem destruction, ocean acidification, desertification, erosion, sprawl, fossil fuels, and overpopulation among many others.

Responses to environmental issues have included the creation of protected areas, such as national parks and wildlife reserves; laws to protect the habitat of endangered species; regulations on hunting and fishing; clean up of toxic pollution; international treaties to address global issues like depletion of the ozone layer; restoration of damaged ecosystems; reintroductions of wildlife; and others.

Since human beings are intimately connected to the environment, depending on it for clean water, food production, and breathable air, tackling environmental problems is about creating a better world for current and future generations. In recent decades, some environmental issues have moved beyond local and regional problems, to become global ones, such as climate change, mass extinction, and ocean acidification.

Deforestation



Deforestation in Borneo


Soil erosion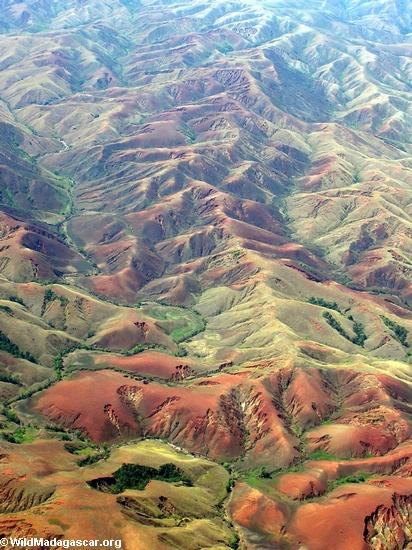 Soil erosion in Madagascar following deforestation.


Air pollution



Air pollution in China.


Biodiversity loss



Red ruffed lemurs are hunted by poachers


Littering / trash



Trash in Indonesia




Urban sprawl



Urban sprawl in Las Vegas


Fires



Forest fires in Indonesia produce greenhouse gases that contribute to climate change


Global warming


Glaciers in places like Alaska are melting due to climate change
News on environmental issues
Police investigate villager's murder in pulp and paper concession
(03/02/2015) Indonesian police are investigating the brutal killing of a villager in Jambi at the hands of security guards contracted by Wira Karya Sakti (WKS), a plantation company owned by forestry giant Asia Pulp & Paper (APP). APP quickly condemned the murder and said it is cooperating with the investigation.



How the Sahara keeps the Amazon rainforest going
(03/02/2015) Scientists have just uncovered an incredible link between the world's largest desert (the Sahara) and its largest rainforest (the Amazon). New research published in Geophysical Research Letters theorizes that the Sahara Desert replenishes phosphorus in the Amazon rainforest via vast plumes of desert dust blowing over the Atlantic Ocean.



Giant panda population rises by nearly 17 percent
(03/02/2015) One of the most iconic animals on the planet got good news this week. The world's giant panda population has risen by 268 individuals over the last decade, hitting a total of 1,864 animals, according to China's fourth decadal survey. This represents a total rise of 16.8 percent.


Weak sustainability policy presents financial risk for Malaysian palm oil giant, says report
(02/27/2015) Malaysian palm oil producer Kuala Lumpur Kepong's failure to adopt a robust zero deforestation policy puts its financial performance at risk, asserts a new analysis published by Chain Reaction Research, a project involving several environmental consultancies.



Biofuels are bad news for forests, climate, food security, says report
(02/27/2015) A new report from the World Resources Institute finds that dedicating land to the production of biofuels, a form of renewable energy made from plants, may undermine efforts to achieve a sustainable food future, combat climate change, and protect forests.



Reports slam Malaysian timber companies, urge reforms in forest management
(02/27/2015) Two international NGOs have called out Malaysia in recent months over the country's widespread illegal logging. Malaysia has been accused of not doing enough to protect its diminishing forests and thwart the illicit timber trade, particularly in Sarawak, the site of the country's worst deforestation. Lax oversight, endemic corruption and limited transparency have allowed for Malaysia's forests to be plundered by both the government and the private sector.



Researchers propose improvements for Peru's protected areas
(02/26/2015) In a study published recently in PLOS ONE, researchers examined Peru's network of protected areas. They found that many of these don't exist in the areas most important for preserving the country's biodiversity and addressing its threats, and suggest alternatives to make the system more effective.


China bans carved ivory imports
(02/26/2015) China has established a one-year ban on imports of carved African elephant ivory.



Jokowi's environmental commitments in Indonesia
(02/26/2015) Last fall Indonesia elected its first president with no ties to the established political order or the military. Joko Widodo's election was widely heralded by reformers who hoped the politician's capable management in his stints as mayor of the town of Solo and metropolis of Jakarta could transform Indonesia's chronically underperforming bureaucracy, potentially ushering in a new era of improved human rights, better environmental stewardship, reduced corruption, and healthier economic growth.



One of Brazil's rarest primates still holds out in single patch of rainforest
(02/26/2015) For many years, particularly after renowned naturalist Philip Hershkovitz of the Field Museum in Chicago published his valuable taxonomy of Neotropical Primates, Saimiri vanzolinii was considered to be a mere subspecies of the larger Bolivian squirrel monkey (Saimiri boliviensis). Today, it has the distinction of being one of the most range-restricted primates in all of the Neotropics.









CONTENTS
WEEKLY NEWSLETTER