Environmental issues

Deforestation, soil erosion, and water pollution from a gold mine in Peru. Several environmental issues can result from a single activity.



By Jeremy Hance

Environmental issues are problems that impact the natural world, i.e. ecosystems, as well as the human beings who depend on them. Although environmental issues have been around since humans have (Plato complained of deforestation and resulting erosion in Greece), the modern movement concerned with environmental issues proceeded alongside, and often in response to, the rise of industrialization.

Current environmental issues include climate change, deforestation, biodiversity loss, pollution, invasive species, ecosystem destruction, ocean acidification, desertification, erosion, sprawl, fossil fuels, and overpopulation among many others.

Responses to environmental issues have included the creation of protected areas, such as national parks and wildlife reserves; laws to protect the habitat of endangered species; regulations on hunting and fishing; clean up of toxic pollution; international treaties to address global issues like depletion of the ozone layer; restoration of damaged ecosystems; reintroductions of wildlife; and others.

Since human beings are intimately connected to the environment, depending on it for clean water, food production, and breathable air, tackling environmental problems is about creating a better world for current and future generations. In recent decades, some environmental issues have moved beyond local and regional problems, to become global ones, such as climate change, mass extinction, and ocean acidification.

Deforestation



Deforestation in Borneo


Soil erosion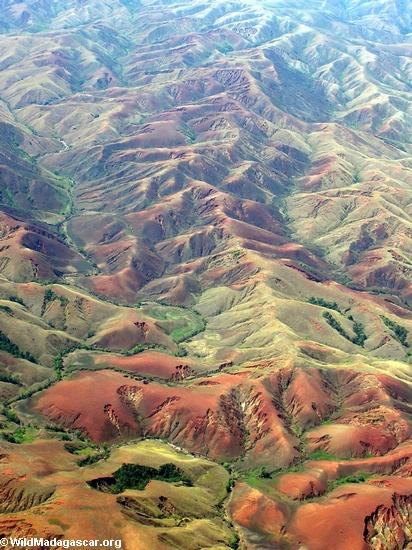 Soil erosion in Madagascar following deforestation.


Air pollution



Air pollution in China.


Biodiversity loss



Red ruffed lemurs are hunted by poachers


Littering / trash



Trash in Indonesia




Urban sprawl



Urban sprawl in Las Vegas


Fires



Forest fires in Indonesia produce greenhouse gases that contribute to climate change


Global warming


Glaciers in places like Alaska are melting due to climate change
News on environmental issues
Scientists discover two mini-spiders in China (photos)
(05/23/2013) Scientists have uncovered two miniature spiders living on mountains in China's southern region, one of which is among the smallest spiders recorded worldwide, according to a new paper in ZooKeys. Both spiders belong to the Mysmenidae family, which is made up of mini-spiders with eight eyes.


Rhinos moved from South Africa to Botswana for safekeeping
(05/23/2013) A private safari company has moved six white rhinos (Ceratotherium simum) from their home in South Africa to Botswana in a bid to save them from an out-of-control poaching crisis in their native land. Currently, around two rhinos are killed everyday in South Africa for their horns, which are then smuggled to East Asia.



Three new species of carnivorous snails discovered in endangered habitat in Thailand (photos)
(05/23/2013) Scientists from Chulalongkorn University, Bangkok and the Natural History Museum, London recently discovered three new species of carnivorous snails in northern Thailand. However, the celebration of these discoveries is tainted by the fact that the new snails are already threatened with extinction due to the destruction of their limestone habitat.


China to begin cutting carbon emissions one city at a time
(05/23/2013) China has unveiled details of its first pilot carbon-trading program, which will begin next month in the southern city of Shenzhen. The trading scheme will cover 638 companies responsible for 38% of the city's total emissions, the Shenzhen branch of the powerful National Development and Reform Commission (NDRC) announced on Wednesday. The scheme will eventually expand to include transportation, manufacturing and construction companies.


Pictures: Top 10 new species of 2012
(05/23/2013) A glow-in-the-dark cockroach, an insect described from a photo posted on Flickr, a monkey that has been likened to Jesus, a carnivorous sea sponge, and the world's tiniest frog are among the 'top 10' species discovered during 2012, according to global committee of taxonomists.



Luxury nature travel with a philanthropic twist
(05/23/2013) A hundred years ago, nature-oriented travel to places like tropical Africa and Asia was often associated with big game hunting. Today cameras have mostly replaced guns as nature-lovers travel to the far-reaches of the globe to see wildlife, experience rugged mountains, and explore remote beaches. But nature-based travel isn't necessarily ecotourism — there can be detrimental social and environmental impacts from tourism. While most people associate these problems with mass-market tourism, they can also result from low-volume, high-end travel that fails to respect local customs, supports abusive practices, or encourages wantonly wasteful resource consumption.


Water and biodiversity pictures for the UN International Day for Biological Diversity
(05/22/2013) Today is the United Nations' International Day for Biological Diversity, an initiative that aims to raise understanding and awareness of biodiversity issues. This year marks the 12th International Day for Biological Diversity. The theme is 'Water and Biodiversity'.



Indigenous groups protest hydropower congress as controversy hits meeting in Malaysia
(05/22/2013) The opening of the International Hydropower Association (IHA) World Congress in the Malaysian state of Sarawak was marred today by indigenous protests and controversy after a local indigenous leader was barred from attending a pre-conference workshop. Over 300 people from local indigenous people protested the ongoing construction of around a dozen mega-dams in the state that threaten to flood traditional lands, force villages to move, and upend lives in the state. The Sarawak hydropower plans are some of the most controversial in the world—making the choice of Kuching, Sarawak for the IHA meeting an arguably ironic one—with critics contending that the dams are have been mired in political corruption, including kickbacks and bribes. IHA brings together dam builders, banks, and various related organizations worldwide every two years.


Compromise on Serengeti road?: build an elevated highway
(05/22/2013) Famed anthropologist and conservationist Richard Leakey has proposed a possible solution to the hugely controversial Serengeti road: build an elevated highway. Leakey made the remarks during a conference at Rutgers University on May 14th, as reported by Live Science. The Tanzanian government's plans to build a road through the remote, northern Serengeti has come under both environmental and international criticism, as scientific studies and leaked government reports have found the proposed road would hugely hamper the world famous migration across the plans.


Prince Charles: take the war to the poachers
(05/22/2013) Prince Charles has warned that criminal gangs are turning to animal poaching, an unprecedented slaughter of species that can only be stopped by waging war on the perpetrators, in the latest of a series of increasingly outspoken speeches about the environment. Addressing a conference of conservationists at St James's Palace in London, the Prince of Wales announced a meeting of heads of state to take place this autumn in London under government auspices to combat what he described as an emerging, militarized crisis.









CONTENTS
WEEKLY NEWSLETTER