Environmental issues

Deforestation, soil erosion, and water pollution from a gold mine in Peru. Several environmental issues can result from a single activity.



By Jeremy Hance

Environmental issues are problems that impact the natural world, i.e. ecosystems, as well as the human beings who depend on them. Although environmental issues have been around since humans have (Plato complained of deforestation and resulting erosion in Greece), the modern movement concerned with environmental issues proceeded alongside, and often in response to, the rise of industrialization.

Current environmental issues include climate change, deforestation, biodiversity loss, pollution, invasive species, ecosystem destruction, ocean acidification, desertification, erosion, sprawl, fossil fuels, and overpopulation among many others.

Responses to environmental issues have included the creation of protected areas, such as national parks and wildlife reserves; laws to protect the habitat of endangered species; regulations on hunting and fishing; clean up of toxic pollution; international treaties to address global issues like depletion of the ozone layer; restoration of damaged ecosystems; reintroductions of wildlife; and others.

Since human beings are intimately connected to the environment, depending on it for clean water, food production, and breathable air, tackling environmental problems is about creating a better world for current and future generations. In recent decades, some environmental issues have moved beyond local and regional problems, to become global ones, such as climate change, mass extinction, and ocean acidification.

Deforestation



Deforestation in Borneo


Soil erosion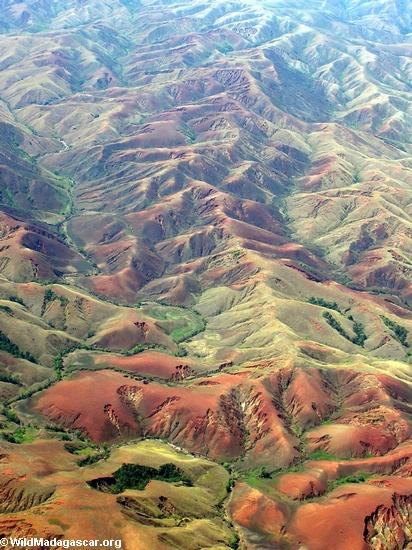 Soil erosion in Madagascar following deforestation.


Air pollution



Air pollution in China.


Biodiversity loss



Red ruffed lemurs are hunted by poachers


Littering / trash



Trash in Indonesia




Urban sprawl



Urban sprawl in Las Vegas


Fires



Forest fires in Indonesia produce greenhouse gases that contribute to climate change


Global warming


Glaciers in places like Alaska are melting due to climate change
News on environmental issues
Long lives, big impacts: human life expectancy linked to extinctions
(04/15/2014) Since the arrival of Homo sapiens, other species have been going extinct at an unprecedented rate. Most scientists now agree that extinction rates are between 100 and 1000 times greater than before humans existed. Working out what is driving these extinctions is fiendishly complicated, but a new study suggests that human life expectancy may be partly to blame.



Nearly a thousand environmental activists murdered since 2002
(04/15/2014) At least 908 people were murdered for taking a stand to defend the environment between 2002 and 2013, according to a new report today from Global Witness, which shows a dramatic uptick in the murder rate during the past four years. Notably, the report appears on the same day that another NGO, Survival International, released a video of a gunman terrorizing a Guarani indigenous community in Brazil.



Malaysia imperils forest reserves and sea turtle nesting ground for industrial site (photos)
(04/15/2014) Plans for an industrial site threaten one of Malaysia's only marine turtle nesting beaches and a forest home to rare trees and mammals, according to local activists. Recently, the state government of Perak approved two industrial project inside Tanjung Hantu Permanent Forest Reserve. But activists say these will not only cut into the reserve, but also scare away nesting turtles from Pasir Panjang.



Ants plant rainforests, one seed at a time
(04/14/2014) Deforestation is destroying forests around the world, but its effects are especially obvious in the Amazon Basin. Due to cattle ranching, soybean farming, logging, and slash-and-burn agriculture, the rainforest is disappearing at a rapid pace. But a recent study published in the Journal of Ecology offers a unique solution to replanting the deforested landscapes: ants.



Climate change solution? UN touts ambitious (but cheap) investment in renewable energy
(04/14/2014) The world is warming rapidly due to greenhouse gas emissions, threatening everything from our food supply to our ecosystems, but the solution may be surprisingly cheap, according to the third and final report from the Intergovernmental Panel on Climate Change (IPCC). The report recommends a rapid and aggressive switch from fossil fuel-based energy to renewables.



Riddled with tumors: another blow to the Sumatran rhino species
(04/14/2014) Conservation for Sumatran rhinos suffered another blow last week, only days after Suci—one of only ten rhinos in captive breeding efforts—died at Cincinnati Zoo. Scientists in the Malaysian state of Sabah revealed that a newly captured female, Iman, suffers from an assortment of tumors in her uterus, hugely complicating reproduction efforts.



Life finds a way: the surprising biodiversity of cities
(04/11/2014) In the largest global assessment of urban biodiversity to date, researchers examined the biodiversity of urban areas and found that cities are home to a surprising number of species. The study underlines the conservation importance of preserving and creating green spaces when it comes to urban planning.



Amphibian pandemic may have hit Madagascar, hundreds of species at risk of infection
(04/11/2014) Madagascar is one of the world's hotspots for amphibian diversity, home to so many frog species that many of them don't even have names. But soon the island may also harbor a fungus causing drastic declines – even extinctions – of frogs around the world. Ironically, the wildlife trade that's often blamed for helping spread the disease may also give scientists a chance to prevent it.



Forests in Indonesia's concession areas being rapidly destroyed
(04/10/2014) Forest clearing within areas zoned for timber, logging, oil palm, and mining accounted for nearly 45 percent of deforestation in Indonesia between 2000 and 2010, finds a new study that examined forest loss within industrial concessions.



Next big idea in forest conservation? Empowering everyone to watch over forests
(04/10/2014) Nigel Sizer has worked on the forefront of global forest issues for decades. Currently, he is the Global Director of the World Resource Institute's (WRI) Forests Program, whose projects include the Global Forest Watch, the Forest Legality Alliance, and the Global Restoration Initiative. These programs work with governments, businesses, and civil society with the aim of sustaining forests for generations to come.









CONTENTS
WEEKLY NEWSLETTER