Environmental issues

Deforestation, soil erosion, and water pollution from a gold mine in Peru. Several environmental issues can result from a single activity.



By Jeremy Hance

Environmental issues are problems that impact the natural world, i.e. ecosystems, as well as the human beings who depend on them. Although environmental issues have been around since humans have (Plato complained of deforestation and resulting erosion in Greece), the modern movement concerned with environmental issues proceeded alongside, and often in response to, the rise of industrialization.

Current environmental issues include climate change, deforestation, biodiversity loss, pollution, invasive species, ecosystem destruction, ocean acidification, desertification, erosion, sprawl, fossil fuels, and overpopulation among many others.

Responses to environmental issues have included the creation of protected areas, such as national parks and wildlife reserves; laws to protect the habitat of endangered species; regulations on hunting and fishing; clean up of toxic pollution; international treaties to address global issues like depletion of the ozone layer; restoration of damaged ecosystems; reintroductions of wildlife; and others.

Since human beings are intimately connected to the environment, depending on it for clean water, food production, and breathable air, tackling environmental problems is about creating a better world for current and future generations. In recent decades, some environmental issues have moved beyond local and regional problems, to become global ones, such as climate change, mass extinction, and ocean acidification.

Deforestation



Deforestation in Borneo


Soil erosion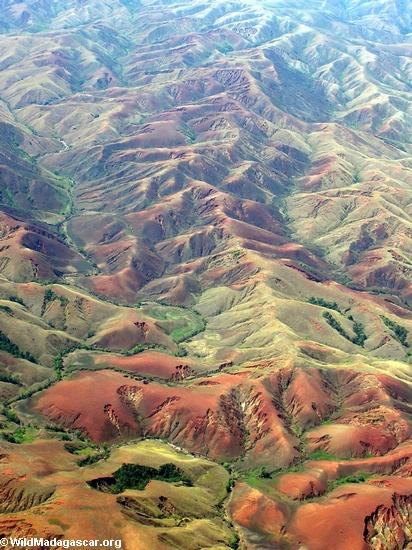 Soil erosion in Madagascar following deforestation.


Air pollution



Air pollution in China.


Biodiversity loss



Red ruffed lemurs are hunted by poachers


Littering / trash



Trash in Indonesia




Urban sprawl



Urban sprawl in Las Vegas


Fires



Forest fires in Indonesia produce greenhouse gases that contribute to climate change


Global warming


Glaciers in places like Alaska are melting due to climate change
News on environmental issues
Throng of 35,000 walruses is largest ever recorded on land, sign of warming arctic
(10/01/2014) A mass of thousands of walruses were spotted hauled up on land in northwest Alaska during NOAA aerial surveys earlier this week. An estimated 35,000 occupied a single beach – a record number illustrating a trend in an unnatural behavior scientists say is due to global warming.



Small chocolate company takes big steps toward conservation and human development
(10/01/2014) Madécasse is not just another chocolate company selling their bars in high-end supermarkets across the United States and Europe. Their bean-to-bar business model is shaping the way small companies deal with the developing world while providing new reasons to conserve a biodiversity hotspot.



Officials bust one of the biggest players in illegal Indonesian manta ray trade
(10/01/2014) Writing this from a hotel room in Indonesia's second-largest city, Surabaya, I realize that I am filled with trepidation as I wait for the phone next to me to ring. When it does, the voice on the other end will tell me it's go time; the culmination of many years of work towards ending the global trade in manta ray gills.



High Court denies appeal by palm oil company that cleared protected peat forest
(09/30/2014) Furthering Indonesia's renewed commitment to environmental justice, the High Court of Banda Aceh denied an appeal by PT. Kallista Alam, the oil palm company found guilty of destroying over 1,000 hectares of protected peat forest in Gunung Leuser ecosystem. The Court upheld the previous ruling, which fined the company 366 billion rupiah ($30 million) in penalties and restoration fees.



The largest biosphere reserve in Southeast Asia: Vietnam's success story or a conservation failure? PART I
(09/30/2014) In 2010, poachers shot and killed the last Javan rhino in Vietnam, wiping out an entire subspecies. The Sumatran rhino, the Malayan tapir and the civet otter, too, have disappeared from the country. Moreover, charismatic species like tigers, elephants, gibbons and the secretive saola discovered recently in Vietnam's forests are at risk of extinction in the coming decades as threats to wildlife continue unabated in the country.


Studying common birds could help save rare species in Vietnam
(09/30/2014) Studies in conservation biology often focus on rare, threatened species faced with impending extinction, but what about common animals of least concern? Could they too help conservationists fine-tune their approach? Doctoral researcher Laurel Yohe not only claims that they can, but demonstrates how in a new study. She and five other researchers compared ranges of five babblers with development across Vietnam.


Malaysian palm oil company destroys Borneo forests, despite buyer's zero deforestation commitment
(09/30/2014) Malaysian palm oil company Genting Plantations is continuing to destroy forests despite a high-profile pledge by one of its customers to eliminate deforestation from its supply chain, alleges a report published by Greenomics, an Indonesian environmental group.


Armed conflict decimates tigers, rhinos, and swamp deer in Indian park
(09/30/2014) The human cost of war is horrendous. However, while most attention is focused on the suffering caused to people—and rightly so—an understudied element is the impact on wildlife conservation. This is worrying given that many of the world's conflict zones are situated in biodiversity hotspots.



Joint force uses Google Earth to find elephant poaching camps in Mozambique, captures poachers in raid
(09/30/2014) On Monday, September 22, two ivory poachers were arrested in Mozambique during a late-night raid near Niassa National Reserve. The arrest followed on the heels of nearly two-dozen reported kills in the reserve in just the first two weeks of the month.



A weed by any other name: remnant shrubs and trees play vital role in regenerating forests
(09/29/2014) Tropical forest restoration projects are exciting research sites for scientists studying factors that affect ecosystem recovery. Here, scientists are trying to understand plant community succession, i.e. the process of recovery after cleared lands are abandoned and allowed to regrow naturally. One of the most important components of this recovery process is seed dispersal, since seeds from nearby forests allow a deforested habitat to become populated again by native plants and trees.









CONTENTS
WEEKLY NEWSLETTER