Environmental issues

Deforestation, soil erosion, and water pollution from a gold mine in Peru. Several environmental issues can result from a single activity.



By Jeremy Hance

Environmental issues are problems that impact the natural world, i.e. ecosystems, as well as the human beings who depend on them. Although environmental issues have been around since humans have (Plato complained of deforestation and resulting erosion in Greece), the modern movement concerned with environmental issues proceeded alongside, and often in response to, the rise of industrialization.

Current environmental issues include climate change, deforestation, biodiversity loss, pollution, invasive species, ecosystem destruction, ocean acidification, desertification, erosion, sprawl, fossil fuels, and overpopulation among many others.

Responses to environmental issues have included the creation of protected areas, such as national parks and wildlife reserves; laws to protect the habitat of endangered species; regulations on hunting and fishing; clean up of toxic pollution; international treaties to address global issues like depletion of the ozone layer; restoration of damaged ecosystems; reintroductions of wildlife; and others.

Since human beings are intimately connected to the environment, depending on it for clean water, food production, and breathable air, tackling environmental problems is about creating a better world for current and future generations. In recent decades, some environmental issues have moved beyond local and regional problems, to become global ones, such as climate change, mass extinction, and ocean acidification.

Deforestation



Deforestation in Borneo


Soil erosion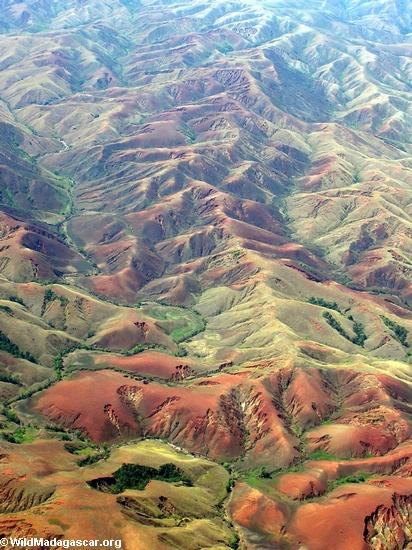 Soil erosion in Madagascar following deforestation.


Air pollution



Air pollution in China.


Biodiversity loss



Red ruffed lemurs are hunted by poachers


Littering / trash



Trash in Indonesia




Urban sprawl



Urban sprawl in Las Vegas


Fires



Forest fires in Indonesia produce greenhouse gases that contribute to climate change


Global warming


Glaciers in places like Alaska are melting due to climate change
News on environmental issues
Conservationists propose Dracula Reserve in Ecuador
(10/24/2014) Deep in the dark, cool forests of Ecuador and Colombia live strange and mysterious organisms. Some inhabit the trees and others stay to the ground, and many are threatened by human encroachment. Because of this threat, Rainforest Trust has launched a Halloween fundraising drive to help pay for the creation of the Dracula Reserve--named for its dramatic inhabitant, the Dracula orchid.



Google's new Gombe Street View lets users 'walk' along chimp trails and into Jane Goodall's house
(10/24/2014) Google Maps is now available for Tanzanian forest paths. Users can walk virtually along the same trails Jane Goodall has used for her decades of chimpanzee monitoring -- and even into her house.



When cute turns deadly – the story of a wildlife biologist who was bit by a venomous slow loris, and lived to tell the tale
(10/24/2014) Slow lorises are YouTube stars. A quick search on the website will greet you with several videos of these endearing little primates--from a slow loris nibbling on rice cakes and bananas, to a loris holding a tiny umbrella. Lady Gaga, too, tried to feature a slow loris in one of her music videos. But the loris nipped her hard, and she dropped her plans. This was probably for the best, because the bite of a slow loris is no joke. Being the only known venomous primate in the world, its bite can quickly turn deadly.


Beef, palm oil, soy, and wood products from 8 countries responsible for 1/3 of forest destruction
(10/23/2014) Four commodities produced in just eight countries are responsible for a third of the world's forest loss, according to a new report. Those familiar with the long-standing effort to stop deforestation won't be surprised by the commodities named: beef, palm oil, soy, and wood products (including timber and paper). Nor will they be very surprised by most of the countries: Brazil, Indonesia, and Malaysia.



Brazil declares new protected area larger than Delaware
(10/23/2014) Earlier this week, the Brazilian government announced the declaration of a new federal reserve deep in the Amazon rainforest. The protections conferred by the move will illegalize deforestation, reduce carbon emissions, and help safeguard the future of the area's renowned wildlife.



Next big idea in forest conservation? Recognize the value of novel forests
(10/23/2014) Think first before you eradicate non-native species says Dr. Ariel E. Lugo, the current director of the International Institute of Tropical Forestry within the USDA Forest Service, based in Puerto Rico. Lugo, an accomplished ecologist, supports the idea that both native and non-native plants have important roles to play in conservation efforts.


Demand for rhino horn drops 38 percent in Vietnam after advertising campaigns
(10/22/2014) A new poll finds that consumer demand for rhino horn in Vietnam has dropped precipitously following several advertising campaigns. According to the poll by the Humane Society International (HIS) and Vietnam CITES, demand has plunged 38 percent since last year.



Gold mining expanding rapidly along Guiana Shield, threatening forests, water, wildlife
(10/22/2014) Gold mining is on the rise in the Guiana Shield, a geographic region of South America that holds one of the world's largest undisturbed tract of rainforest. A new mapping technology using a radar and optical imaging combination has detected a significant increase in mining since 2000, threatening the region's forests and water quality.



Saving the survivor: China scrambles to keep the finless porpoise from extinction
(10/22/2014) On the morning of July 14, 2002 Qi Qi ate breakfast as he always did. As the world's only captive baiji – or Yangtze river dolphin – Qi Qi was something of a celebrity in China and his caretakers kept a close eye on his health. That care may explain why, after being injured by fishermen, he lived an impressive 22 years in the Freshwater Dolphin Research Center in Wuhan, China.



Colombia reports drop in deforestation
(10/21/2014) Colombia has for the first time released an annual report on deforestation, revealing that forest loss during 2013 was lower than the recent average. The government says some 120,933 hectares of natural forest were cleared between January and December 2013.









CONTENTS
WEEKLY NEWSLETTER