Environmental issues

Deforestation, soil erosion, and water pollution from a gold mine in Peru. Several environmental issues can result from a single activity.



By Jeremy Hance

Environmental issues are problems that impact the natural world, i.e. ecosystems, as well as the human beings who depend on them. Although environmental issues have been around since humans have (Plato complained of deforestation and resulting erosion in Greece), the modern movement concerned with environmental issues proceeded alongside, and often in response to, the rise of industrialization.

Current environmental issues include climate change, deforestation, biodiversity loss, pollution, invasive species, ecosystem destruction, ocean acidification, desertification, erosion, sprawl, fossil fuels, and overpopulation among many others.

Responses to environmental issues have included the creation of protected areas, such as national parks and wildlife reserves; laws to protect the habitat of endangered species; regulations on hunting and fishing; clean up of toxic pollution; international treaties to address global issues like depletion of the ozone layer; restoration of damaged ecosystems; reintroductions of wildlife; and others.

Since human beings are intimately connected to the environment, depending on it for clean water, food production, and breathable air, tackling environmental problems is about creating a better world for current and future generations. In recent decades, some environmental issues have moved beyond local and regional problems, to become global ones, such as climate change, mass extinction, and ocean acidification.

Deforestation



Deforestation in Borneo


Soil erosion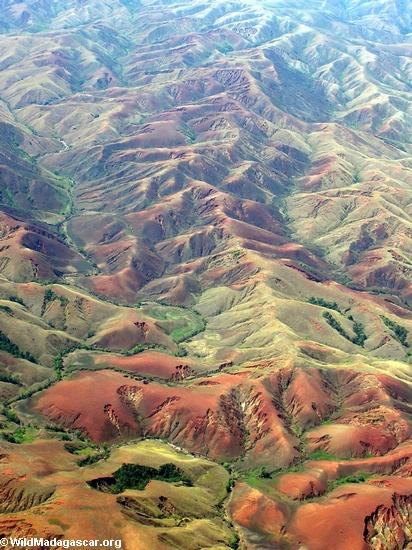 Soil erosion in Madagascar following deforestation.


Air pollution



Air pollution in China.


Biodiversity loss



Red ruffed lemurs are hunted by poachers


Littering / trash



Trash in Indonesia




Urban sprawl



Urban sprawl in Las Vegas


Fires



Forest fires in Indonesia produce greenhouse gases that contribute to climate change


Global warming


Glaciers in places like Alaska are melting due to climate change
News on environmental issues
Cargill to cut off suppliers who don't provide deforestation-free palm oil
(07/30/2014) Agricultural giant Cargill, America's largest palm oil importer, will no longer buy palm oil from sources associated with deforestation, conversion of peatlands, and social conflict. The policy follows similar commitments made by other major palm oil buyers, including Unilever and Nestle, and comes after years of campaigning led by the Rainforest Action Network.



Conservation controversy: are bonobos protected in the right ways and in the right places?
(07/30/2014) Bonobos, endangered great apes, continue to survive in forests south of the Congo River in the DRC, albeit under constant threat of hunting, loss of habitat and the growing demands of an increasing human population. Conservationists have, over the years, tried and tested different conservation strategies to protect the last of the bonobos. And some of these strategies have invited considerable debate.



The world's best mother: meet the octopus that guards its eggs for over four years
(07/30/2014) The ultimate goal of all species on the planet is procreation, the act of making anew. But few mothers could contend with a deep-sea octopus, known as Graneledone boreopacifica, which researchers have recently observed guarding its eggs for four-and-a-half years (53 months), before likely succumbing to starvation soon after.



The future of tropical biology research and conservation
(07/30/2014) Last week, the Association for Tropical Biology and Conservation (ATBC) held its 51st annual meeting in Cairns, Australia. In addition to the normal symposia, plenaries, and poster sessions on a wide range of conservation topics, the convening produced a declaration calling for stronger protection of the Great Barrier Reef and two resolutions on expanding research funding in Papua New Guinea and >imploring Australia to restore its environmental leadership.



Stunning high-resolution map reveals secrets of Peru's forests
(07/30/2014) Peru's landmass has just been mapped like never before, revealing important insights about the country's forests that could help it unlock the value healthy and productive ecosystems afford humanity.



87 new bird species considered threatened with extinction
(07/29/2014) Scientists have added 361 new bird species to the IUCN Red List following a major taxonomic review of non-passerine birds, i.e. non-perching or non-songbirds. Worryingly, 87 of these new birds are threatened with extinction, a percentage nearly double the overall threatened percentage for all birds, which currently sits at 13 percent.


Peruvian oil spill sparks concern in indigenous rainforest community
(07/29/2014) A ruptured pipeline that spilled tens of thousands of gallons of crude oil into the Marañón River in late June is fueling concerns about potential health impacts for a small indigenous community.



Deforestation ramping up in Yasuni as Ecuador sets to open up national park to drilling
(07/29/2014) Yasuni National park has been in the conservation spotlight in recent years, with oil drilling threatening the forests and wildlife of this biodiversity hotspot. Recently, disturbance in the park may have ramped up, with satellite data showing a significant increase in deforestation alerts within Yasuni National Park since 2011.


Don't eat or touch bat bushmeat amid worsening Ebola outbreak, UN warns
(07/29/2014) The world's worst Ebola outbreak was likely begun by a hunter shooting a fruit bat for their dinner or the market, according to the UN. The outbreak has killed over 660 people in six months to date, and recently spread via plane to Nigeria. The disease is particularly deadly with a mortality rate of around 90 percent.



Palm oil company clears rainforest in New Guinea
(07/29/2014) An Indonesian Stock Exchange-listed company whose commissioner is a member of The Nature Conservancy-Indonesia's board has been clearing dense rainforest in New Guinea, finds a new report from Greenomics-Indonesia. The report is based on analysis of data from Global Forest Watch, NASA satellites, Indonesia's Ministry of Forestry, and company documents.









CONTENTS
WEEKLY NEWSLETTER