Environmental issues

Deforestation, soil erosion, and water pollution from a gold mine in Peru. Several environmental issues can result from a single activity.



By Jeremy Hance

Environmental issues are problems that impact the natural world, i.e. ecosystems, as well as the human beings who depend on them. Although environmental issues have been around since humans have (Plato complained of deforestation and resulting erosion in Greece), the modern movement concerned with environmental issues proceeded alongside, and often in response to, the rise of industrialization.

Current environmental issues include climate change, deforestation, biodiversity loss, pollution, invasive species, ecosystem destruction, ocean acidification, desertification, erosion, sprawl, fossil fuels, and overpopulation among many others.

Responses to environmental issues have included the creation of protected areas, such as national parks and wildlife reserves; laws to protect the habitat of endangered species; regulations on hunting and fishing; clean up of toxic pollution; international treaties to address global issues like depletion of the ozone layer; restoration of damaged ecosystems; reintroductions of wildlife; and others.

Since human beings are intimately connected to the environment, depending on it for clean water, food production, and breathable air, tackling environmental problems is about creating a better world for current and future generations. In recent decades, some environmental issues have moved beyond local and regional problems, to become global ones, such as climate change, mass extinction, and ocean acidification.

Deforestation



Deforestation in Borneo


Soil erosion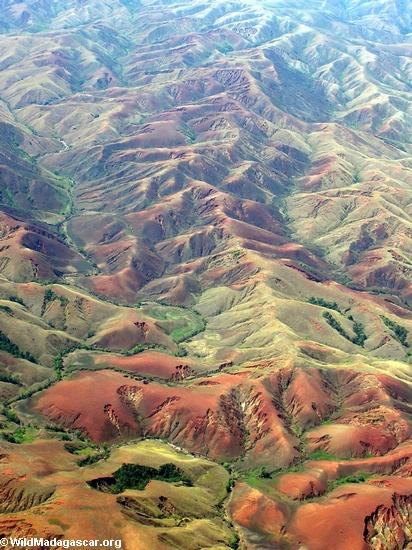 Soil erosion in Madagascar following deforestation.


Air pollution



Air pollution in China.


Biodiversity loss



Red ruffed lemurs are hunted by poachers


Littering / trash



Trash in Indonesia




Urban sprawl



Urban sprawl in Las Vegas


Fires



Forest fires in Indonesia produce greenhouse gases that contribute to climate change


Global warming


Glaciers in places like Alaska are melting due to climate change
News on environmental issues
Malayan tiger population plunges to just 250-340 individuals
(09/16/2014) Malaysia is on the edge of losing its tigers, and the world is one step nearer to losing another tiger subspecies: the Malayan tiger. Camera trap surveys from 2010-2013 have estimated that only 250-340 Malayan tigers remain, potentially a halving of the previous estimate of 500 individuals.



From 'production' forests to protected forests, groups work to save Sumatran orangutan habitat. But will it be enough?
(09/16/2014) The orangutan is native exclusively to the islands of Borneo and Sumatra — two regions that have seen the brunt of Indonesia's recent forest destruction due primarily to logging and plantation development. Although there are anywhere from 45,000 to 69,000 Bornean orangutans remaining in the wild, the Sumatran species numbers only about 7,300 according to a 2004 survey, and is dwindling further every year.



Bizarre lizard newest victim of reptile pet trade
(09/15/2014) If you've never heard of the earless monitor lizard, you're not alone: this cryptic lizard has long-escaped the attention of the larger public. But over the past couple years its bizarre appearance has been splashed across social media sites for reptile collectors. While this decidedly-quirky attention may seem benign, it could actually threaten the species' existence.


Protected areas do work, concludes study
(09/15/2014) Protected areas are working. That's the conclusion of a new analysis of over 80 different studies on the efficacy of parks and nature reserves in safeguarding wildlife. Published in the open access journal, PLOS ONE, the new study finds that in general protected areas house higher abundances of wildlife as well as greater biodiversity than adjacent areas.


Brazil's planned Tapajós dams would increase Amazon deforestation by 1M ha
(09/14/2014) A plan to build a dozen dams in the Tapajós river basin would drive the loss of an additional 950,000 hectares of rainforest by 2032 by spurring land speculation and mass migration to the region, suggests a new study published by Imazon, a Brazilian NGO.



Indonesia's secret treasures: islands passed over by loggers, hunters and conservationists
(09/14/2014) As our boat sailed towards the forest-clad island, I had no idea what surprise awaited me. A few months ago I was asked to conduct a wildlife survey on a rarely visited island somewhere in Indonesia. For reasons explained below I will not disclose its name. Suffice to say it is one of the thousands of Indonesian islands without people on it. In terms of the wildlife I saw, the absence of people really showed.


Domestic conservation: Indonesia's rich should step up to save nation's dwindling natural resources
(09/13/2014) Indonesia's middle and upper classes are becoming increasingly interested and supportive of environmental conservation. Still, they have some way to go to become real leaders and trendsetters on this important issue.



As Bolivia plans dramatic agro-expansion, forests may pay the price (PART II)
(09/12/2014) In an August 14 announcement, Bolivian Vice President, Alvaro Garcia Linera, laid out an ambitious plan to increase the country's cropland by 250 percent, and triple its agricultural output. The proposal is touted as way to increase both food and economic security for the inland South American country, but what will it mean for its forests?


Palm oil company continues to operate illegal plantation despite court ruling
(09/12/2014) A palm oil company in Central Kalimantan continues to operate business as usual, despite a Supreme Court ruling confirming it has no legal permit to do so. Since 2009, PT Hati Prima Agro (HPA), a subsidiary of palm oil giant Bumitama Gunajaya Agro Group (BGA), has cleared over 7,000 ha of land in Central Kalimantan, even though their permits were revoked by the Ministry of Forestry in 2008.


FSC passes motion for greater protection of primary forests
(09/12/2014) The Forest Stewardship Council (FSC) has passed a motion to increase protection of old-growth forests.









CONTENTS
WEEKLY NEWSLETTER